Nothing I'm saying here constitutes advice. Don't trade anything based on this semi-informed, half-baked opinion…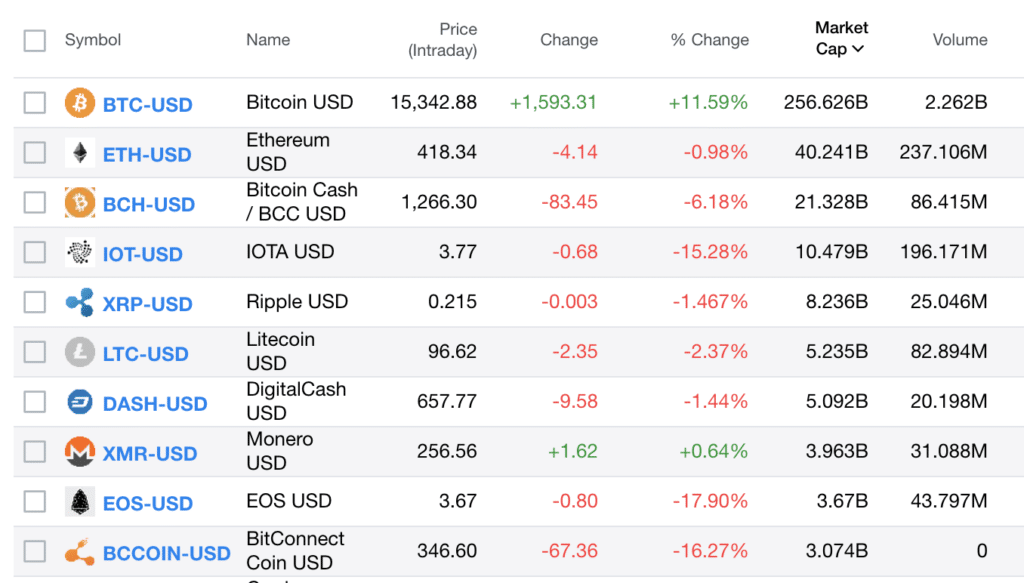 A lot of people are opening their first crypto accounts right now and joining the mania (yes, it is a full blown mania, deal with it). But there is a lot of ignorance surrounding the different crypto currencies. I'm not going to offer you a deep dive on sorting them out because I'm unqualified to do so. But I can give you the shorthand…
If you're like most newbies, you've downloaded the Coinbase app and started there. Coinbase currently allows you to buy and sell just three coins…
Bitcoin: It's certainly not for everyday transactions, because the idea of having 100,000 computer nodes updating the blockchain every time someone buys a cup of coffee is ludicrous. Engineers call this problem "the scaling crisis." Bitcoin's network can currently only process 3 to 7 transactions per second worldwide, which makes it fundamentally unusable for everyday consumers. To put that into perspective, this holiday season Visa will be processing 60,000 transactions per second.
For this reason, BTC is now being called a "store of value" as opposed to a currency. We'll see if they still want to call it a store of value if it starts dropping by $1000 a day instead of growing. For more on the scaling issues, listen to Adam Ludwin, the crypto skeptic, explain it to Patrick O'Shaughnessy on the latest episode of Hash Power.
Litecoin: This is a crypto currency that could potentially be the solution to Bitcoin's transaction weakness, although it's way too early to tell. You can also buy and sell LTC on Coinbase because LTC was invented by Charlie Lee, who was the head of engineering at Coinbase (he invented the coin while at Google / Youtube as a side project).
Litecoin is "lighter" than Bitcoin as its blockchain gets rid of a lot of the unnecessary information in the lines of code when a transaction takes place. It is also a blockchain where innovative things are tested out before being applied to BTC. I urge you to read this thing at TechCrunch from May, when Litecoin first obtained support on the Coinbase platform.
Ethereum: This is for the true believers (anarchists?) – it's a massive project that some users would refer to as a DAPP or Decentralized Application. The idea is that purchasers of ether can apply them like credits to obtain distributed computing power on the global web – if it works, it would be a Linux-esque challenger to centralized cloud computing like Amazon Web Services. The technology is said to be far from ready for primetime. It's simply inefficient and untested right now.
When Linux began to gain popularity in the late 1990's, it represented a threat to then-incumbent Microsoft Windows for operating system dominance. Ludwin makes the point that Linux ended up winning, but no one really knows it. Apple's Mac OS and iOS are both built with a UNIX core – a close cousin to Linux. Same with Google's Android. So if you're reading this blog on an iPhone or Android device, or a Mac, or an iPad, or a Chromebook, you're using Linux. A bet on Ethereum is a bet that its tokens will be more valuable as cloud computing follows the same course as operating systems did.
So those are the three you can currently trade at Coinbase. The service is adding support to Bitcoin Cash in January. Bitcoin Cash is also supposedly a solution to the scaling crisis, as it might be a more streamlined blockchain to effect and record smaller transactions. It's extremely popular in Asia, where the engineers and miners successfully lobbied the world Bitcoin community from. "Bitcoin Jesus" supposedly spearheaded the push for the fork that created this spinoff (read about him here).
Finally, I'll mention Zcash and Ripple, which you'll also hear people referencing.
The way it's been explained to me is to think about Zcash like Snapchat. Transparency of transactions is limited and anonymity is the main feature. This makes it ideal for Israeli ecstasy dealers.
Ripple is owned by a Canadian software company, by which I mean it is centralized (not decentralized) and so is a very different animal. Ripple the company owns a huge reserve of Ripple the coin. They say its killer application is the ability for large financial institutions to move big sums of money in a highly liquid and frictionless way. To prime the pump, they gave a whole bunch of Ripple away to banks and let them experiment with their software. You should read about Ripple founder Brad Garlinghouse in this Fortune Magazine interview from October.
You can follow all the real-time prices of these things at Yahoo Finance's new cyrptocurrency page here.
Hope this is helpful.