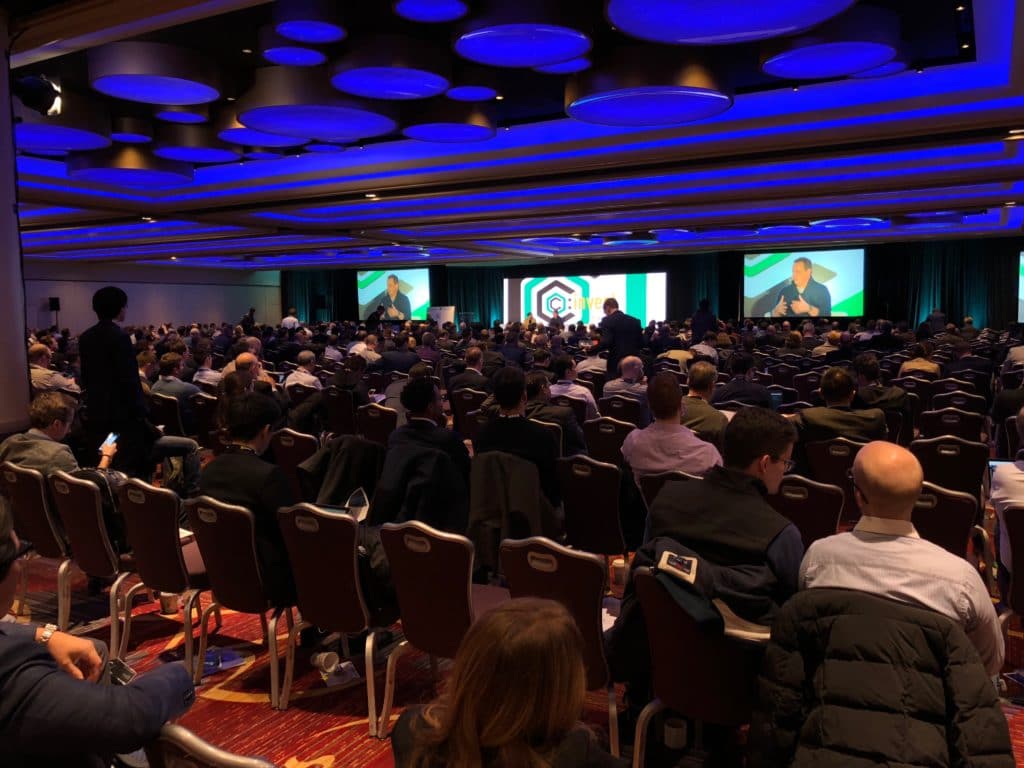 Okay, this is crazy. Yesterday I walked into the Marriott Marquis in Times Square and began ascending the escalators. The massive Consensus: Invest Conference, focused on cryptocurrencies, was being held on the fifth floor. But by the time I got to the third floor I could already hear it. By the fourth floor, the buzz was remarkable. By the time I got up to five, it was deafening. There were 1400 paid attendees at almost $2000 a pop according to my contact at Coindesk, the conference organizer. And then hundreds of exhibitors, speakers, AV people, journalists, etc. This thing was absolutely booming.
I got there mid-afternoon and the floor was thronged with (mostly) young men. I would say the ratio was something like 90:10 male to female. And it was definitely skewed toward guys in their twenties and thirties, mostly bearded. It was exactly what I had expected to see, but on steroids.
What set this event apart from many of the traditional investment conferences I regularly attend was the enthusiasm. Which makes sense considering that many of the attendees were either freshly minted millionaires or, in their opinion, imminently about to join the club. A friend of mine who had walked around the floor in the morning noted that there was an incredible arrogance among some of the attendees, although that seemed to be limited to the guys under 25 – and who doesn't think they have the world figured out in their early twenties? I didn't really notice any of that personally in my own interactions with people.
There are a few things I want to relay about my experience at Consensus: Invest, which I'll do below in no particular order…
* First, it was an honor to appear on stage and a pleasure to be there. I really enjoyed being among so many young people who were so excited about investing. I haven't been around this sort of feeling since the dot com days almost twenty years ago. It's not just about all the money being made, people are genuinely inspired about the idea that they are building something new, from scratch, with their capital, their ingenuity and their courage.
* There was an equal amount of enthusiasm about the idea of tearing down the old. Crypto-anarchy. Anytime a speaker needed an applause line, all they had to do was refer to Wells Fargo as the devil or JP Morgan as the mafia, and the room would explode. Howard Lindzon definitely milked this. I learned that the crypto movement is as much about destroying and disintermediating as it is about creating.
* These people aren't going anywhere. Crypto is here to stay. It doesn't matter if most of the ICOs see their token prices crash by 90% (which is what I think will happen). Walking the halls and having people come up to me to explain their projects, I came to the realization that price crashes alone will not drive these people out. They've got business cards, and signs and LLCs and money raised and there will undoubtedly be projects that become real companies, even if the majority disappear. This is how all capitalism works. The crash of the internet economy at the turn of the century didn't kill the internet itself. Google came around four years later. Three years after that, the iPhone came out. Then Facebook and Twitter. These are all post-crash. So if you're sick of hearing about crypto, the bad news is that it's going to be a part of the world for the foreseeable future.
* I think one thing that gets lost in all of the mania talk is that this is one speculative bubble that involves (so far) zero leverage. Every other market bubble in history has been fueled by debt and credit excesses. None of that is happening now. There is no one buying Bitcoin in a margin account. Some are pointing to the CME futures launch in two weeks as being the moment the leveraged crypto era begins, but we shall see.
* It's interesting to see how easily people from the old venture capital world and the Wall Street world have been able to fold themselves into this new world. Coinbase, which is becoming the Fidelity of crypto investing, is backed by Silicon Valley / Silicon Alley VC royalty (A16Z, Union Sq Ventures). Fortress Investment Group founder turned BTC magnate Michael Novogratz had the most heavily attended session of the day. Michael Arrington (TechCrunch founder) used the event to announce that he's raised $100 million for a new crypto fund launch. My friend Brian Kelly (of CNBC's Fast Money) has crushed it with his crypto hedge fund this year, and he's something of a star in this crowd. It was cool bumping into all these people in the green room before going on stage.
* I met this hero outside the Marriott Marquis, god bless…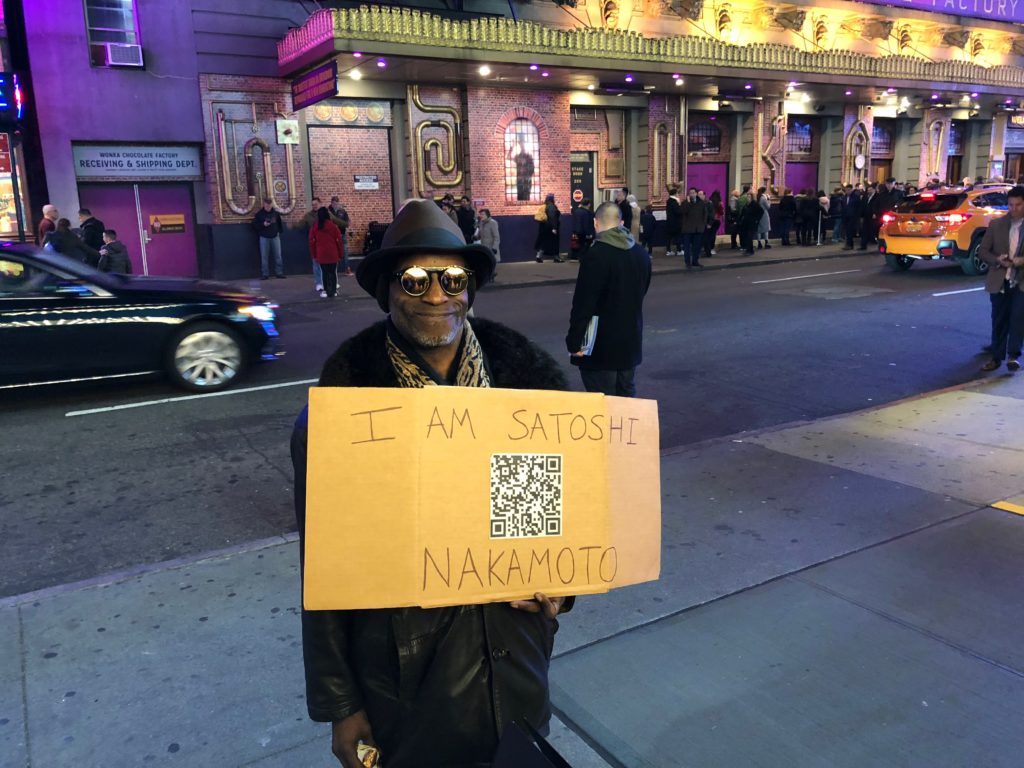 …this guy was out there too, LOL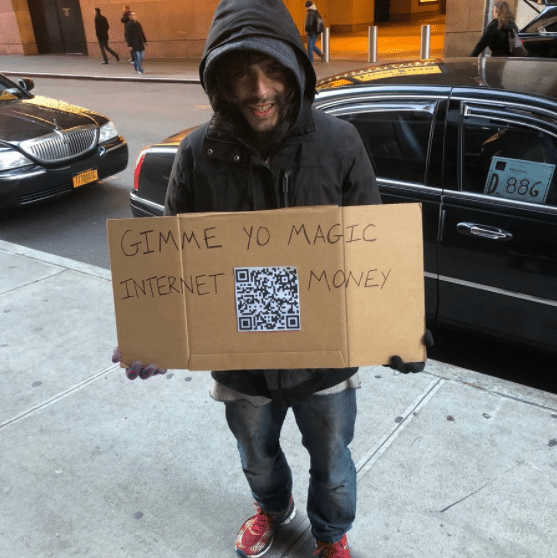 * The number one rule at the event seemed to be ABP – always be pitching. I couldn't walk three feet without someone coming up to me and pitching their thing. Sometimes it was a new exchange to trade on. Sometimes it was an ICO. Sometimes a new storage device for my coins. Sometimes a research service. But everyone was pitching something. I would say 8 out of 10 people there were selling. I have no problem with this, just pointing it out.
* "Z Cash is going to be hot" "No, Ripple is the next huge one." "Dude, Ethereum is going to f***ing replace Amazon Web Services. It's going to be the new cloud." "I'm starting to warm up to Bitcoin Cash, Josh. I'm not as bearish on it as I was last time we talked." "The Google of crypto hasn't even been invented yet. Am I blowing your mind?" Yes. Holy shit, I can't keep up. I'm drowning.
* I also want to say that not everyone involved is a wild-eyed lunatic. In fact, most of the conversations I had were with reasonable people who just want to experiment or learn. I dislike the caricature in the media of crypto-cultists and stupid kids who are about to get wiped out. Yes, they might get killed in their investments, but that's okay. Every generation needs to learn from their own market booms and crashes. You have to go through it. remember what Bowie said:
And these children that you spit on
As they try to change their worlds
Are immune to your consultations
They're quite aware of what they're going through
CH-CH-CH- Okay I'm done with that, but you get the idea. Let them live and learn as we all have, give them some space to make a mess and rebuild.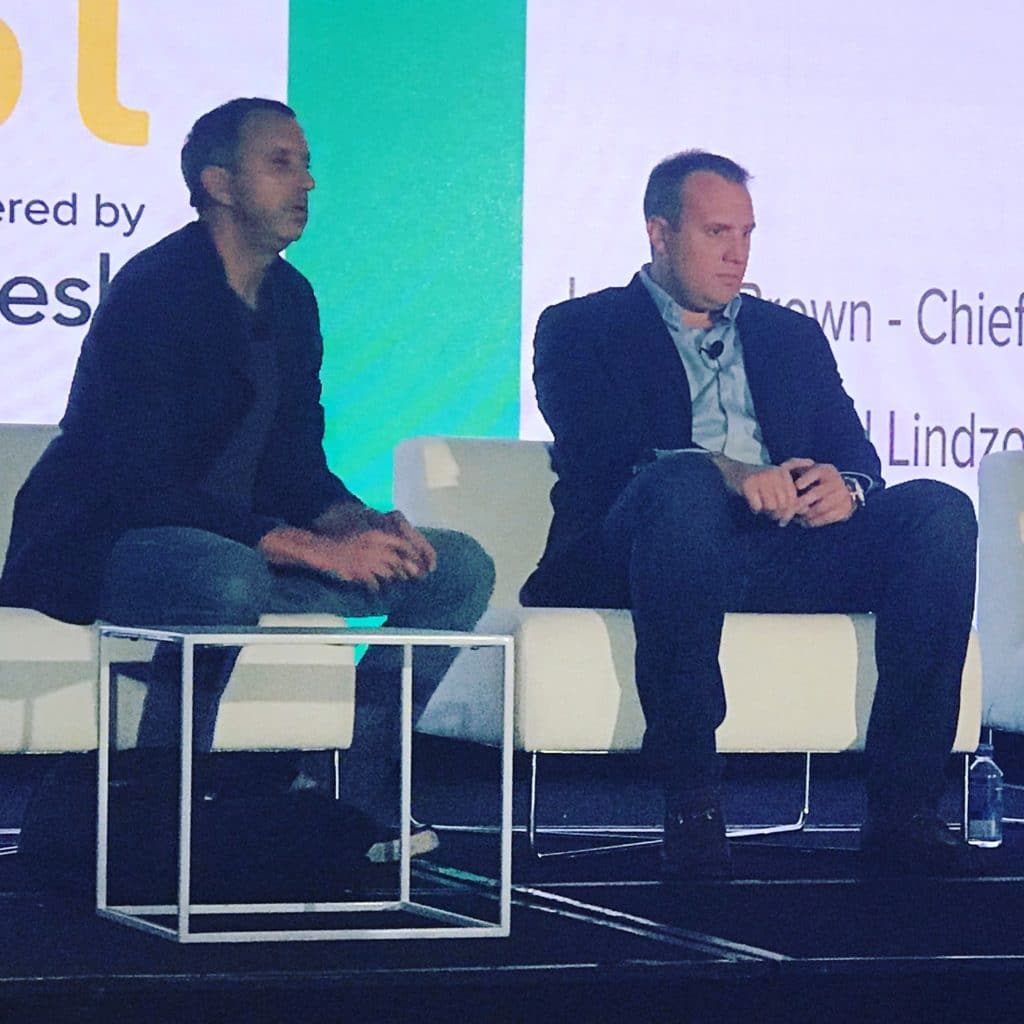 * Last thing – Howie and I were allotted 35 minutes, with a moderator, to give a traditional investor's point of view on the whole thing. I guess it was a nice way to end the day, with some skepticism. I used the bulk of my time to make a point that I hope was appreciated. My shtick was "It's okay to miss out. You cannot lose your mind over an opportunity that zooms past or become upset every time you see other people making millions of dollars." I gave them my rap about "baseline happiness" – the day you find out you've just made a fortune, in the lottery or otherwise, is the happiest you'll ever be. From there on, it's all downhill. People who've reaped windfalls are no happier or sadder than people who haven't. Your baseline simply adjusts up to your new financial reality and by day three or four, it's like you've always been rich. And new problems take the place of old ones.
I have two decades of experience dealing with wealthy people, and I've experienced plenty of victory and defeat myself. I think telling people to calm down and not get carried away with fear of missing out was probably the best thing I could've contributed to an audience like that, in a time like this.