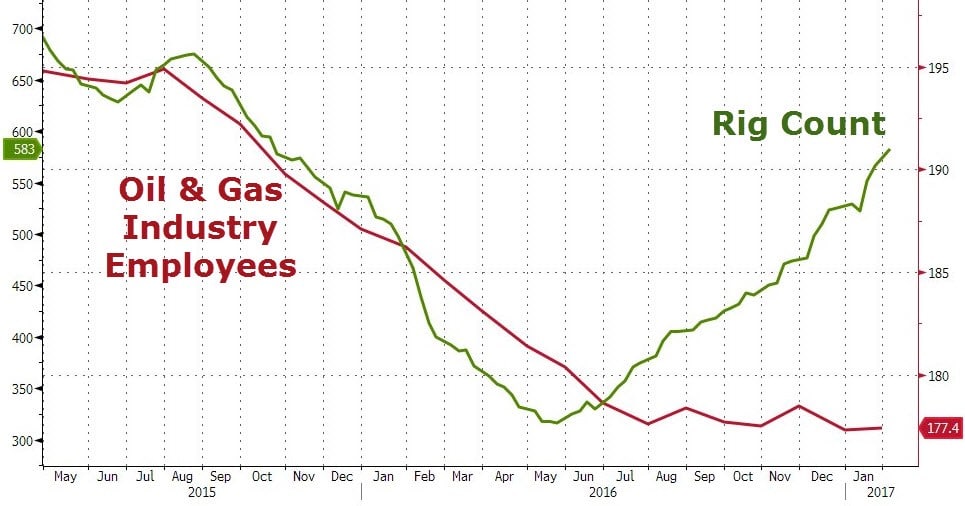 What should be immediately apparent is that as the number of oil rigs declined due to falling oil prices, so did the number of workers the oil industry employed. But when the number of oil rigs began to rebound, the number of workers employed didn't. That observation itself should be extremely interesting to anyone debating whether technological unemployment exists or not, but there's even more to glean from this chart.

Automation of oil rigs means that one rig can do more with fewer workers. In fact, it's expected that what once took a crew of 20 will soon take a crew of 5. The application of new technologies to oil drilling means that of the 440,000 jobs lost in the global downturn, as many as 220,000 of those jobs may never come back.
I'm obsessed with this topic. I think it's the most important story of our lifetime. Automation has been on a slow march for hundreds of years, but I think its acceleration into every corner of society is the key to understanding everything that's happening now – from interest rates to the economy to stock valuations to geopolitics.
I want to call your attention to this piece by futurist Scott Santens at Medium. Click the link below to read the whole thing.
Source:
The Real Story of Automation Beginning with One Simple Chart (Medium)
Read Also:
Just own the damn robots (TRB)