I started getting excited about Lithium this summer, specifically its necessity for building electric vehicles. I think EVs are not a fad – they will completely change the way the world travels and transports in our lifetime. The best part is, you don't have to wade into the Tesla controversy or try to identify which automobile manufacturer will make the jump from combustion engine to battery power. No need to pick a winner between Benz, BMW, GM etc.
Because the automakers are all standardizing on lithium ion batteries. My solution: Skip the OEMs, own the lithium production.
In a post this July, I explained why I was buying some Albemarle Corp (ALB) – the closest thing to a US pureplay I could find on the metal. It seems as though this idea has now gone wide. My favorite little indie band has now been discovered 🙁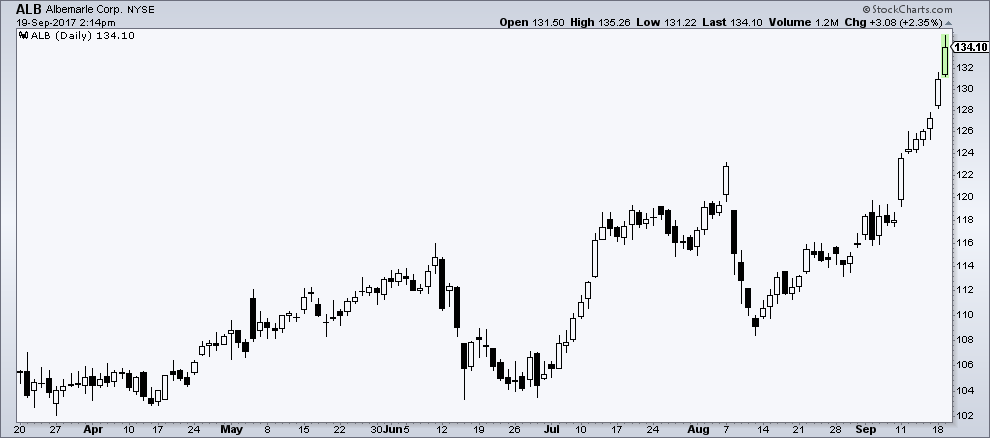 Obviously I'm not sad sad. It's going up. The problem is, there's a ton of hot money coming into the name via the Lithium ETF, which I also discussed. According to ETF.com, LIT has now managing $530 million split among just two dozen stocks. $305 million has come pouring into the fund since the year began.
This means a lot of volatility – more than before – coming into my precious Albemarle. Fortunately, the hedge fund guys haven't gotten here yet. That's when a great momentum story really gets ruined. I'll let you know as soon as some bellicose know-it-all from Greenwich starts demanding board seats.
So do I stick around, knowing that a nice quiet winner is now going to be in the spotlight? Well, I didn't abandon Mondo Cozmo when he went from playing the Mercury Lounge in February to hitting all the stadiums and festivals this summer (look at this – I'm front row! Impossible now!)
And I'm not about to abandon my lithium stuff either. I'm thinking in terms of decades, not weeks or months, on this one.