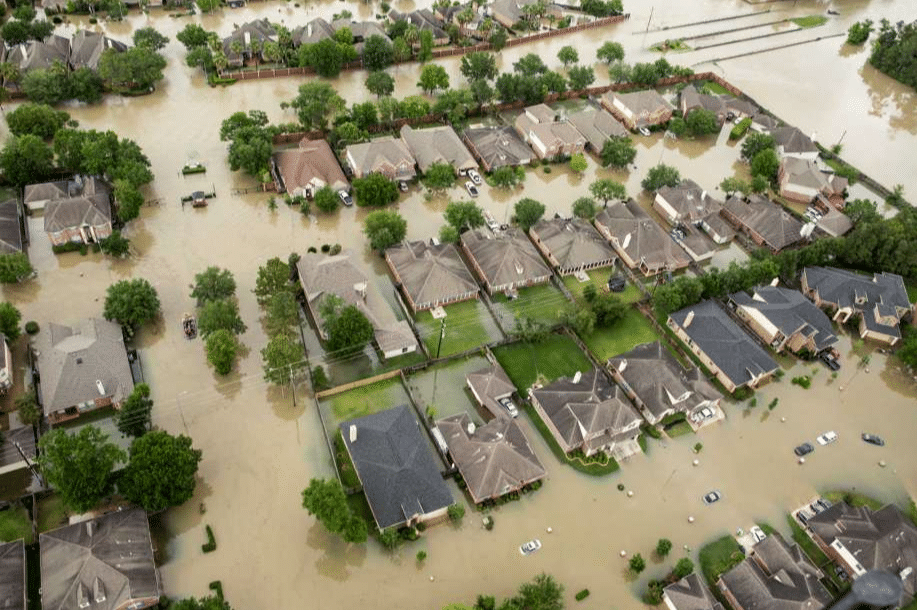 Wimbledon Champions Park, photographed by Brett Coomer for the Houston Chronicle
As the pictures started hitting the web this weekend it became clear that the situation in Texas is now catastrophic. Hurricane Harvey's devastation involves the flooding and evacuation of the fourth largest city in America and surrounding towns up and down the Gulf coast. The director of FEMA is saying it's probably the worst disaster in Texas history.
As someone who went through Hurricane Sandy (and its aftermath, which was worse) on Long Island just five years ago, I'm thinking about all of the people whose homes and businesses have sustained damage or have been destroyed. I'm thinking of the people who've gotten themselves out of harms way, but now have no idea when they will be able to get back.
It's been estimated that one quarter of all Texans are or will be affected by the storm. Here's what the National Weather Service had to say:
This event is unprecedented & all impacts are unknown & beyond anything experienced. Follow orders from officials to ensure safety. #Harvey pic.twitter.com/IjpWLey1h8

— NWS (@NWS) August 27, 2017
It's hard to watch this sort of thing unfold from a distance. Below are some links to local foodbanks in Houston, Galveston, and other affected areas as compiled by Houston Press. They could use as much as assistance as possible right now:
Houston Food Bank
832-369-9390
houstonfoodbank.org
Galveston Food Bank
409-945-4232
galvestoncountyfoodbank.org
Food Bank of the Golden Crescent (Victoria)
361-578-0591
victoriafoodbank.org
Closed Friday
Corpus Christi Food Bank
361-887-6291
foodbankcc.com
Southeast Texas Food Bank (Beaumont)
409-839-8777
setxfoodbank.org
Food Bank of the Rio Grande Valley (Pharr)
956-682-8101
foodbankrgv.com
Brazos Valley Food Bank (Bryan)
979-779-3663
bvfb.org
Central Texas Food Bank (Austin)
512-282-2111
centraltexasfoodbank.org
San Antonio Food Bank
210-337-3663
safoodbank.org
And here are some other ideas about how you can help, via Vox: