Where do the biggest gains come from? Often, it's places where no one else is willing to go. This is partly because of our own neurochemistry. Our brains evolved to process perceived danger in certain ways that make it hard to function in an environment like the investment markets.
But there's another reason the majority of people miss out on a big winning investment. It's social or professional pressure. Keeping up a certain image. They call this one of the principle-agent problems. "I can't be seen to own this, everyone says it's a disaster. I can't handle explaining this holding to clients. It will make my life easier to buy something more popular.
Here's a big reveal from Jim Reid (DB) via Bloomberg:
If you'd bought European high-yield bonds the day the global financial crisis erupted, closed your eyes and held onto them through the unprecedented events of the following decade, you would now be sitting on a 100 percent return…

Healthy returns in major global assets — including those that helped spark the financial crisis — are among the "great ironies" of the past decade, Jim Reid, global head of credit strategy at Deutsche Bank AG, said in a research note last week.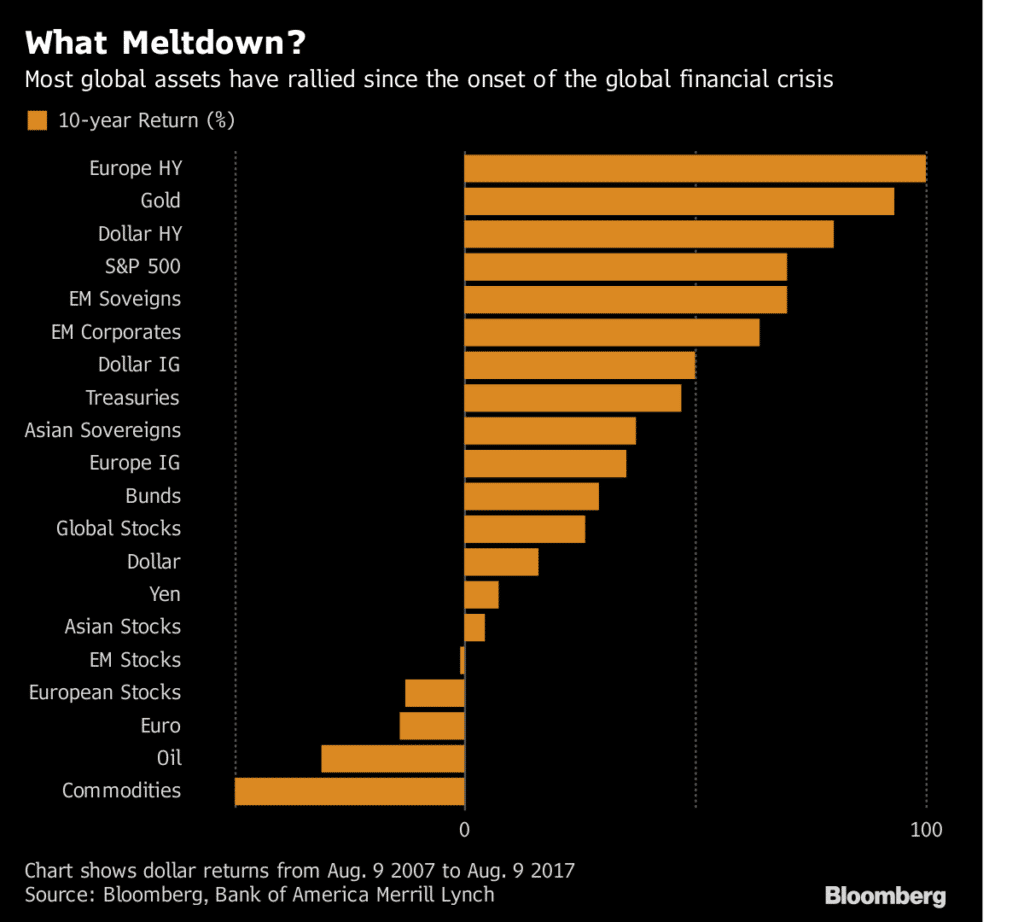 Who could have emotionally handled a decent-sized position in junk bonds throughout the financial crisis? Who could have fielded the calls from investors and clients? Who could take the berating and anxiety-driven interrogations. How could you possibly be putting my money into that??? Not many people can do this, and the closer they are the end-investor, the harder it would have been. Explaining to people to focus on a whole portfolio rather than one individual component is hard when there are glaringly volatile components catching their eye in the latest statement.
It almost never occurs to the questioner that the asset class being questioned might already be pricing in the obvious concerns of the crowd – of the millions of people who transact each day. It's as though the investor believes himself to be the only person on the planet in the possession of this knowledge – High yield bonds are dangerous! I read that somewhere! 
So if we're all susceptible to this sort of thing, or have clients that are, we can't just brush it off and hope for it to work itself out. We cannot allow the people who have entrusted us with their investments to fixate on one or two aspects of an overall portfolio. We can't let them push us around into making changes that will limit long-term returns for their sake of their immediate comfort.
The answer, then, is in setting the rules in advance. It's in ongoing education that teaches people about the link between reward and risk. It's in being selective about what type of clients you're willing to take on up front – is this person someone who is willing to listen to me and learn? It's in reprogramming clients' minds so that they get excited in the presence of perceived danger and rebalance into it, while shedding exposure to the thing that feels comfortable and familiar (whatever just went up).
Can you do this? Are you up to it. Because that's the goddamn job.
Not writing quarterly investment letters or planning golf outings. If you can't do this part of the job, then you will have disappointed clients to answer to in ten years. The same ones you think you're harmlessly placating today.
***
Advisors: We're talking about topics like these every day on the premium All Access TRB feed. Come check it out.
Source:
Junk Bonds of the Financial Crisis Were the Decade's Biggest Winners (Bloomberg)
Read Also:
The Biggest Common Investment Errors (A Wealth Of Common Sense)