I want to talk about Nvidia for a second. It's going up like 2% a day, every day. I've almost never seen anything like this. When I first started getting excited about the name a little over a year ago, I never could've imagined the follow-through on this thing.
For my earlier comments, see here and here and here.
Check this out: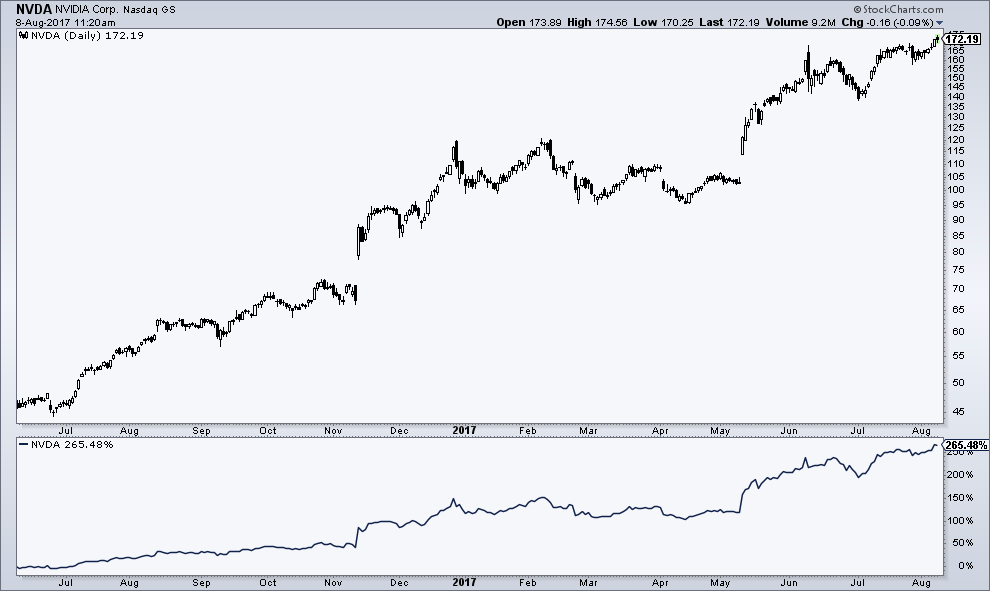 The chart doesn't even do this thing justice. Since it first closed above $50 per share on July 8th, 2016, it's been on an absolute tear – a 242% run. It puts almost every stock, tech or otherwise, to shame over this time frame.
What's interesting about it is that even despite this return, holding it over the last 14 months has not been for the faint of heart. There've been several downgrades and even an attack from a famous short-seller, mostly around the $100 mark where it first began attracting attention (70% ago).
And the stock has suffered its share of drawdowns on the way to the promised land.
Consider:
There have been eight separate drawdowns of 5% or more from making new closing highs.
Three of these turned into 10% drawdowns or worse.
One of these turned out to be a 15% drawdown.
The maximum drawdown over the last 13 months was 19.8%.
No one can hold a stock that corrects 20% after making a new record high without feeling some trepidation, and some remorse for not having sold it higher. And in hindsight, it can seem obvious that the stock would have recovered, but at the moment its plunging, it's the opposite of obvious.
A couple of weeks ago, Nvidia announced their new Volta chip architecture – parallel processing at a speed they say could be 12X the current standard (Pascal). All of the technologies you hear about as being the next thing – cloud, AI, VR, AR, automated driving, etc require parallel processing in order to make them feasible. This is a technology that Nvidia has dominated since its origins in the video game GPU market.
It's a great story, but that doesn't make it any easier to hold fast to a superstar stock in times of volatility and naysaying. For most people, it's not even worth attempting. For every Nvidia, there are a thousand not-Nvidias, and who would know for sure at the outset?
It's never easy, no matter how much you've made, every dip feels like it might have been the end of the run. That possibility is the ante you put up to be in the game.