If you manage a globally diversified portfolio, you want stocks around the world to maintain some degree of non-correlation. Even if that means you're seeing drawdowns in part of your portfolio.
This is, of course, counterintuitive, as on television it seems as though everyone is trying to maximize every dollar they have into only stocks that are trading higher everyday. That's obviously a fantasy.
The reality is that falling correlations are the whole point of diversification and without having some assets within a portfolio getting cheaper while others rise, there's no benefit to rebalancing and the whole thing doesn't work.
Jeff Kleintop at Schwab looks at falling correlations between country markets in the G20 and sees reasons for optimism in terms of this sort of approach.
Fortunately for investors, diversification has made a comeback. Measured statistically, the correlation between stock markets of the Group of 20 nations (plus Spain, which is a quasi-member), that together make up 80% of world GDP, peaked in 2011 and has subsequently fallen in recent years to levels not seen since 1997, a time before the tech bubble had fully inflated.

This decline in correlation has taken place despite broad economic growth in these economies and in the trade among them. On the chart below, it almost appears to be a return to "normal" for correlation as it moves back to the average level that prevailed for more than 25 years through the 1970s, 1980s, and for much of the 1990s prior to the bubbles in tech and housing.
And his chart: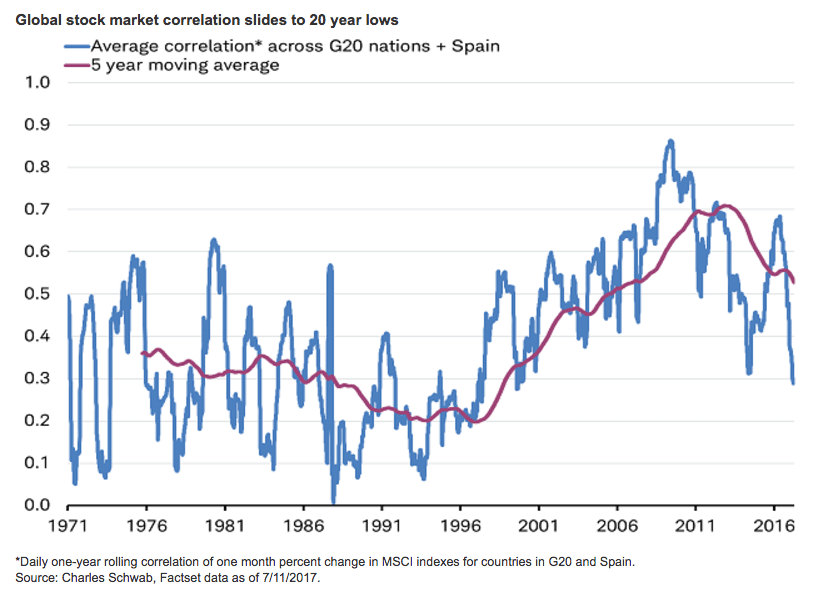 Josh here – having cheap assets and highly appreciated assets to choose between is a gift. It's how the game can be won. This is also a rebuke to the whole "CENTRAL BANKS ARE INFLATING EVERYTHING ALL AT ONCE" tribe. Here is yet another reason for them to be wrong and lose money.
Source:
An important benefit to global investors is back after 20 years (Charles Schwab)