We're a week or two into Q2 earnings season and so far, so good here in the US.
Here's Savita Subramanian and her Equity & Quant Strategy team at Bank of America Merrill Lynch:
Most beats in 5+ yrs, but beware of crowded stocks that miss

Overall, 68% of companies beat on EPS, 75% beat on sales and 53% beat on both – the highest proportion of top and bottom-line beats at this point during earnings season in over five years. Of the sectors that have dominated results so far, EPS and sales beats have been the most widespread within Industrials, though Tech has seen the most EPS beats alone. These two sectors screened best in our work ahead of earnings season, along with Health Care – where fewer companies have reported, but nearly all have beaten thus far.Companies which missed expectations have underperformed by 6ppt on average the day following results, whereas those that beat have outperformed by a mere 50bp –larger alpha from misses is a trend we have noted in recent quarters as well. Underperformance has been largest in Discretionary and Tech, where both sectors are very crowded vs. history by active US equity funds and thus more vulnerable to disappointments.
and the table…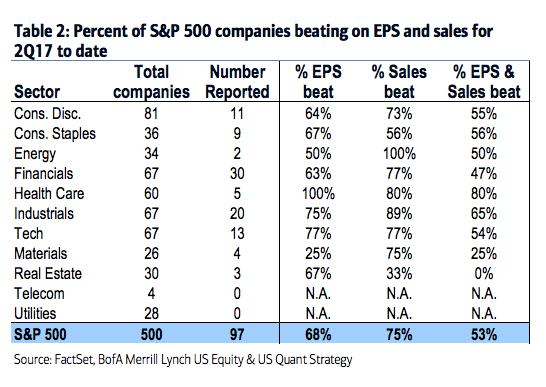 Josh here – If the consensus estimates for the second quarter are merely matched by the S&P 500 reporting companies, we're looking at 6.5% earnings growth year over year and 4.6% revenue growth. It shouldn't be shocking to see healthy rotations keeping the market buoyant just below all-time-highs when looking at stocks through the lens of profits and sales growth.
And as for the mixed guidance coming from executives on these calls, I would say that is exactly what you want to see. This conservatism is what keeps the earnings beat rate high in future quarters and it keeps the overconfidence of investors in check. All good.
Source:
Week 2: Good results, "meh" guidance
Bank of America Merrill Lynch – July 24th, 2017