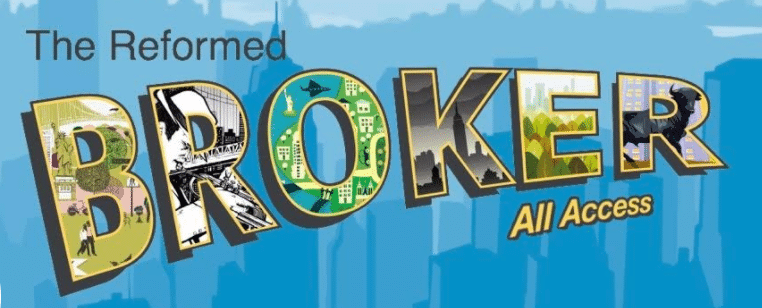 I'm in the early stages of a soft launch / experiment with something that could potentially be really cool. It's too soon to know, but I want to tell you a little bit about it and see if you want to try it with me.
My friends Justin and Paul, the founders of Bespoke Investment Group, came to me with this idea a few months back. Basically, they've built a gateway that will allow influential users on Twitter to build a premium feed to have more in-depth and focused interactions with followers. The gateway is called Premo Social.
On my main Twitter account @reformedbroker, I now have almost 800,000 followers, which is great – I really love it. The thing is, I have to be fairly broad with what I discuss there because going down a rabbit hole on specific topics – especially related to wealth management, running an RIA, selecting funds, etc. That kind of stuff is what I love to discuss, but it's not necessarily what all of my followers want to hear about. Additionally, I get a lot of questions from people but I can't answer them all in so open a forum.
And so I launched a premium account, @AllAccessTRB, which I will use for that sort of thing. I'm going to make it a place where I can have discussions with you about the industry and really engage on a deeper level. I expect that it will stay small enough where we can really build a tightly knit community of pros and talk at a much higher level. I'm also going to have open DMs on that feed so if you follow it, I can answer questions or provide feedback.
So if this sounds interesting to you and you want to try it, the feed costs just ten bucks a month. Once you subscribe at the Premo Social page here, you're in. You can unsubscribe simply by unfollowing the account at any time. No logins or anything needed. It's pretty casual and simple. Scott Redler of T3 is also giving this a try as are Sentiment Trader and the Bespoke gang.
It's early days here, but as the first people to try it, you will be the ones that help to shape it. I'm excited to see if we can build something cool here together!
Check it out here:
https://premosocial.com/AllAccessTRB