Here's a fun fact – over the last ten years, the S&P 500 has gained 95% while the Emerging Markets index has gained just 11%, a horrendously bad decade for any asset class.
But things are changing.
My friend Ari Wald (Oppenheimer) spots what has the potential to become very big news for investors with global allocations and traders looking for the next mega-trend:
EEM Reverses 10-year Downtrend!

Our chart of the week, month, and potentially year, is the iShares MSCI Emerging Markets' (EEM) reversal of a 10-year downtrend dating back to its 2007 peak. This not only carries significance for the future direction of EEM's trend—we think higher—but also for the cyclical recovery as well because broadening global participation remains a focal point to our outlook. Specifically, we see EEM's reversal as the next step toward our bull case scenario in which global equities, both developed and emerging, join the US in secular rise. It also corroborates our view that the market cycle is early-to-middle innings rather than late. For EEM, the first higher high relative to the MSCI All World index since 2010 argues for continued outperformance, and we accordingly recommend adding to our allocation.
Below, Ari's charts – the first one is the breaking of the downtrend and the bottom one is a ratio chart, emerging markets relative to the MSCI World Index: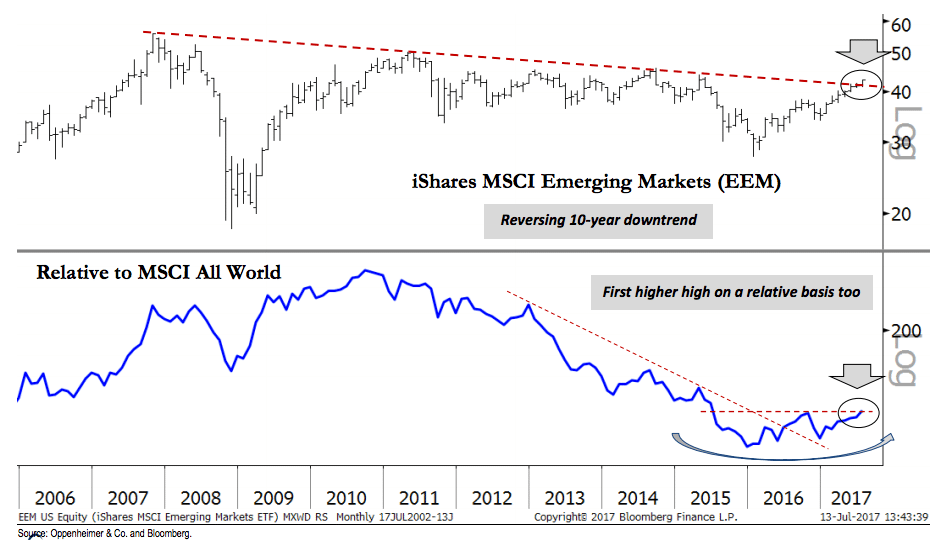 Josh here – people will say that this recent strength in the EM stock markets is entirely driven by this year's unexpected weakness in the US dollar. To which I would respond, "So?"
It's not enough to make money now? You need to like the explanation for it too? What planet are you from?
Market moves can only ever be explained after the fact, and usually not very well.
Whatever.
Source:
Technical Analysis: Inflection Points
Oppenheimer – July 15th 2017