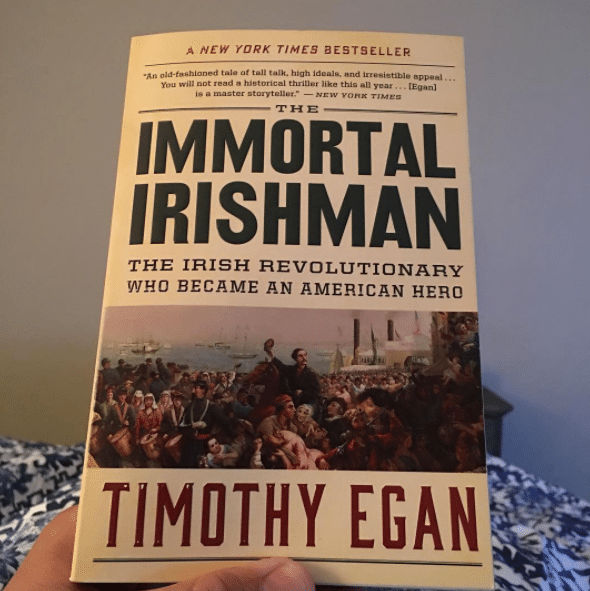 Every once in awhile, you come across a book that you wish would never end. The second selection for my Seven Books plan this summer is that sort of book. From cover to cover, Timothy Egan's The Immortal Irishman is so dense with action, adventure and amazing history that you'll wish you didn't get to the finish.
Egan's book tells the true story of Thomas Francis Meagher (pronounced Maaher), who was, for a brief time in the mid-19th century, the most famous Irishman in the world. Born into a wealthy family, he spends his entire life in a barroom brawl with a host of adversaries – starting with the priests who tried to tame his passion and intellect in grade school.
From there, Meagher becomes a celebrated young poet and fires the first oratorical shots in Ireland's fight to throw off oppressive British rule.
He is jailed and nearly executed for inciting revolution before being shipped off into exile in a Tasmanian penal colony – the notorious Van Diemen's land – where he will once again challenge the authorities who hold him captive. U2 wrote a song about the Irish revolutionaries who were sent there, it's on Rattle & Hum, one of the few tracks the band did where The Edge takes lead vocal duties from Bono.
Then it's on to America, where our hero goes from world famous Irish revolutionary to one of Lincoln's most trusted recruiters of soldiers. Meagher eventually sees action as a general in almost a dozen of the Civil War's bloodiest battles, watching thousands of his Irish immigrant enlistees bleed and die for a country that will barely accept them. Upon the conclusion of the war, his next fight will be against the White Anglo Saxon Protestant establishment in New York City and the Know-Nothing party that inflicts both political and bodily violence against his fellow immigrants in the streets.
Even in retirement from military life, the irrepressible Meagher can't avoid a quarrel. He settles into the Governorship of Montana Territory and runs afoul of vigilante murderers who dispense their own justice with the gun and the noose.
Through it all, the man remains a poet and a warrior, a skilled public speaker with the ability to persuade thousands to his cause – whatever it may be – using the power of his words and the stature of his deeds. Meagher was the creator of the Irish tri-color flag of Green, White and Orange, which was inspired by a visit to Paris while attempting to raise funds for his country's quarrel with England.
There is a chapter in this book about the Irish Potato Famine – an event which senselessly killed millions in the 1840's – that must be read to be believed. This was one of the greatest human crises in western history, and it could have been easily avoided were it not for an unflinching British belief in laissez-faire capitalism and the rights of empire. The Civil War set-pieces are incredibly well written, as are the beautifully illustrated moments in exile, where the poet has only his inner strength and the memories of his island nation to sustain him.
Egan uses a wealth of historical sources to tell his story, relying on real correspondence between Meagher and his contemporaries as well as actual newspaper and magazine descriptions of the major events as they unfold. You'll bear witness to daring stories of escape, inconceivable battlefield heroics, the class riots in the notorious Five Points neighborhood of Manhattan, the events leading up to both the Gettysburg Address and the Emancipation Proclamation and so much more.
If you take a shot on this book, I promise that before you're even done, you'll be begging your friends to take a shot as well.
Get the Immortal Irishman here.
Are you ready for the next book in the plan? Remember, we're reading Barking Up the Wrong Tree: The Surprising Science Behind Why Everything You Know About Success Is (Mostly) Wrong next. I'll be back next week with a reaction to it and I hope to hear yours as well!