Jeff Kleintop's latest for Schwab looks at the four big candidates for "the next bubble", concluding that none of them currently looks like the real thing. At least not yet.
Jeff makes the point that the classic bubbles of yesterday gained 1000% or more, but they did so over at least 10 years, which is why they became so embedded in the economy and so widespread across investor portfolios.
Cryptocurrencies might be moving up too fast to fall into this definition. There's not enough participation for this to be a market-wrecking bubble. Again, at least not yet there isn't! 
Check this out:
Cryptocurrencies

The most popular cryptocurrency, bitcoin, has surged more than 1000%, but did so much faster than the bubbles that took 10 years to inflate to this level, as you can see in the chart below. The shorter amount of time that it took may mean that if bitcoin is a bubble and were to burst it probably won't have as broad of a ripple effect on the economy as the technology or housing bubbles did.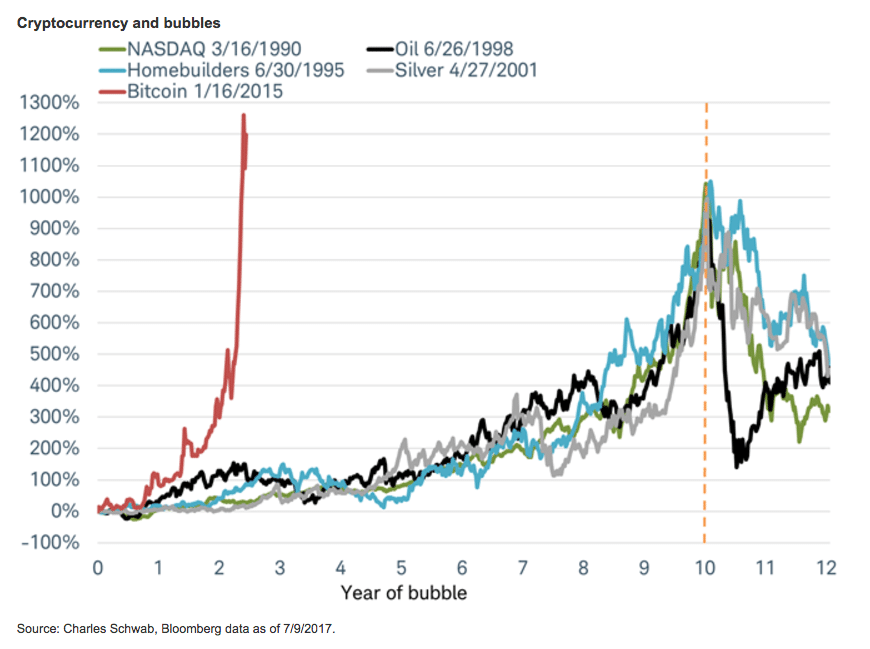 Source: