As of this writing, the Dow Jones has launched 200 points higher, with the big bank stocks headed into orbit. The yield on the 10-year Treasury is higher as well, knocking on 2.34% once again.
New trader narrative incoming, via CNBC.com but the examples of this chatter are legion: Tech stocks and health care stocks led the first half as energy fell apart and investors went searching for growth that was unrelated to the overall economy. But now there's a new trade everyone needs to have on – overweight financials, underweight the low-rate sectors:
Shares of Morgan Stanley, JPMorgan Chase, Wells Fargo and Citgroup all rose in early trade. The big bank stocks are coming off a strong week, with the SPDR S&P Bank exchange-traded fund (KBE) surging 3.82 percent after positive results from the Federal Reserve's annual stress test.

"There's new leadership emerging in the market," said Peter Cardillo, chief market economist at First Standard Financial. "That should keep us from faltering during the summer months."
The 10-year yield is once again threatening to break out of the upper end of its range. Some traders would tell you its already snapped its 7 year downtrend, which is notable unto itself.
I made this chart of the KBW Bank Index vs the 10-year Treasury yield index just for you: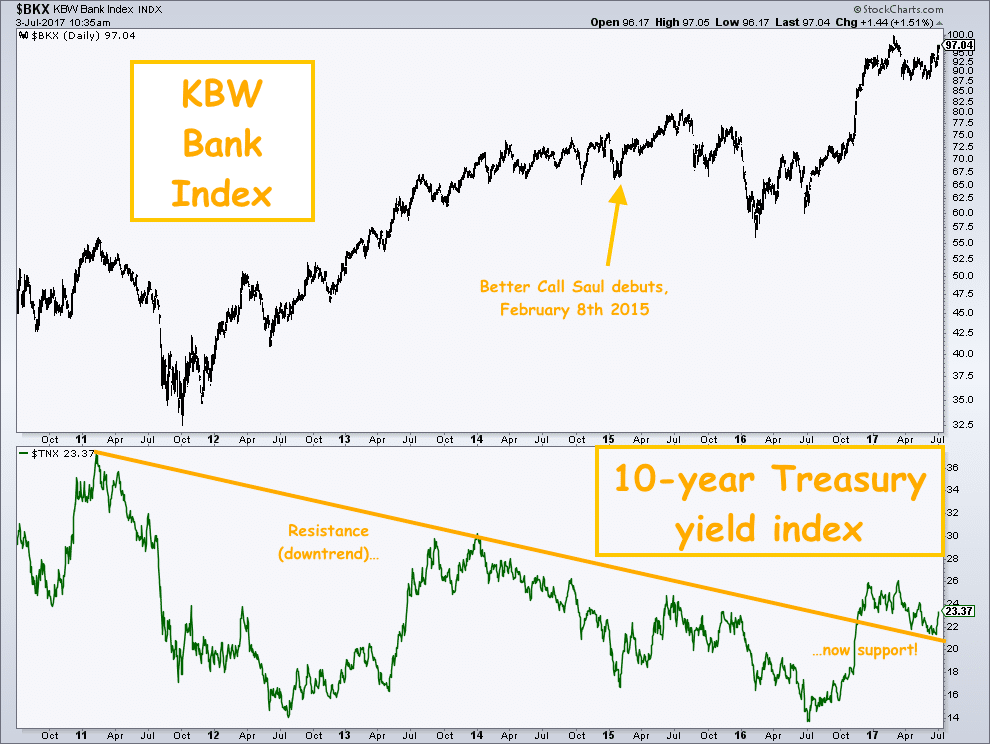 So is this finally it? The moment everyone has been waiting for but has repeatedly failed to actually come? Are yields headed higher, along with interest rate spreads and all that it entails?
I'm just sayin'….it's possible.