One of the negatives of running a globally diversified portfolio of stocks for clients is that in years where the S&P 500 blows everything else away, you have to grit your teeth and show people the long-term evidence, sometimes repeatedly.
One of the positives is that it won't be long before you're vindicated. Because runs of under- and outperformance for US vs International go in streaks, and the wise asset allocator knows that taking advantage of this mean reversion is a long-term winner for his or her clients.
2017 is demonstrating the power of this concept all over again for a generation of post-crisis investors who have only seen one side of the story for almost 8 years now. International stock indices are outpacing the S&P 500 by a wide margin, even though virtually all of the major global averages are strong thus far.
Here's my friend Steven Russolillo, who is now filing stories from his new home in Hong Kong, relaying the tale of the tape:
All but four of the 30 major indexes representing the world's biggest stock markets by value have risen this year, a first-half performance unmatched since 2009, according to an analysis by The Wall Street Journal. In the past 20 years, only four first-half rallies have been as widespread or better than the current global surge.
And here are two great charts illustrating what's been happening..
This is a pretty good look at how widespread the rally has been this year as compared to recent years: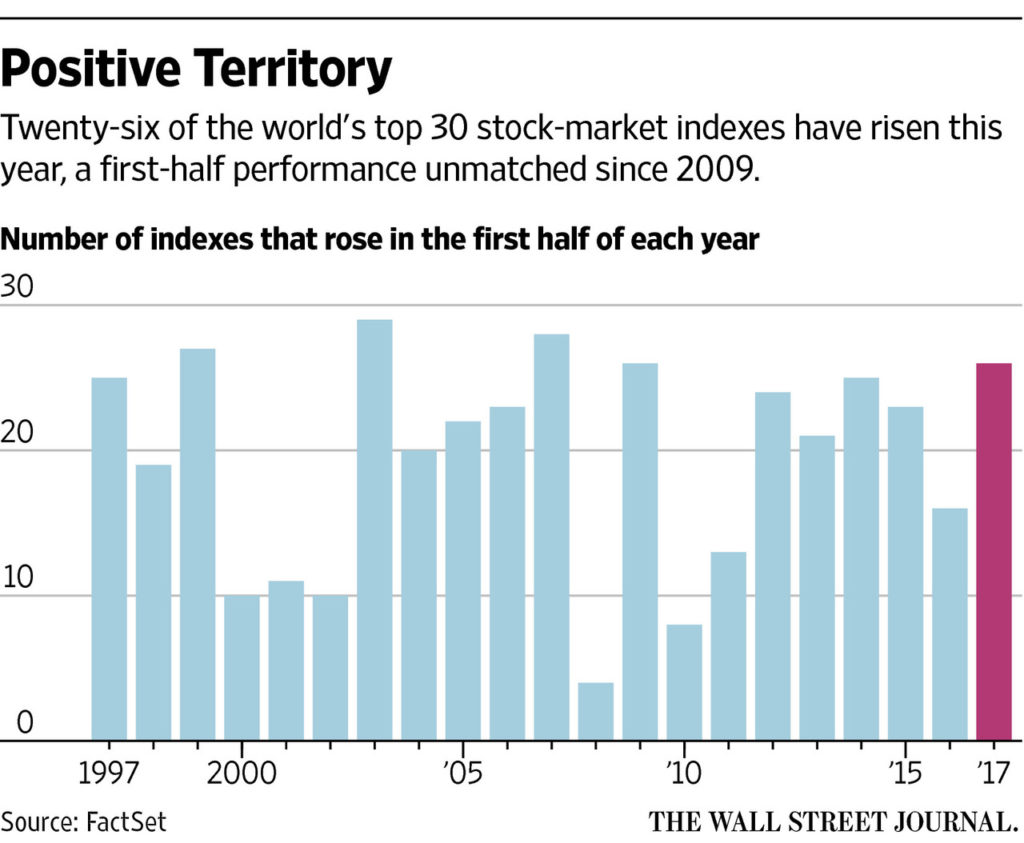 And here are all of the major indices representing the world's stock markets, year-to-date: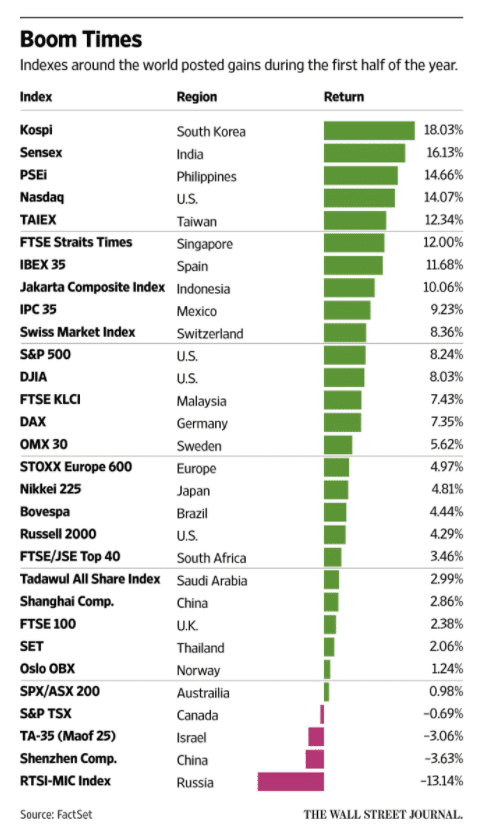 At the start of this year, we made a conscious decision as a firm to tilt our clients' asset allocation portfolios toward an overweight of global stocks and an underweight of US stocks. I discuss it a bit here if you're interested: What We're Telling Clients About European Stocks
I also talked about how incredibly under-allocated the average US investor is to these global markets in a post here: Same Old Performance Chase
If we can help you with your portfolio or your retirement plan, give us a shout here.
Source:
Global Stocks Post Strongest First Half in Years, Worrying Investors (Wall Street Journal)