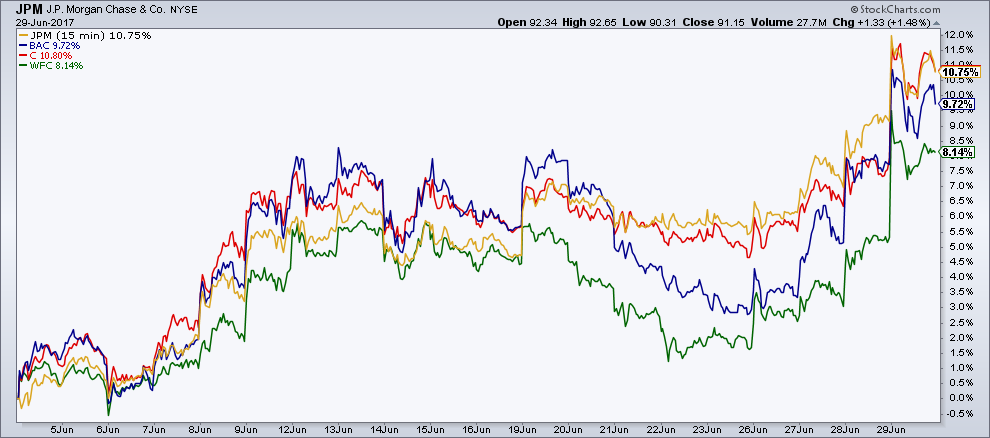 The CCAR* Circus came to town this week as America's Too Big To Fail institutions made their annual announcement about how much their regulator was going to allow them to spend on the return of capital to shareholders.
For the coming fiscal year, it's a big number. In fact, the announced share buybacks that came out on Wednesday made it the biggest one-day jubilee in history, based on a data set that goes back three decades.
Banks just turned it all around for U.S. buybacks.

Freed after passing stress tests, financial firms unleashed a windfall of repurchases that single-handedly reversed a year-to-date decline in overall authorizations. At $390 billion, planned buybacks are 3 percent above the amount at this time last year, a turnaround from last week, when the total was down 9 percent.

JPMorgan Chase & Co., Citigroup Inc. and Bank of America Corp. led financial firms unveiling $92.8 billion of buybacks Wednesday night following approvals from the Federal Reserve, setting a single-day record, according to data compiled by Birinyi Associates Inc. that goes back to 1984.
The whole "buybacks are the only thing driving the market higher" narrative kind of petered out toward the end of 2015, beginning of 2016 as new growth drivers began to asset themselves – for instance, the oil price recovery leading to a resumption in S&P 500 earnings growth or the cloud-driven revenue growth explosion in the large cap technology space.
Now we have all of those things plus a resumption of big-time buyback activity. This year's buyback announcements from the banks represent almost a double versus what they announced in 2016! Wednesday's new one-day record beat the previous record, July 20th 2006, by almost double as well.
You combine these announcements with the rally in the 10-year's yield (good for bank profitability and important signal of economic growth expectations) and you can see why people are going nuts for financial stocks right now.
***
* CCAR is the Federal Reserve's Comprehensive Capital Analysis & Review – or "Stress Test" – a program which is now in its seventh year. Notably, not a single bank was shot down by the regulator upon submitting a plan for spending on dividends and / or buybacks.
Via the Federal Reserve's release:
This year, 13 of the largest and most complex banks were subject to both the quantitative and qualitative assessments. The 21 other firms in CCAR were subject only to the quantitative assessment. The Federal Reserve may object to a capital plan based on quantitative or qualitative concerns, and if it does, a firm may not make any capital distribution unless authorized by the Federal Reserve.

The Federal Reserve did not object to the capital plans of Ally Financial, Inc.; American Express Company; BancWest Corporation; Bank of America Corporation; The Bank of New York Mellon Corporation; BB&T Corporation; BBVA Compass Bancshares, Inc.; BMO Financial Corp.; CIT Group Inc.; Citigroup, Inc.; Citizens Financial Group; Comerica Incorporated; Deutsche Bank Trust Corporation; Discover Financial Services; Fifth Third Bancorp; Goldman Sachs Group, Inc.; HSBC North America Holdings, Inc.; Huntington Bancshares, Inc.; JP Morgan Chase & Co.; Keycorp; M&T Bank Corporation; Morgan Stanley; MUFG Americas Holdings Corporation; Northern Trust Corp.; The PNC Financial Services Group, Inc.; Regions Financial Corporation; Santander Holdings USA, Inc.; State Street Corporation; SunTrust Banks, Inc.; TD Group US Holdings LLC; U.S. Bancorp; Wells Fargo & Company; and Zions Bancorporation.