"You rollin' like Trump, you get your meat lumped."
-Raekwon the Chef
The number one rap song in the country right now, Kendrick Lamar's Be Humble, was first introduced via a viral clip of LeBron jamming out to it on Instagram. LeBron was amazing in the post-season but in the NBA Finals earlier this month, he was most certainly humbled. The Jordan comparisons – not that he was the one making them – were probably not a great look, karmically speaking.
Be Humble is probably not a bad look right now in the tech world. We've been in the celebration phase all year as Microsoft, Google, Amazon, Apple, Netflix and Facebook take their place in the pantheon of classic American monopolists. These firms and a few others, it is now widely acknowledged, dominate everything. There is no day-part in which they do not dominate the battle for consumers' attention. There is no business safe from their ambitions. There are no industries in which their influence and encroachment are not currently being felt.
And for now, users, consumers, technology journalists and shareholders are cheering.
But this mood can change very quickly. Additionally, it's only a matter of time before government officials begin to hear ever more louder and insistent whispers in their ear to "do something!" from their adversaries and the incumbents they're disrupting. Lastly, it's important to remember that the incumbents don't just lay down. They occasionally play offense instead of defense in the face of an existential threat.
Already we're seeing essays about the "disinflationary" effects of these companies crossing over from the business section to the op-ed pages of major newspapers. The country has lost 22,000 coal jobs since 2001 but it's lost half a million department store jobs in the same period of time. Retail workers aren't predominantly white middle-aged men and they don't wear hard hats, so Republicans and Trumpists haven't taken up their cause. Yet.
The pace of this "disinflationary" effect seems to have begun to accelerate. Retail jobs are down 89,000 payrolls since October. It is expected that 8,600 retail stores will close their doors this year. Abandoned mall porn is making the rounds on social media once again this summer as JC Penney and Sears teeter on the brink of reorganization.
This is taking place as Amazon and the cloud computing / ecommerce / software companies that enable the trend add hundreds of billions to their market caps. Fighting to save the coal industry, which is small enough to fit into a thimble, is hilariously anachronistic in an era during which every kind of white collar worker is losing sleep over his or her own replaceability.
Betterment, Wealthfront and the early wave of robo-advice startups came out of the gates to a blitz of media attention and rapid growth in assets under management. They were really good at telling their story, showing off their abilities to scale and scaring the big asset management firms and online brokers.
They were too good.
It wasn't long before the weaker B2C robo-advisors folded, the middling players were acquired and the incumbents launched their own competing platforms. The miscalculation on the part of the disruptors may have been the idea that they had years of lead time to scale up their assets before the lumbering giants of the industry would be able to fight back. Turns out they only had months, not years. Charles Schwab and Vanguard launched their own versions of the service and the mindshare / market share battle was joined.
Does anyone now think that a standalone robo service is going to out-market Schwab? Or out-AUM Vanguard?
Be good… just not too good.
Does anyone think that every human advisory practice in America will not ultimately adopt B2B software that enables them to offer a competing service of their own? Because of course they will. Eventually every advisor will be a robo-advisor, which means there will be convergence. No such thing as a "robo-advisor" circa 2020 – timestamp that. The future will look more like Personal Capital – a robo-human hybrid – than it will a software vs human war zone.
Attract attention to your competitive advantage, just not too much attention. Disruptors who find a way to cross moats and attack a castle ought to remember that it was possible once they themselves inhabit the castle. All moats eventually get filled in, usually with dead bodies from both sides of the siege.
A generation ago, Microsoft's dominance and linking of the Windows operating system to the Internet Explorer browser was incredibly good. Too good. The government fought them for years until the point was moot and the issue no longer mattered.
Yesterday, the European Union levied a $2.7 billion fine on Google for prioritizing its own shopping results over others on their search pages.
It won't be long before governments around the world begin to hold Facebook accountable for things they don't like (political movements, threats, videotaped violence) that originate on its social network. Mark knows this – he's currently criss-crossing the country on a goodwill tour of diners, drive-ins and dives, choking down plates of chicken-fried possum and grinning beatifically for the webcam.
And this morning, there was this: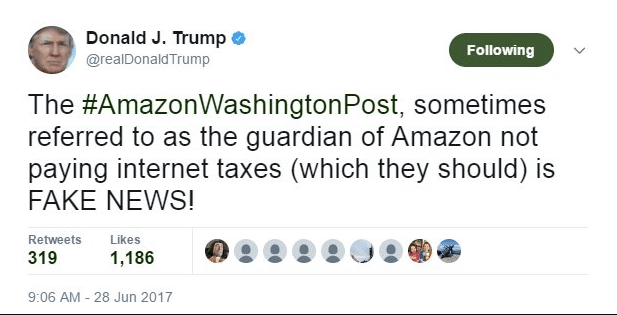 For now, let's leave aside the fact there is no such thing as an "Internet Tax" and that Amazon customers do actually pay state sales tax, collected by Amazon.
The President is not taking issue with the company's business practices so much as he's railing against Amazon's CEO's pet project, the Washington Post (he owns it). WaPo, along with the New York Times, is the official media apparatus of the anti-Trump resistance. The notion that Trump was going to allow Bezos, Amazon and the Post to operate unfettered seemed unlikely during the late stages of the campaign as the paper broke story after uncomfortable story. Now it seems downright impossible.
Fortunately for the Times, its founding family isn't also in control of a technology giant that's displacing jobs and entire industries across the country.
Amazon's deeper push into the grocery business with its pending acquisition of Whole Foods put the company back on the front burner. The Washington Post's revelation of Trump having a fake framed cover of TIME Magazine hanging on the wall this week was precisely the kind of antagonism that Bezos didn't need to be affiliated with right now.
The Washington Post is good at fueling anti-Trump sentiment. Amazon is good at taking a bite out of every segment of the consumer economy.
Both might be too good for their own good.
Investors may want to factor this in as they bid shares of the tech giants up into the sky.
Success on the scale these companies are currently enjoying will not go unnoticed – and unmolested – for long.