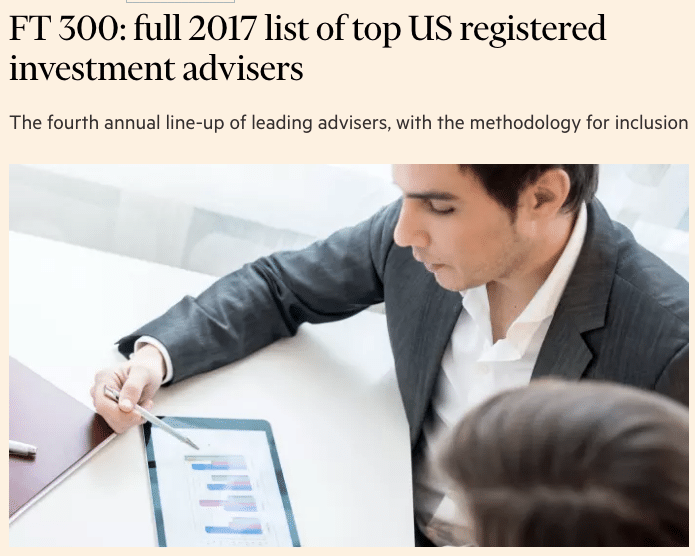 I'm pleased to announce that Ritholtz Wealth Management has made the FT 300 list for 2017. This is a ranking of the top 300 registered investment advisers in the United States according to the Financial Times.
It's a big deal to me. This isn't a list you pay to be on. It's merit-based and carefully chosen so that only the best in firms in each state are included. The methodology, according to FT:
The formula the FT uses to grade advisers is based on six broad factors and calculates a numeric score for each adviser. Areas of consideration include adviser AUM, asset growth, the company's age, industry certifications of key employees, SEC compliance record and online accessibility. The reasons these were chosen are as follows:

• AUM signals experience managing money and client trust.

• AUM growth rate can be a proxy for performance, as well as for asset retention and the ability to generate new business. We assessed companies on one- and two-year growth rates.

• Companies' years in existence indicates reliability and experience of managing assets through different market environments.

• Compliance record provides evidence of past client disputes; a string of complaints can signal potential problems.

• Industry certifications (CFA, CFP, etc) shows the company's staff has technical and industry knowledge, and signals a professional commitment to investment skills.

• Online accessibility demonstrates a desire to provide easy access and transparent contact information.
My partners Barry, Michael, Kris and I are incredibly grateful for the dedicated and hardworking team that helped to make this happen. RWM is a true ensemble practice in every sense of the word, a place where everyone pitches in and contributes toward the greater effort.
And to our clients around the nation – please know that serving you is the honor of our careers. You are the most engaged, intelligent and fascinating people we could ever hope to work with. Your trust in us means the world and we will continue to earn it every day.
Finally, thanks to the FT for including us. The only reason to be excited about making a list of any kind is if you respect the other folks on it. In this case, we're in great company. Much appreciated!
The list and accompanying articles here: