We're living through one of the most resilient times in the history of the US stock market, in terms of our ability to process and shake off scary news. Think of what's been thrown at investors over the last decade, and still we persist. Think of the political situation today. The President of the United States tweeted that he's under investigation this weekend. The President of the United States. Last week the Fed hiked interest rates for the 4th time, into lukewarm economic data.
And yet, the S&P 500 is opening at a new record high this morning. I have a theory about this resilience, which is that we've replaced faith in older institutions with belief in the invincibility of today's global corporations (read: American Gods).
A capitalist economy combined with good old fashioned American grit – this is a potent mixture. A recipe for resilience. We cycle through all of the things that are not great and could possibly get worse in our minds. And then we say I'm going for it anyway.
The best time to plant a tree was twenty years ago. The second best time is now.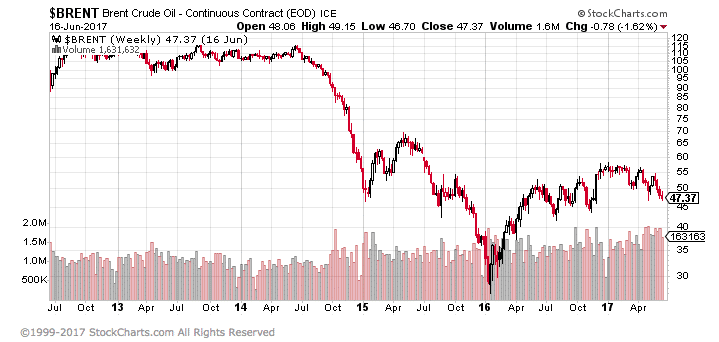 Let's talk about the oil crash. It began exactly three years ago today. Brent crude hit $115 a barrel and then, for no apparent reason at the time, it started a descent. This turned into a collapse. And then a crash. WTI West Texas Intermediate fell from $107 into the low 30's. It is still 60% below its peak today. Two hundred oil company bankruptcies and thousands of layoffs later, and the industry has found a way to cope. I'm going for it anyway.
Whereas $50 oil was once considered disastrous, now it's the new status quo. Fields are being developed again – albeit cautiously. Production is expanding – also cautiously. Investors are being more deliberate about which projects they want to fund. Profits are now rising year over year and the majors and declared their dividends safe.
Even better than merely surviving, producers and consumers have actually come around to the idea that current prices are better than the old highs. We have a habit of doing this sort of thing, it's a genetic coping mechanism written into our DNA.
Here's a great quote from the Wall Street Journal about how people are talking about the oil market now…
In 2013, then oil minister for Saudi Arabia, Ali al-Naimi, declared $100 a barrel a "reasonable price" for consumers and producers. Throughout the 2000s oil prices climbed to record levels, driven by soaring demand in emerging markets, especially China, and concerns over supply.

Now, many people in the oil industry don't even want to see that price again, some analysts say.

That is because high oil prices triggered a huge investment boom that fueled a global supply glut and crashed oil prices.
Got that? Lower prices we currently live with are actually a good thing.
That's us, coping, and just being our old resilient selves.
***
I once worked for a guy whose catchphrase to explain away any of his failings was "It's actually a good thing…"
His firm would make a mistake or something would go wrong – usually of his own doing – and that's what he would start off with when it came time to own up to it in front of his employees.
I still joke around about it with the people who used to work there with me. "My kid had to get stitches this weekend." And then without missing a beat, we'll make eye contact and spout "It's actually a good thing…" in unison. Then we'll come up with some extraordinary nonsense backing that up and the whole thing will dissemble into maniacal laughter.
And while this is still funny to me, I've also begun to consider this as a rational way of dealing with the world and all of its uncertainties, twists of fate and setbacks. The ability to cope is probably an underrated trait for investors and businesspeople.
Besides, it's not like we have any alternative other than adopting a maudlin, woe-is-me worldview. But if you know me, you know that's not a realistic option at all.
Shit happens. Most of it beyond our control or some of it within our control due to errors in judgment. Some of these things we can get used to, and even find the silver lining in. Other things are irreversible, bringing with them a sort of damage that cannot be undone. They force us to change and adapt and take a new course, to do things we otherwise wouldn't. I'm going for it anyway. 
It's actually a good thing.
Source:
Three Years On, Oil Industry Comes to Terms With Cheap Crude (Wall Street Journal)