We got a ton of feedback this week from my post about our overweight European equities positioning. For the first time in awhile, investors seem to be waking up to the idea that there may be money to be made in a market outside of US large cap stocks.
I was playing around on ycharts.com and pulled together a look at the top Europe stock ETFs.
The YTD performance of the top five largest by assets can be seen below. On a one-year basis, WisdomTree's product (in red) – which hedges out the euro exposure – is leading, but this year it is lagging as you can see. The appreciation of the euro currency has been one of this year's biggest surprises. Having exposure to both the rising currency and the rising stock prices of the continent simultaneously has given investors performance that is double the S&P 500 so far in 2017.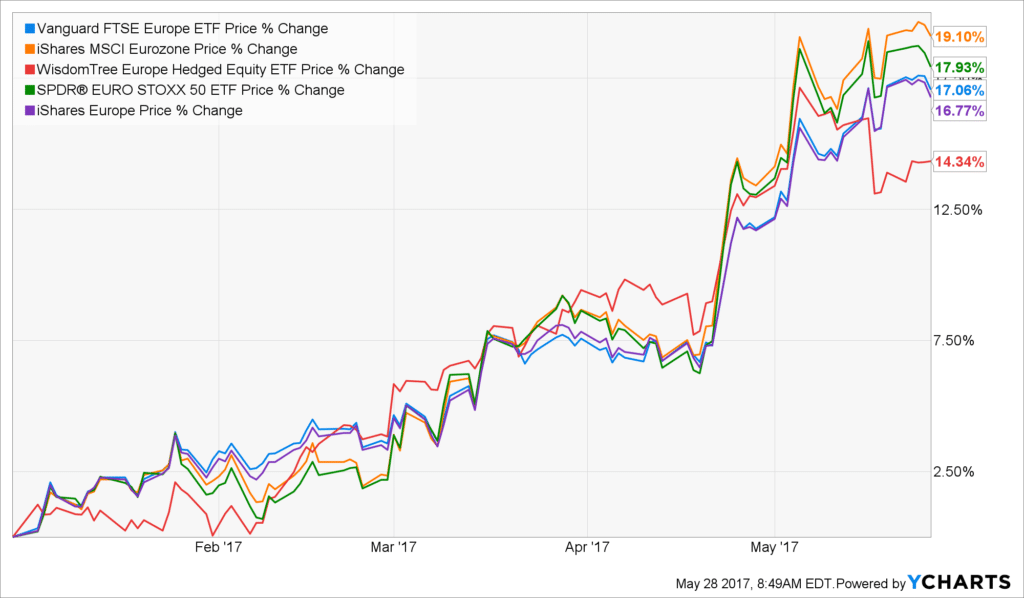 Let's look at the expanded universe of European stock ETFs – there are only 15 of them with more than $100 million in assets. Here I have YTD flows, performance, etc. The WisdomTree product is losing assets under management as a result of the newfound enthusiasm for "double" euro exposure – stocks and currency. However, the currency-hedged Europe ETF from Deutsche actually saw positive inflows this year: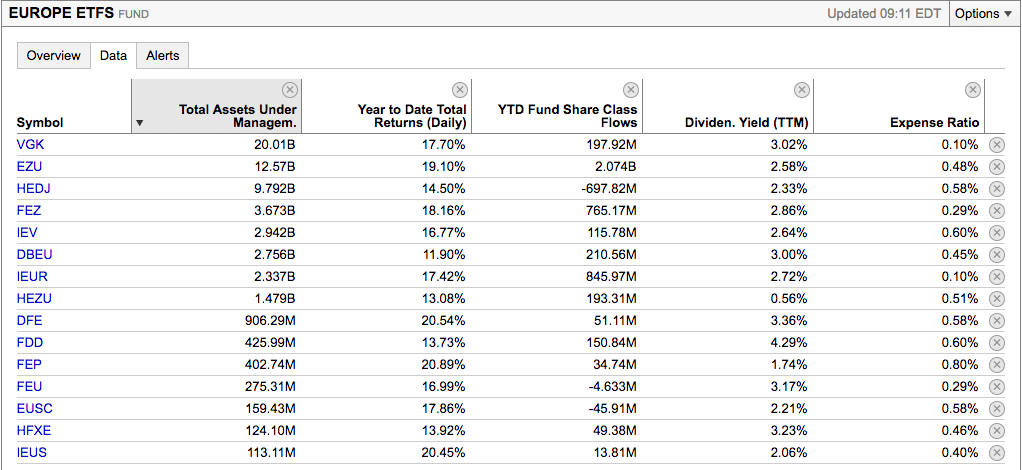 The biggest flows – over $2 billion this year – came into EZU, which is the Euro Zone countries-only product from iShares. No Switzerland, no United Kingdom. This tells you that investors are really trying to play the theme of a European economic recovery and capture the potential of the lower multiples on German, French, Spanish, Belgian and Italian stocks. This fund is up almost 20% in total return in just the first 5 months of this year.
Vanguard's $20 billion VGK product, which will own the countries outside the Euro Zone, has taken in just $200 million YTD and trails EZU slightly with a total return of almost 18% this year.
There are lots of ways to get this sort of exposure, and, as always, some will look better than others over select periods for reasons that are beyond our ability to forecast.
You can talk to us about how your portfolio is positioned right here. Certified Financial Planners and portfolio specialists are standing by.
Read Also:
What We're Telling Clients About European Stocks (TRB)
Source: