I get this question a lot – it's usually some variation of "How do you (or you guys) manage to do so much every day?" They're referring to the web content, the social media, the articles, etc. The truth is, we couldn't do half the stuff we do if the squad running the firm day to day wasn't airtight.
Today I want to tell you about a team member who has been absolutely instrumental in the firm's growth and prosperity since almost day one. He doesn't write a blog and he almost never tweets, so you may not be familiar with him. But Patrick Haley is so incredibly important to this firm that today's mention is long overdue.
So I'd like to tell you a little bit about Patrick and what he does here.
In late 2013, shortly after founding the firm, it became apparent that we needed some help. For starters, we needed another client-facing Certified Financial Planner to ensure that all of our households were getting the maximum amount of service and attention – this is the cornerstone of the wealth business. But additionally, we needed someone experienced enough to help us with the nuts and bolts of actually managing the practice and handling all of the specific tasks that come along with it. There are endless processes and procedures inherent to the investment advisory business, so having someone with the background and an orientation toward details and checklists was critical.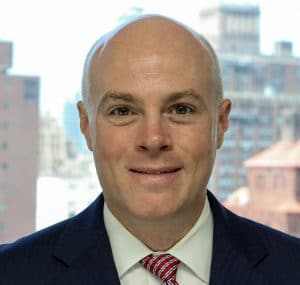 And then we got really lucky. We didn't just find a good candidate – in March of 2014 we found the perfect person for the role.
Patrick Haley began his career in the industry at Merrill Lynch in the summer of 2005. Patrick was working with a large team in the Washington, D.C. area, working directly with clients and helping the team manage its overall growth. When he reached out to us, we asked him to come up to New York City for a meeting.
At that point, we learned a lot about what he was doing prior to financial advisory – he was fighting for our country in the War on Terror. Patrick Haley was flying an EC-2 Hawkeye as a Naval Flight Officer during Operation Southern Watch in Iraq back in 2000. After that, he was part of Operation Enduring Freedom in Afghanistan from 2001 to 2002. Patrick was also stationed out of Point Mugu, California and served as an instructor in Norfolk, Virginia.
The training and discipline and logistical experience Patrick has brought to our firm have been an incredible addition to our other capabilities and he has gradually become more and more indispensable as we've expanded and grown in sophistication. His reliability, consistency and steady hand at the wheel – in addition to his adherence to best practices in all areas – are an extremely valuable asset both to the firm and to our clients.
When assets come in to the firm that need to be allocated, Patrick is there. When trades in a particular account or across a model need to be executed, Patrick is there. When a new client household needs to be set up with any of the pieces of software we use to track financial planning or performance reporting or risk management, Patrick is there. If it involves the movement of money, the reporting of data, the implementation of hardware or software or anything along those lines, Patrick is most likely going to be somewhere in the middle of it.
And there's no one I trust more to have in that slot; constantly vigilant and watching out for our clients, our costs and the best interests of the firm at large.
And so today, I am proud and honored to announce, on behalf of all of us at Ritholtz Wealth Management, that Patrick Haley has become our Chief Technology Officer, in addition to his work with clients as their planner, advisor and investment counselor.
I asked him how he felt about the importance of technology within the firm. Haley said "While the foundation of our business is built on and remains personal relationships, more and more of our operations are driven by technology, such as billing, trading, analysis, and reporting. As the role of technology expands, I am committed to adopting the best tools available, enabling us to provide superior service to our clients"
Patrick works out of our New York City headquarters as well as from his hometown in Rhode Island. We were fortunate to have found him three years ago, and we are very happy to elevate his role within the firm to the C-Suite. Congratulations, Patrick. You earned it.
***
To talk to us about how we work with clients, or to discuss a career at RWM, you can reach us here: