You don't want to miss the end of a bull market, says Savita Subramanian, Bank of America Merrill Lynch's Quant-in-Chief. It's where some of the most explosive upside moves take place. Parabolic, skyscraper-like charts can happen just before it's all over.
Additionally, you need euphoria to show up – not in the form of sentiment surveys but in actual dollar volume. You need fund flows. Savita makes the case that, if history is guide, we haven't seen the best part yet (even if it ends in tears, as usual).
Here's a look at the performance of stocks heading into historic bull market peaks, 24, 12 and then 6 months prior. It's painful to miss the end of these things (you may click to embiggen):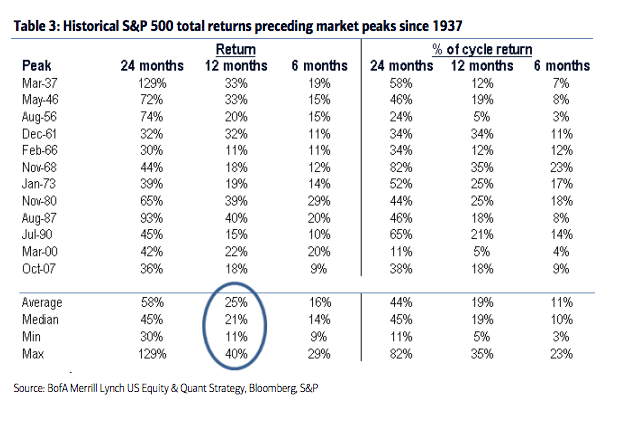 And then here's why we haven't crossed over into true euphoria territory yet (you can thank the Trump administration's endless legislative bumbling for prolonging this phase so far). Bond funds are yellow, stock funds are blue: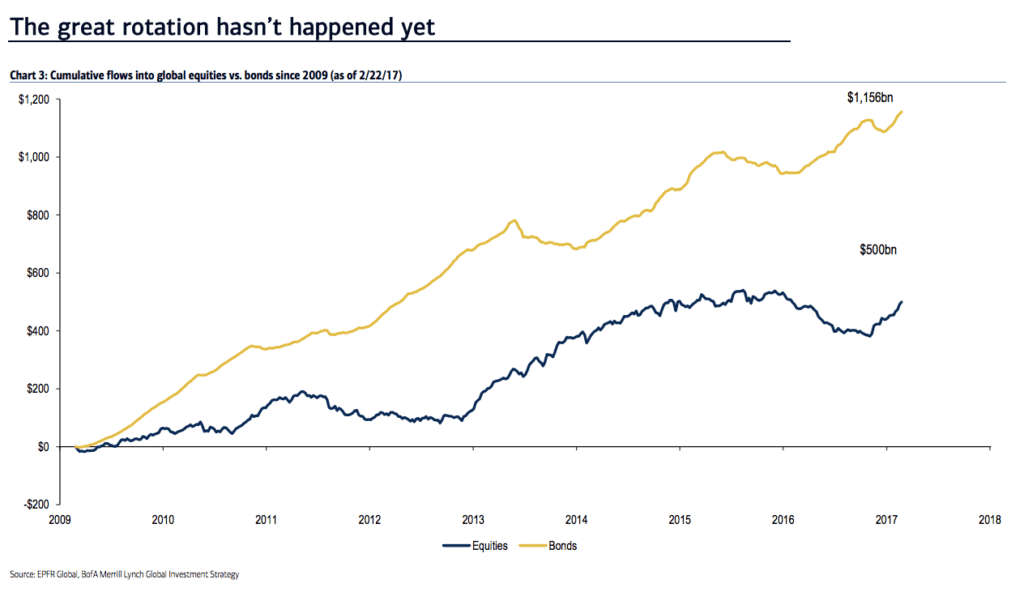 The negatives – yes, we've shrugged off geopolitical events in the recent past, but Savita cites the fact that positioning was light anyway, defensives were over-owned and cyclicals were barely owned. Not the case now. Additionally, buybacks were a major source of fuel and now they're slowing down. Lastly, valuations are high, both in terms of earnings / book value as well as market cap to GDP.
But if investors make up their mind to get euphoric and fire all of their guns at once, we could still explode into space.
So what do you do?
If you're a trader, you need to be open to this possibility – not just open to it, but willing to be positioned for it.
If you're an asset allocator or an individual investor, it might be more profitable to prepare yourself for this mentally than it would be to make a dollar bet on it. This means remaining diversified and not fully exposed to the end-run boom. And forgiving yourself for not capturing all of it, if and when it comes.
Because they won't send you an email when it's about to end. And it is highly unlikely that you'd be able to unwind a big bet on this sort of thing smoothly and in a timely fashion. The only category of people who can do this are called Liars, according to Bernard Baruch.
My counsel to clients is to enjoy the portion of their portfolios that gets to participate in whatever melt-up may come, and thank the heavens that that they're not positioned to enjoy all of it. I'm too old for hangovers and so are they.
Source:
The beginning of the end of the Trump put
Bank of America Merrill Lynch – March 27th 2017