Real quick – the Federal Reserve today voted to raise overnight Fed Funds rates by a quarter of one percent today to a range of .75%-1%.
Markets were expecting it and wanted it. The Fed had a window without geopolitical happenings or market volatility and they did what they needed to do.
I want to point out yet another example of asset prices bucking the conventional wisdom. It has long been thought that homebuilders would be susceptible to rising rates as the subsequent higher mortgage rates would make purchases less affordable.
They had this backwards. Higher mortgage rates are having the opposite effect – they are pulling buyers off of the sidelines. Watching the rate go up, after being so low for so long, has the effect of looking like a door closing to those who had been waiting all this time. If your expectations are that it is about to become more expensive to borrow tomorrow, then you borrow now. We had been mired in the malaise of deflation and disinflation for so long, that the sidelined buyers didn't have a lot of urgency. Now they do.
And so, ironically, the rise off of last summer's bottom in rates has spurred more activity, not less. Homebuilder Confidence has gone through the roof. So has refi activity. And now the stocks of the homebuilders themselves have broken out. It's extraordinary to watch them rally along with the 10-year Treasury bond's interest rate.
As seen in the correlation pane at the bottom of the chart below, the 10-year's yield and the ITB index ETF of homebuilders has become over 60% correlated on a rolling 30-day basis: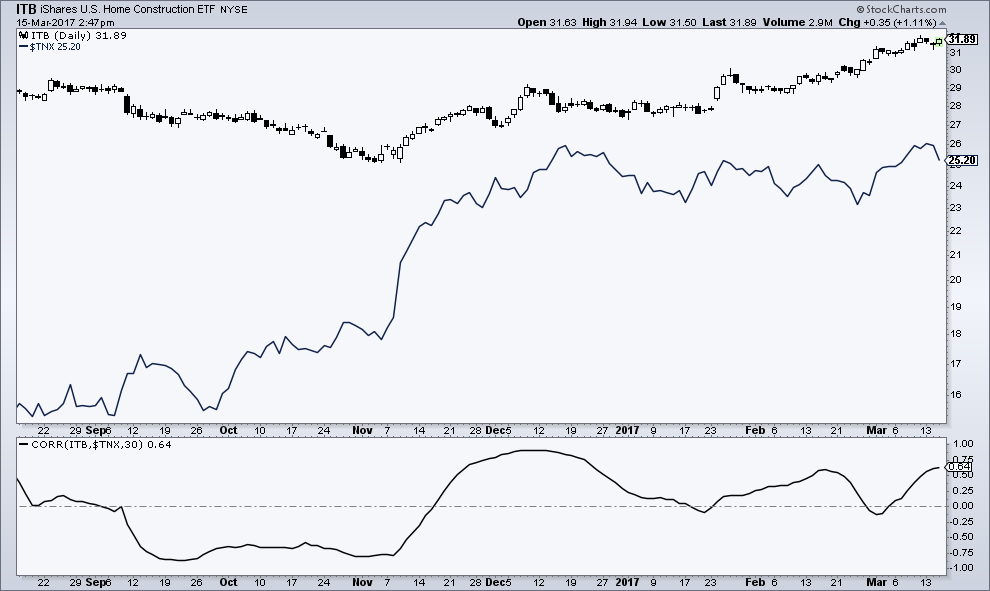 Correlations don't last forever, but this one has been positive for the most part since the election. Rates aren't driving the homebuilding stocks alone – household formation has been pent-up for years and wages are now finally rising at a better pace. So long as rates don't get to a high level on an absolute basis, there's no reason to think that normalization will hurt either housing or the economy.