From the first quarter of 2009 through the end of the year 2016 – roughly the span of President Barack Obama's administration – the United States of America added about $40 trillion in household wealth.
Here you go: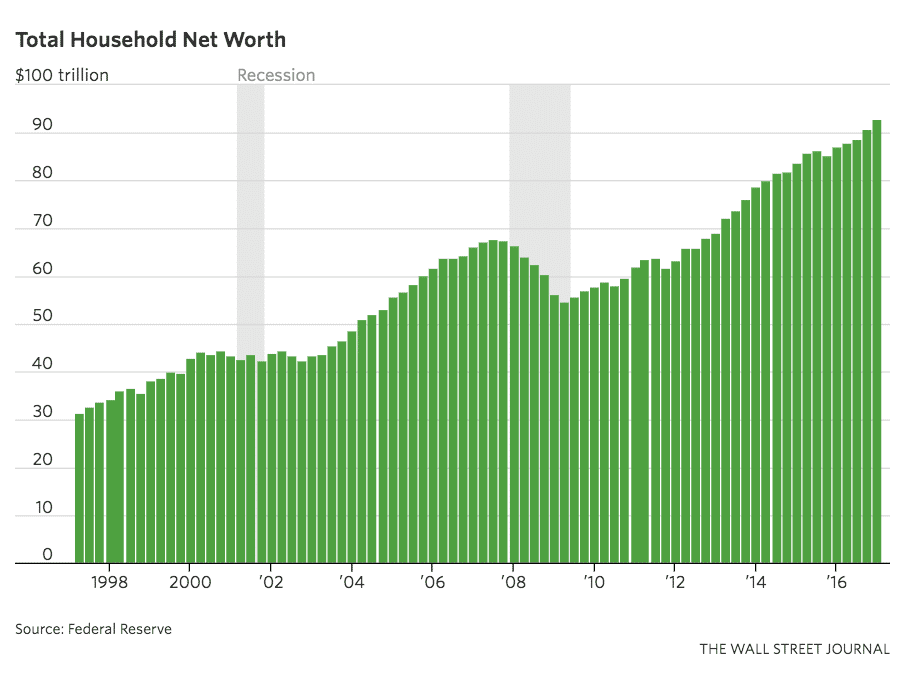 via WSJ:
U.S. household net worth climbed to a record $92.8 trillion in the fourth quarter of 2016, as the end-of-year surge in stocks and a steady climb in home prices added more than $2 trillion of wealth to household balance sheets.

The biggest contributor to the increase was the stock market, which added $728 billion to household balance sheets in the fourth quarter, according to the Federal Reserve's quarterly financial accounts report.

Since the first quarter of 2009, however, wealth has soared by $38 trillion, driven by an eight-year rally in stocks and eventually by a robust recovery in home prices.
I don't attribute this fact to Obama or to his policies. I'm just pointing out how ludicrous the scorekeeping over this sort of thing has become.
There's an element of right time, right place. There are other variables such as demographics, tax and interest rate regimes, the condition of financial markets before and after a president's term, the global macro environment, the ebb and flow of armed conflicts and manufacturing needs pertaining to them, etc, etc, etc unto infinity.
BTW, it's amazing how much the Democrats suck – on a national level – at tooting their own horn with this sort of data. The way they talked about the economy this last go-round has been as if they had something to apologize for.
Granted, overall levels of wealth do not describe the breakdown and distribution across income levels. Suffice it to say, Obama's record – if it actually is his fault at all – has not been great. In the article below, you'll see that the wealth-to-income level is now absurdly high – net worth is 6.5 times greater than disposable personal income vs 5 times before Obama's inauguration.
In America today, you have to start with assets – real estate or stocks – in order to get anywhere. There's not much about the new president's policies so far that lead me to believe this might change.
Source:
U.S. Household Net Worth Reaches Record $92.8 Trillion (Wall Street Journal)