This morning, we learn that the Trumpists were not aware that Michael Flynn had recieved a half million dollars from the head of Turkey while he was actively campaigning this past summer.
It's hilarious how big of a scandal this would have been for any other president, during any other time than this. But it's a drop in the bucket these days, an afterthought. The White House is literally controlling a hotel and golf resort empire around the world as it sets foreign policy, collecting trademarks in China for its businesses at a mind-blowing rate and raising the cost of membership at Mar-a-Lago, which virtually assures guests some level of access to administration officials nearly every weekend.
So, in this day and age, we grade corruption on a curve.
Not South Korea. These people are done f***ing around. They've just democratically removed their president for corruption and influence peddling. The protests worked. Here's Boing Boing:
The Constitutional Court in South Korea upheld the impeachment of President Park Geun-hye on Friday. She has now been formally removed from office over a bribery and big business corruption scandal that dragged on for months. Park is the first democratically elected leader in South Korea to be kicked out of office. The nation's constitution states that presidential election shall be held in 60 days.
It should be noted that she wasn't just any president, but a member of something like a political dynasty – akin to a Bush or a Kennedy. Park's administration has been caught accepting money from electronics giant Samsung for favorable treatment (more on this in a moment).
Here's what my friend Peter Boockvar had to say on the investment ramifications:
The South Korean Kospi rallied .3% after President Park was officially impeached as a court upheld the government's decision. The South Korean stock market is one of my favorites as it's trading at just 10x earnings. It always has had a low multiple because of the domination of large conglomerates but if we're on the cusp of corporate change and restructuring of the Chaebols, multiple expansion is very possible.
Josh here – South Korea is interesting in that it is still considered by some indexing methodologies to be an emerging market rather than a developed one. This is despite the fact that it is the 11th largest economy in the world, the 10th largest stock market and the 7th biggest exporter.
FTSE Russell changed the status of South Korea from emerging to developed in 2009, and adjusted its indices accordingly. MSCI stood pat, however, so EM funds based on their indices still have SK exposure.
Economically speaking, South Korea has low inflation and low unemployment. Higher than average interest rates help draw in foreign investment and the currency – the won – is fairly stable for an EM nation.
The major issue issue with the South Korean investment landscape is the presence of the chaebols – basically an oligopoly of giant businesses that are run by the leading families in the country and dominate commerce there, exerting influence on the government. Bloomberg Gadfly doesn't see this system as being on the cusp of disruption any time soon, based on the reaction of their stock prices:
An easy conclusion to such a muted reaction would that the market has already priced in any downside from Park's ouster, and calls to break up the cozy relationship between family-run conglomerates and the political elite.

That doesn't seem to be the case, either. The chaebol, which account for 50 percent of South Korea's Kospi index by market value, have not only risen since before the drama started to unravel in mid-October, but have outperformed the broader market.
A glance at the primary ETF that tracks the country's stock market (EWY) gives us some idea as to why it's so cheap. Samsung represents 22% of the index. And, as you may have read, Samsung is having significant technological problems (exploding phones) and a huge management scandal lately. Samsung's CEO and several other executives were the ones accused of bribing President Park's administration for allowing a merger to go through.
Thus, the discount has been warranted. Auto giants Hyundai and Kia make up less than 5% together. Technology, financial services and consumer discretionary account for almost 70% of the ETF's exposure, so it's not a very diversified play. A low dividend payout (1%) has also been responsible for SK's unpopularity, as this country's blue chips have been largely ignored amidst the global hunt for yield.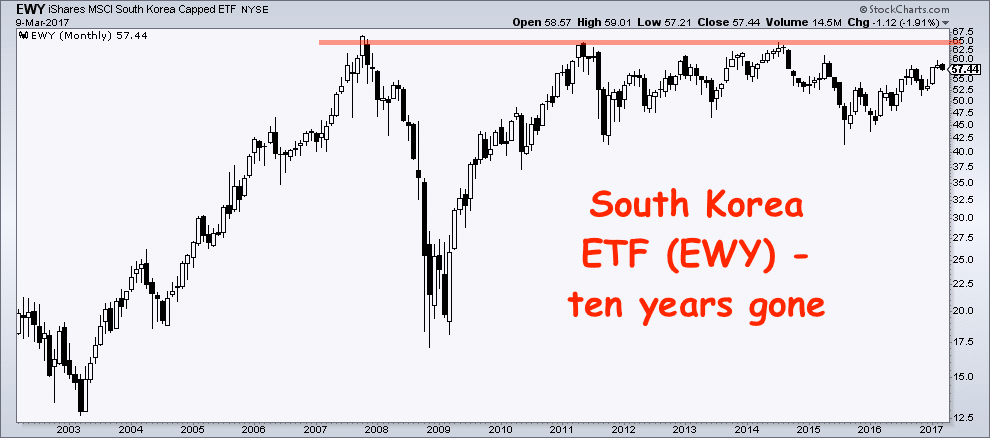 Over the last 1, 5 and 10-year periods, EWY has had nearly identical performance with the EEM ETF tracking the broader emerging market index. Both have returned almost nothing for a decade, annualizing at just 2% back to 2007. However, EWY currently sells for 1 times book, a 50% discount to EEM, while sporting a PE of 13 versus 16 for the basket.
Anti-corruption measures undertaken by a democracy and a wave of better governance for listed companies, should the Samsung shakeup inspire such a thing, are generally good for a country's investment outlook. As we discussed here in Stock Markets and the Rule of Law a few weeks back:
How many multiple points on the S&P 500 are at risk if the populace gets to a place where they no longer believe we are a country of laws – laws that apply to everyone, including the politicians who happen to be in control at a given a moment?

I don't know the answer, but I guarantee you it's not zero. It's a number for sure.
So what's it worth to a stock market trading at 10x earnings when the people decide to clean things up and get serious about corruption for all the world to see? I don't know the answer, but I guarantee you it's not zero. It's a number for sure.
Sources:
South Korea's Constitutional Court upholds President Park Geun-hye's impeachment (Boing Boing)
Korea's Chaebol Will Be Just Fine (Bloomberg Gadfly)
Stock Markets and the Rule of Law (TRB)