Ari Wald at Oppenheimer Asset Management put this out over the weekend and it's an interesting take on where we are in the stock market cycle (not the economic cycle, different discussion). What if it's only 1995 as opposed to Q1 2000?
In our 10 Big Numbers for 2017 (Jan. 2, 2017) we rhetorically asked what would make us even more bullish, and answered: the ability for the S&P's weekly RSI to reach 75 because this momentum reading is usually reached during the early stages of a new advance, by our analysis. This was confirmed last week, and the bullish implications are a critical point being missed by those focused solely on late-cycle valuation and economic metrics. We side with the market's early-to-mid-cycle behavior because the numbers back it up. Since 1929, the S&P has averaged a 7% gain over the next six months when this indicator is above 75 (5% of the time) vs. a 3.3% gain during all other 6- month periods. This shows overbought conditions can be bullish, flying in the face of popular belief.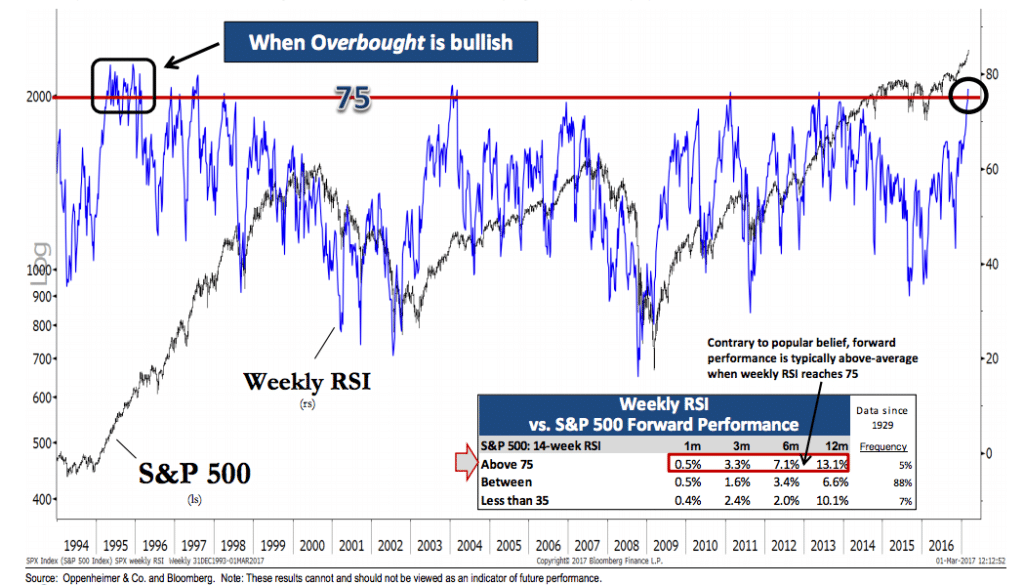 RSI readings above 70 are considered to be short-term overbought by technicians, but based on Ari's analysis of early-stage bull markets back to 1935, the sheer ability of a market to reach 75 has been indicative of further gains in the months ahead.
"We counted 17 prior occurrences since 1930, and in these instances, the S&P averaged a 10% gain over the next six months and traded positively 88% of the time vs. a 3.5% gain and 66% positive hit-rate for any six-month period."
He notes that having Financials, Technology and Industrials leading the charge is consistent with prior bull markets in their early stages (these have been the leading sectors over the last 12 months).
Worth considering.
Source:
Technical Analysis: Inflection Points
Oppenheimer – March 4th, 2017