I celebrated my 40th birthday this weekend. "How does it feel?" my friends have been asking me. They're mostly about to do the same. I tell them that I've never felt more alive. It's not bullshit, it's the truth.
Ten years ago, on my 30th birthday, I was sitting on the beach in Mexico discussing the future with my wife. I didn't really have a future. We had a 2 year old daughter, no money saved and a one-bedroom apartment on the Upper East Side I could barely afford. I was trapped at a failing brokerage firm, doing a job I hated, making an inconsistent living because my heart just wasn't in it.
I was the oldest 30-year-old you ever saw, waking up every day feeling like I had the weight of the world on my shoulders and nothing to look forward to.
Little did I know that the collapse of the global economy was just a few months away and that, as the Chinese say, this crisis would also be my opportunity to rise like a phoenix from the ashes and soar high into the sky. It didn't happen quite so easily. I had to admit some harsh truths to myself and, through my first book, to the world. I had to disavow every single thing about how I was working and start completely from scratch. I had to take enormous career risks and a giant leap of faith – that by telling all and being brutally honest I would find my salvation.
In the early going, it looked like a terrible bet. "What the f*** are you doing?" my colleagues would ask, every time a new post I wrote about the business began to make the rounds. "I can't believe you did that!" they said, when I published the entire brokerage telemarketing script book. "What the hell are you going to do now?" they asked, when I dropped my Series 7 and left behind the only career I had ever known.
And then there were the years of "leaving money on the table" as I forged ahead in a new business model, where the clients were treated like gold and the profitability would have to wait until scale was achieved. And then the next risk, and then the next, and the next – hundreds of hours a month of reading and writing with no immediate payoff to speak of. Jumping to work with Barry with literally no idea how it would translate into a salary. Traveling the country to meet with clients and prospective clients while running the practice from a laptop. The founding of our own firm and the hiring of our first employees. Massive expenditures on office space and technology, entirely on the belief that revenues would grow to justify them.
Well, here I am ten years later, with plenty of concerns on my mind but an end to the existential worrying. The risks paid off.
In my opinion, we have the hottest wealth management firm in America. We're not trying to be the biggest, just the most respected. Everywhere you go in this industry, people are reading my colleagues Michael and Ben and Tony and nodding along to (most of) the things we're saying. We made a huge bet that by educating and entertaining our readers and fans, they would become incredible clients. We win this bet every day. I get up without an alarm clock at the crack of dawn every morning – weekends too – and explode into my work like a force of nature.
The future, while still unknowable, is loaded with tantalizing possibilities, where once there were none. I'm so busy these days I don't have time to worry about myself. I have hundreds of families' retirements to look after. Dozens of different responsibilities as the CEO of the firm. Our business capabilities are steadily expanding in response to the things our clients are asking for. My employees and partners are having babies left and right.
It's all happening.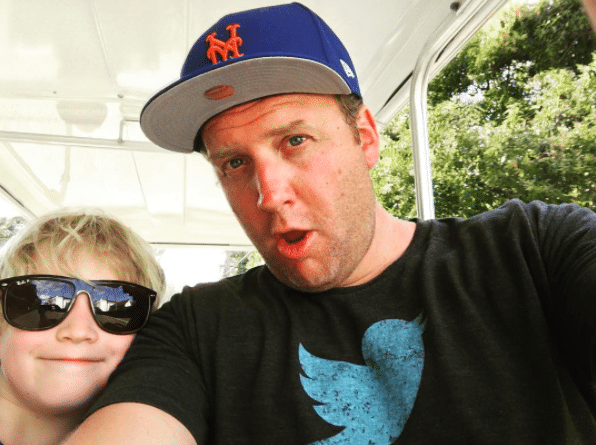 And if I haven't grown up by now, there's probably no danger of that happening any time soon. I still love to laugh and make others laugh, love to check out new bands and see live shows, and find the time to play my guitar. I love coaching my kids' teams and riding my bike and reading books and all the other stuff I discovered made me happy along the way. Finding space for everything I want to do is a challenge, but compared to challenges I've faced in the past, it's a breeze.
So how does 40 feel? It feels incredible. I am doing what I love and spending my time how I want to, working with the people I want to spend it with. At 30 years old I was in a very bad place – mentally, physically, financially and spiritually. Today I feel ten years younger than I did ten years ago. I plan to grab the next decade by the reins and ride that sonofabitch like the wind.
And now I know exactly how to do it.