Another day, another new record open for the Dow Jones Industrial Average, S&P 500, Russell 2000 and the Nasdaq 100 and the Nasdaq Composite. New highs are bullish, not bearish – especially new highs across all major averages.
But what's going on in the "market of stocks", beneath the surface of these new highs for the indices?
My friend Jon Krinsky, ace technician for MKM Partners, points out a divergence worth keeping an eye on in the New York Stock Exchange Composite (NYA)…
As the market pushes to new highs, less stocks are making new highs. Like most divergences, this can persist so it is once again a warning more than a timing tool.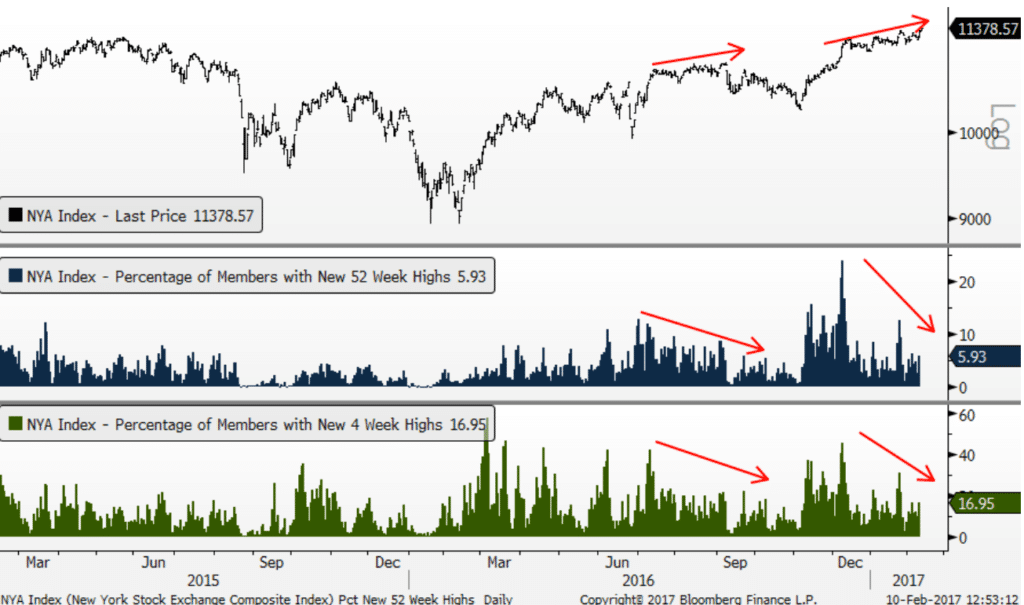 Josh here – it's worth pointing out that this can change relatively quickly, as large numbers of stocks play catch up and break out to new highs individually. These divergences don't have to end badly, nor do they necessarily guarantee a correction through price. It's just as reasonable to guess that the index price could correct through time should the rally become too narrow and falter.
Source:
When Volatility Gets Low, Buy Low Vol. Stocks
MKM Partners – February 12, 2017