This is from the Wall Street Journal and it is absurd: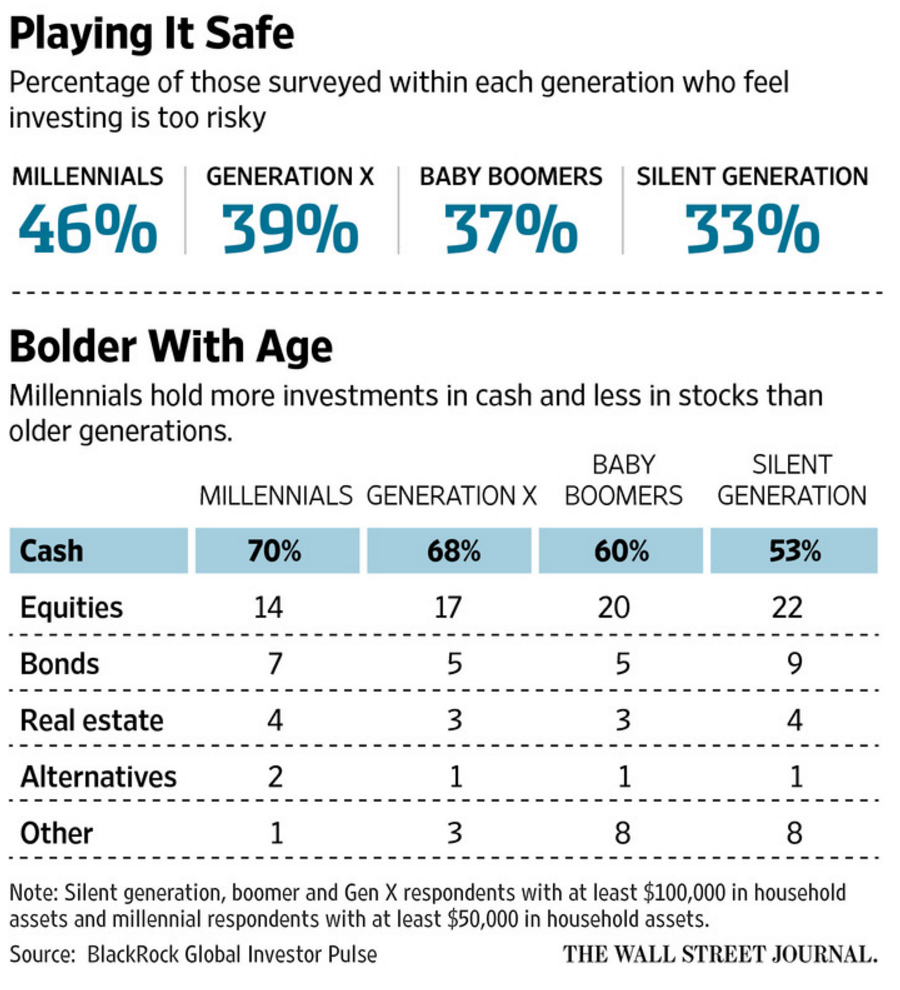 It just shouldn't look this way. If you're a millennial holding 70% of your investable assets in cash – and you're not on the verge of buying a home or paying off the entirety of your student debt – you are squandering the most precious resource known to investorkind: Time.When it comes to compounding, time is more valuable than any analysis, research, investing tools or trading service. You can be the most boring investor on earth and, with enough time spread out before you, outperform virtually anyone.
A new book I'm reading tells the story of how Ben Franklin, the original proponent of compounding and investing in America, chose to bequeath his assets upon death. Franklin was the recipient of loans as a young man and they enabled him to get started in his trade. He wanted to do the same for generations of American young men who had served apprenticeships and were ready to go into business.
According to 'Rule of 72' authors Tom Jacobs and John Del Vecchio, Franklin left 1,000 pounds sterling ($122,0000 in today's money) each to the town of Boston and the city of Philadelphia. But there were strings attached…
"For the first 100 years, the money could only be used to loan to help young tradesmen starting out – just as others had loaned money to him. Franklin chose to invest his estate in the future of America, apprentices who would grow businesses and form the backbone of his favored cities.
The interest rate that the tradesmen would pay was 5% annually. In this way, the fund would continue to grow for decades.
The authors go on to quote from Franklin's will, which further stipulates that "At 100 years, the cities could withdraw 75% of the money" to be used for public works – bridges, aqueducts, fortifications, public buildings etc. And then at the second 100-year mark, 200 years after Franklin's death, the cities could have all of the money. Talk about long-term planning!
Ben Franklin was America's Da Vinci. He understood a great many things, but this insight into the nature of compound interest was perhaps the most important. He estimated that his original gift would be worth 131,000 pounds sterling by the hundred-year mark and then four million, sixty one thousand a hundred years later.
In fact, his money did go to extraordinary lengths. Here's Jacobs and Del Vecchio:
Franklin estimated 5% annual returns on the money loaned out. The actual rate came to 4%. By 1890, that $9,000 ballooned to $500,000, an inflation-adjusted $13 million today. After withdrawing 75% by 1990 (the second 100-year deadline) the remainder still fattened to $6.5 million – a cool $12 million in today's dollars.
Franklin's money undoubtedly did a lot of good over the centuries during which it was loaned out. For an affluent but not stupendously wealthy man, his bequest was a substantial accomplishment. He made a friend of time, despite the fact that his time here was at an end.
Now imagine you're in your 20's or early 30's. You needn't have two centuries ahead of you to do the same. You simply must begin. Your advantage of having extra years at the outset is way more powerful than you can possibly imagine. At 5%, your money is doubling every 14 years. At 7% it's doubling every 10 years. These rates of return are entirely within the realm of historical possibilities for a simple portfolio. They require no family connections to a storied investment bank and no particular trading acrobatics. Just patience and the ability to weather normal drawdowns.
And the sooner one begins, the more money there is to continue compounding at these rates, into the next decade and beyond.
I know that when you're in your 20's, it's hard to imagine the future you, but believe, he or she exists and you will soon become that person. I also know how hard it is to prioritize not spending.
Assuming you are debt-free, contributing the max to a 401(k) or other tax-deferred account and you are living within your means on an annual basis, the decision to start investing should not be put off for even another day. The people you know in their 40's and 50's, regardless of how knowledgable they are about investing, would trade a hell of a lot to be in your shoes right now and not just because you're having more sex than they are.
You have something better than all of the investing acumen in the world – you have the time to compound.
Sources:
The Biggest Money Mistakes We Make—Decade by Decade (Wall Street Journal)
***
A version of this post first ran here on October 25th, 2016