"We have become great because of the lavish use of our resources. But the time has come to inquire seriously what will happen when our forests are gone, when the coal, the iron, the oil, and the gas are exhausted, when the soils have still further impoverished and washed into the streams, polluting the rivers, denuding the fields and obstructing navigation."

– Republican President Theodore Roosevelt
This post is not going to be political. My partner Barry Ritholtz has been at the forefront of the idea that politics and market forecasts do not mix.
However, people who have accumulated wealth or are in the process of doing so may wish to express their beliefs and hopes for the future in the way that they allocate their portfolios. As the CEO of one of the fastest growing registered investment advisory firms in America, it is my job to make sure that our clients can do this in a way that is commensurate with generating the returns they need based on their financial plans.
In 1901, after the assassination of President McKinley, Teddy Roosevelt became the 26th President of the United States. He promptly began to use his power in the most conservative way possible – working tirelessly on the conservation of the land that made America great.  According to the National Parks Service, "Roosevelt used his authority to protect wildlife and public lands by creating the United States Forest Service (USFS) and establishing 150 national forests, 51 federal bird reserves, 4 national game preserves, 5 national parks, and 18 national monuments."
All told, Roosevelt had set aside and protected 230 million acres of public land. Thanks to his foresight, we are a richer and more beautiful country than we otherwise would have been.
I want you to remember that Teddy accomplished this as a Republican.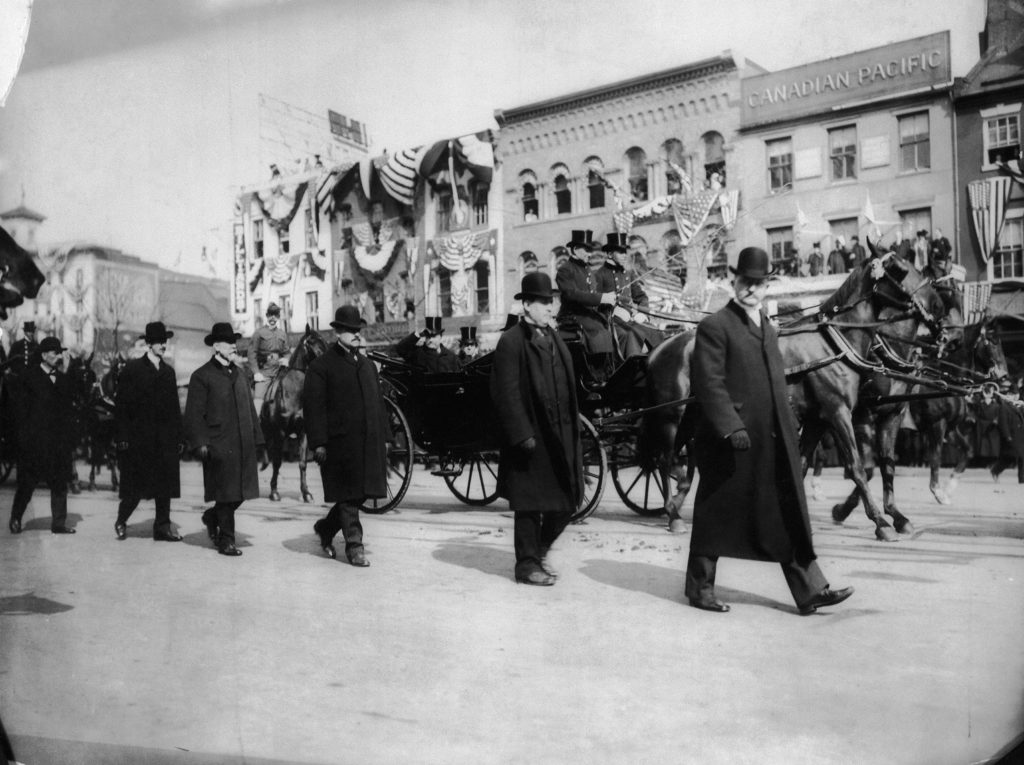 For his second inaugural parade in March 1905, he marched in the company of some 35,000 people – coal workers, students, Navy and Army officers, cowboys and ranchers, Secret Service personnel and mounted Rough Riders. The procession was led by six Indian chiefs in full headdress and regalia, including the infamous Apache Chief Geronimo. Roosevelt was a Republican through and through – he wore a locket around his neck that day containing his hero Abraham Lincoln's beard hair.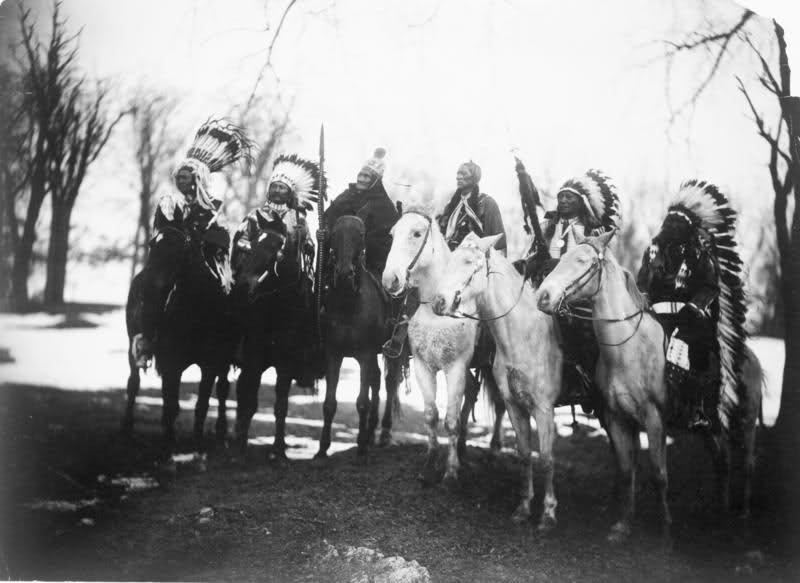 Caring about the earth and our living environment is NOT the sole domain of the liberal or the Democrat.
All over the country, in every region, you will find people from all walks of life who care about the planet, clean drinking water, clear skies, unpolluted rivers and lakes, healthy farmland, bountiful forests and a sustainable future for their children. Only the hopelessly corrupt and the willfully ignorant will allow themselves to be deluded into believing that profitability is only possible through the poisoning of our sacred land and water.
So what you're about to read is not meant solely for people with any particular political affiliation. It's meant for the concerned, the educated, the patriotic and the open-minded. Oil executives and hedge fund raiders may have temporarily convinced President Trump that economic progress is being held back by environmental regulations but it simply isn't true. Nor is it true that conservation is antithetical to profits and jobs. Further, there is no necessary tradeoff between stewardship of our land and good paying jobs – it's just that the nature of the jobs themselves will need to change. And they already are.
With this in mind, I'd like to talk about the nature of investing, which is also changing. There is a massive movement underway being driven almost entirely by the desire of the end-investors to have a portfolio that is in sync with their values. In the below chart from Morningstar, you can see how young people are going to drive this even further as they become a more important constituent in the markets: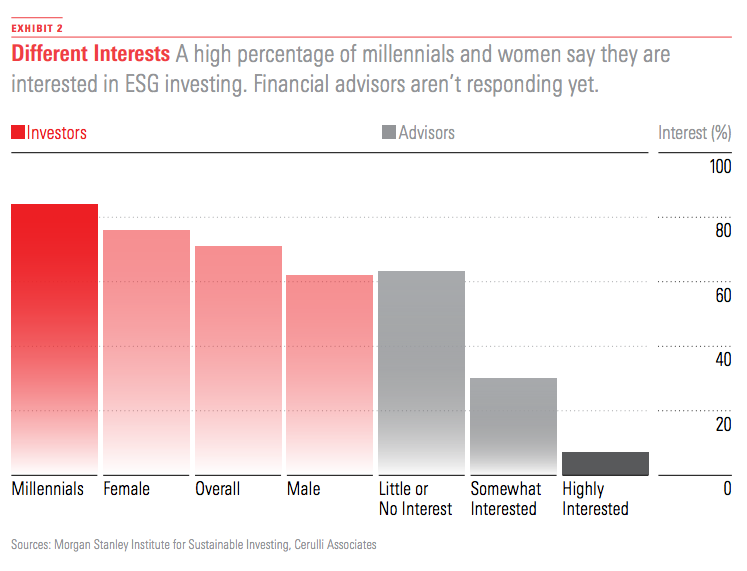 The investment industry is responding to this desire, albeit perhaps not fast enough, but it is happening.
You may have heard the acronym "ESG" used to describe this sort of approach to investing. It stands for Environmental, Social and Governance – three major attributes by which an investment can be ranked.
The Global Sustainable Investment Alliance notes that, as of 2014, assets in ESG investment funds stood at $21 trillion globally, which was up 61% from 2012. It's likely even higher today. One study pegs the dollar total in ESG investments here in the US at $8.7 trillion, which is up 33% since 2014. A State Street survey of global pension managers found that 76% of respondents would prefer to allocate to a fund manager with ESG principles than one without.
It's important to note that the categorizations are open to all different interpretations by a variety of indices, consultants, analysts and fund companies.
For example, some versions of Environmental screening would mandate that a fund completely divest of any oil and gas companies, while others would have the fund allocate toward energy companies based on the degree to which they adhere to certain sustainability standards.
On the Social front, there are funds designed specifically to meet certain religious standards – there are dedicated strategies that adhere to Catholic or Muslim tenets of faith, for example. Because not everyone has the same set of beliefs, not every ESG product or strategy would represent a one-size-fits-all solution for all investors.
Governance can be taken to mean that a given fund is allocating investment dollars to companies where boards of directors have policies in place to ensure gender diversity.
Because there are nuances and different criteria in play, an advisor with expertise can be invaluable in the crafting of this type of portfolio. To be able to deliver on ESG in such a way that it jibes with a given investment philosophy and delivers on returns – well, that's the ballgame.
Late last year, my firm's investment committee created the Portland Portfolios, our version of an ESG strategy primarily focused on Sustainability. We have a highly educated, fairly progressive customer base around the country and this was something our clients told us was important to them.
Ben Carlson, Michael Batnick, our CIO Barry Ritholtz and our in-house ESG expert Joey Fishman sprang into action and built one of the strategies that I am most proud of when I tell people about our firm. We built a set of globally-diversified portfolios, holding US and and International stocks as well as fixed income. Even better, we were able to construct it using high quality fund solutions from some of our favorite providers – Dimensional, iShares and Vanguard.
We believe our Portland Portfolio adheres to the key ESG sustainability principles. It does not present a compromise in terms of our philosophy of remaining low-cost. It does not inhibit our ability to deliver the expected returns our clients need. And, as you can see in the below snapshot, it does not require us to deviate from our belief that diversification is important for both growth as well as wealth preservation: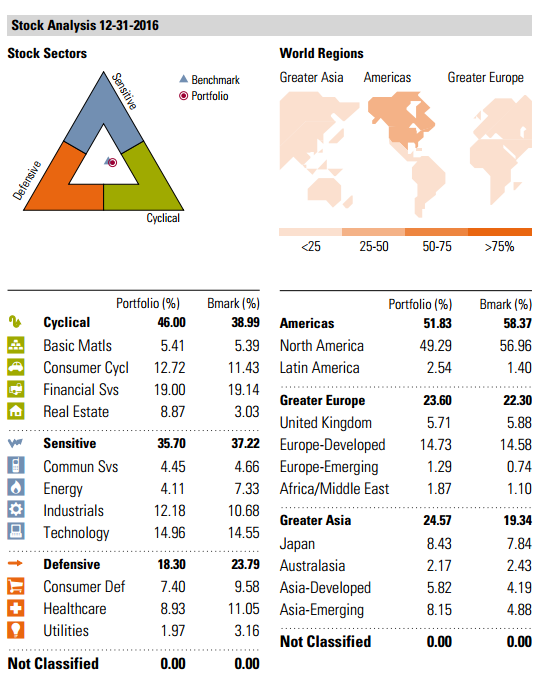 And now, to preempt the "But What About…?" Mafia, let me just add a few points here.
There is no conclusive evidence that sustainable strategies are de facto additive to returns. Nor is there evidence that sustainable strategies necessarily detract from performance. The responsible posture is to operate under the premise that ESG will be net-net neutral versus a comparable portfolio. If you are surprised to the upside, great. But the goal here is bigger than basis points.
One very intelligent way I've heard it phrased is that if a corporation qualifies as an ESG allocation (as a majority of the Fortune 500 do, by the way) then it means the company is being managed by people who care and are paying attention. You could look at this as an added version of the "quality screen" – something the factor investing community is well acquainted with. For long-term investors, it's hard to make the case that a portfolio tilted toward the bonds and stocks of high-quality corporations will be a negative over time.
I'll also say that ESG is just scratching the surface of its potential. It is the first frontier. In the future, so-called Impact Investing, which is how family offices and institutions can direct funds toward specific projects for capital reward in addition to affecting positive change will also go mainstream someday.
The nebulous definitions and menagerie-like variety in the space represents an opportunity for advisors. People will make mistakes, get confused, allocate sub-optimally and create bad products. So what? Do your best, learn something, get better. Or find someone who can help.
Lastly, it's important not to get overly bogged down in the political debate. We don't have to agree on the causes of climate change in order to acknowledge the statistics themselves. There is incontrovertible evidence that the polar ice caps are melting, sea levels are rising, super-storms and extreme weather phenomena are increasing. These are facts, not opinions. You can argue about the role of fossil fuels if you want to. But you cannot argue that the children in Flint, Michigan don't deserve drinking water free of lead and toxins. Or that we should allow industrial firms to dump chemicals into our waterways with abandon so that Carl Icahn can make an extra few million dollars.
The Trump administration is coming in to slash regulations – across the board, to hear them tell it. The incoming EPA chief is a man who has devoted his career to suing the EPA on behalf of oil companies. He believes that climate change is a hoax. It's one thing to say that there is regulatory overreach or bureaucratic bloat at this agency, it's quite another to strap it into the electric chair.
In times like these, where and how your dollars are invested (or not invested) is a meaningful question. There are firms who are working to help you answer this question. We're proud to be a part of these efforts.
And the good news is, the tools are getting better all the time. Morningstar has introduced a ranking system. Thousands of funds have launched, to varying degrees of efficacy and fidelity to the concept. Large US corporations are answering the call as well, with record numbers of publicly traded companies adopting policies in compliance with ESG best practices.
It's going to take a lot for this to be a grassroots effort on the part of the investor class. Technology will play a role, as will legislation. But the deliberate direction of dollars is perhaps the most powerful force known to modern humanity.
***
You can talk to us about our ESG asset allocation strategies and the Portland Portfolio today.