The President-elect of the United States is outraging some of our largest strategic partners before even assuming office, feuding with sketch comedy shows and literally accusing people of crimes on Twitter in the early hours of the morning.
He's disparaging the media on a daily basis. He's said more complimentary things about Russia than he has about our allies over the last half-century from NATO. He's conducting unprepared phone calls with Pakistan and Taiwan – the avowed enemies of India and China respectively – and inexplicably inviting his daughter to sit in on meetings with world leaders.
This sort of thing might be making you nervous. That's understandable. Most smart people I talk too – including Trump supporters – have their fingers crossed that he will grow into the role he's won for himself and stop doing embarrassing shit. He might. Lots of 70 year olds turn on a dime and make wholesale personality shifts. Okay, just kidding, but I'm trying to be optimistic.
Let's say you're not optimistic about the next four years. Well, my friend, Bloomberg has a feature just for you: The Pessimist's Guide to 2017. It's a compendium of scenarios in which things go very wrong in multiple categories. It's probably too pessimistic, but I think that's the point of the exercise.
I'm not as worried about the trade stuff and the wall stuff as some of you, mostly because I don't believe any of it will actually be pursued. I do worry about the potential for geopolitical mishaps that lead to armed conflict. I don't think the undisciplined and uninformed bluster and bravado of a "business genius" is what typically makes the world safe, forgive me for feeling this way.
The Bloomberg Guide talks about things like North Korea testing long range missiles that can hold a nuclear device, about ISIS radicalizing central Asia, about Saudi Arabia and Japan developing their own military defenses further upon feeling abandoned, about Putin feeling emboldened, etc. Let's assume you think any or all of these are legitimate concerns. Here's one investment that might make sense…
Before we continue – nothing I'm about to say constitutes advice or a solicitation to buy or sell any securities. I don't give free advice or tips or sell investments on this website. Consult your own advisor or palm reader or wishing well before taking action on anything you read here. Adults only from this point forward, thanks.
There are three Defense and Aerospace ETFs that will allow you to bet on the whole world going to hell while President Trump fumbles his way through diplomacy / hotel business development. One of them, from Powershares, costs 66 basis points, so I'm excluding it. The other two are based on indexes that track the public companies in the space. They're called SPDR S&P Aerospace & Defense ETF (XAR) and iShares U.S. Aerospace & Defense ETF (ITA). We'll use their tickers from now on.
ITA is a large cap-oriented aerospace and defense ETF and its top 5 holdings (Boeing, UTX, Lockheed, Northrop, General Dynamics) make up about 30% of the fund. You're getting warplanes, commercial aviation, missile systems, bombs, torpedoes, artillery, frickin sharks with laser beams attached to their heads and all kinds of other cool stuff – everything you want to be invested in for the run up to WWIII as the entire world says "Cowboy Up".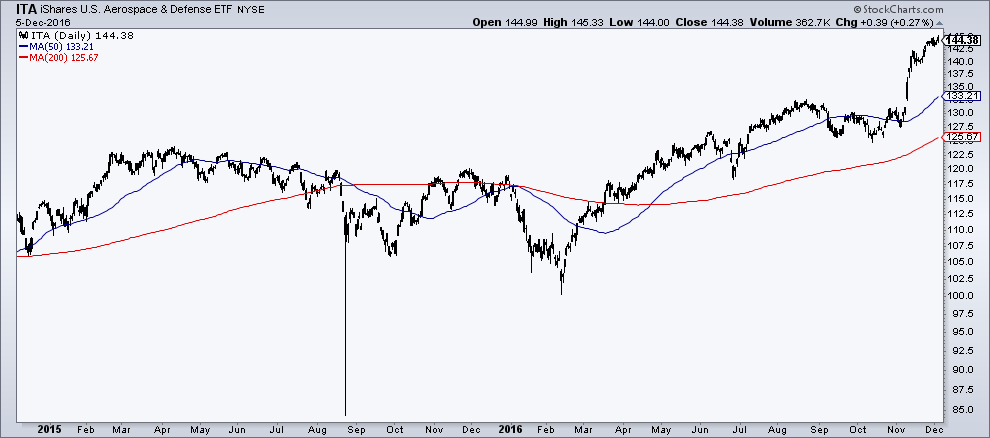 The challenge with ETFing this sector is that there are two enormous companies (Boeing and United Technologies) that would utterly dominate if the products were truly cap-weighted. If you're looking for something that lessens the impact of the two biggest stocks, there's the XAR, which chops them down and does a more equal-weighted version. This brings smaller cap companies up to higher weightings, which may or may not be a good thing. It's subjective.
XAR's expense ratio of 35 basis points is pretty cheap – and lower than ITA's 44 basis points. But here's the catch – it's only a $500 million fund versus ITA at $1.7 billion. This means it's less liquid. If you're an investor as opposed to a trader, the liquidity thing is not terribly important. Except on days like last August 24th, when the ETF markets went haywire on the open and less liquid issues changed hands at absurd discounts in the opening hours of trade.
You can see that event on XAR's chart below, even though it didn't matter by day's end and the prices snapped back to their NAV's: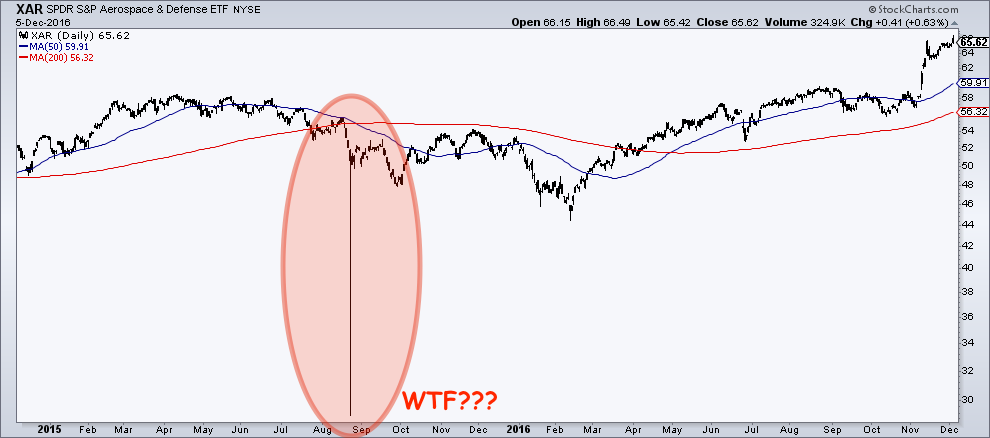 Now, the truth is that both of these ETFs ended up in the same place anyway over the last three years. So whether you want to prioritize liquidity or cost, it might not matter one way or the other.
Here's a side by side in percentage terms (these charts all include dividends in the total return calculation):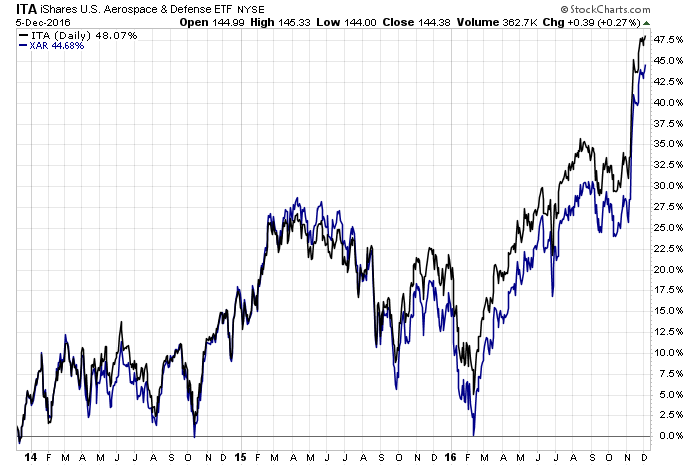 If you're nervous about the world descending into chaos over the next four years, you've got some justifiable reasons on your side. I choose to be more optimistic and believe that crisis can be averted given the pure self-interest of one of the most selfish human beings who has ever walked the earth looking out for his own buildings and reputation.
But you're welcome to your opinion.
Maybe having some money in fighter jets and missiles is the thing you need to feel better about things. Call it an emotional hedge with the added kicker that you might actually make some money should your worst fears be realized.