RBC's chief strategist Jonathan Golub is firmly in the "new paradigm" camp as a result of the Trump presidency. He sees the S&P 500 hitting 2500 by year-end 2017 on $128 in S&P 500 earnings with $140 possible in calendar 2018. That's a 17.9 multiple on next year's profits.
Here's his case, in a nutshell:
Pro-Growth Policies

Corporate tax cuts could easily add 5–7% to profits annually going forward

Deregulation should increase economic growth through greater productivity

Financials would be the greatest beneficiary of less onerous regulations

Fiscal spending, while a positive, would have a delayed impact on growth

Consumer spending should improve as wages rise and savings rates fall

Higher rates should positively impact Banks and consumer spending (paradox of thrift)
Golub says the rotation to more cyclical, US focused financial stocks and cyclically sensitive, smaller cap companies is still in the early innings. He notes that, overall, the S&P 500 is only up 3% since the election, despite all the commotion. Here's two tables illustrating what's gone on so far, he thinks these trends continue: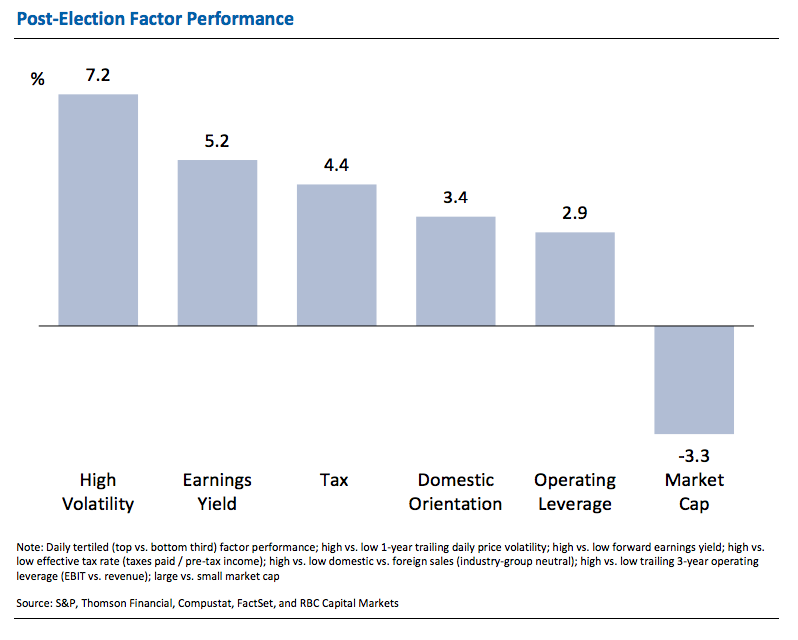 Here's how it looks by sector – technology companies are among the most likely to have large cash balances to repatriate so its weird to see them lagging by this degree. Perhaps its the globalized nature of their businesses vs the more US-centric banks and energy firms that have them languishing to this degree.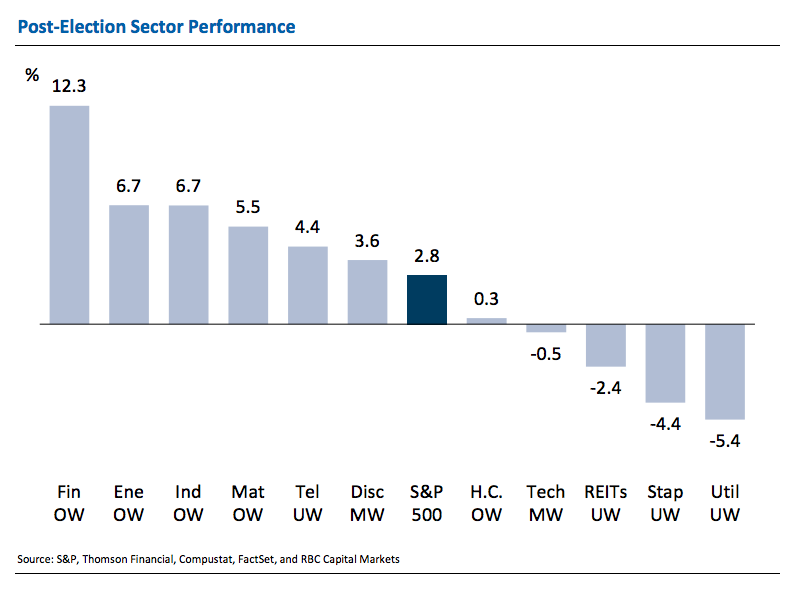 Josh here – there's a lot of wishful thinking in here, but the same could be said for all market / economic outlooks. How much of the agenda is implemented, and in what time frame, will determine how much these post-election trends can continue.
This also assumes no monkey wrenches thrown in the works, like a 35% tariff on goods imported from China, for example – or some other geopolitical freak-out. If an emboldened Putin marches troops into Lithuania, for example, I don't think we'll be out here celebrating corporate tax cuts.
Source:
2017 Outlook – The Trump Playbook
RBC Capital Markets – December 5th 2016