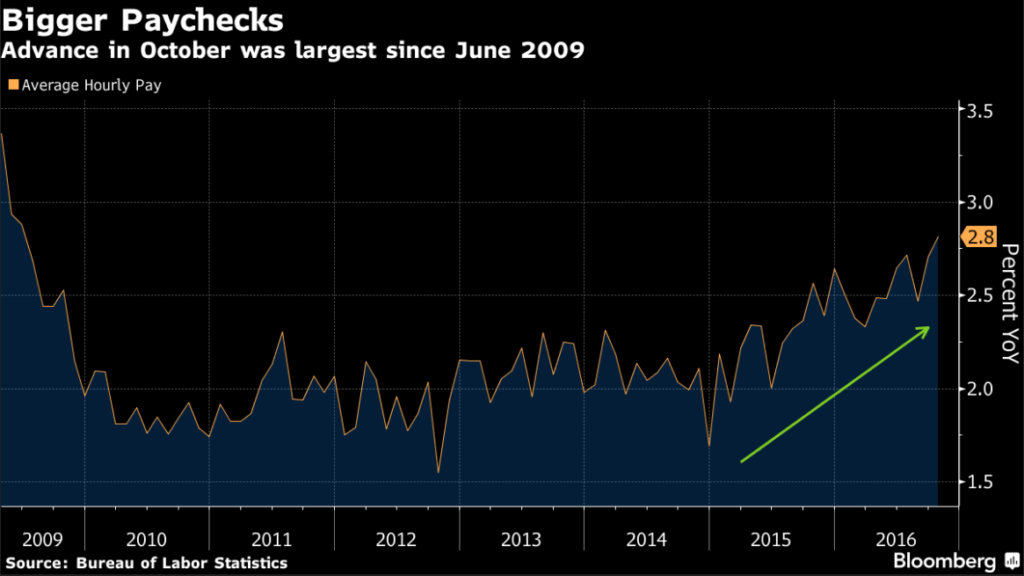 Today's jobs report featured the fastest pace of wage growth we've seen so far in the recovery period, 2.8% year over year.
Combine this with three other elements of the last week…
First – Luke Kawa points out the explosion in buying and new unit creation for the largest TIPS (Treasury Inflation Protected Securities) ETF:
Cumulative weekly inflows are more than $972 million, the highest of any U.S. fixed income ETF over this period. TIP has seen trading volumes north of 4.75 million and 6 million over the past two sessions, compared with a 15-session average of 1.7 million shares.
(disclaimer: clients of Ritholtz Wealth Management are long TIPS)
Second – JC Parets highlights the impending breakouts or bottoming in the base metals complex, obviously thought of as a proxy for economic strength or weakness given the cyclical nature of their usage. He points out that the base metals are now outperforming gold – an indicator of economic pessimism subsiding:
Here is gold vs. an equally-weighted basket of base metals: copper, aluminum, zinc, lead, tin and nickel:

Notice where the peak in the spread stood in late February 2009, a week before the S&P 500 reached its historic bottom. Look again at the summer of 2012, when the S&P 500 and European banks bottomed out and started to rally. These were two major bottoms in equities over the past decade.

The most recent peak was on February 11 of this year, the day the S&P 500 bottomed. I would argue that this trend is down and even lower prices would suggest there is risk appetite out there for stocks around the world, not just in the U.S.
Finally, health care costs are shooting up and contributing a lot to what we're seeing in the inflation numbers these days. Along with gasoline prices, the fluctuation in health care costs are a big driver of the monthly CPI print. Here's Liz Ann Sonders at Charles Schwab on the topic the other day:
50% increase in family plans' costs

As seen in the first chart above, about half the U.S. population is covered by employer-sponsored plans.  As seen in the chart below, since the "great recession" ended in 2009, the average family payment has grown from about $3,500 to nearly $5,300 today—an increase of 50%.  Those costs now represent over 9% of median household income, an all-time high.

Source: Cornerstone Macro, Kaiser/HRET Survey of Employer-Sponsored Health Benefits.
Josh here – Taking these things as a whole, I wouldn't be surprised to see the inflation meme start to take hold of the commentariat over the weekend and past the election. It's been a while since the "I" word was even part of the conversation. Now it might become the center of it all.