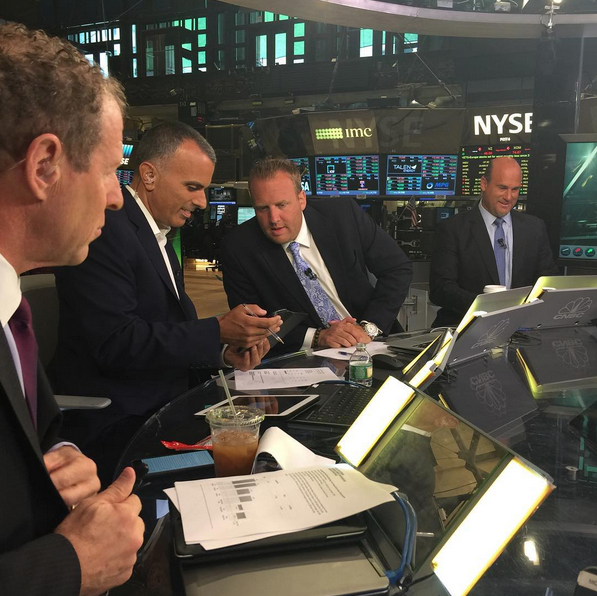 Today I'll be spending my lunch hour, as I frequently do, on the set of the Halftime Report. Within the course of a single hour, we'll be interviewing Jeffrey Gundlach, David Tepper and Carl Icahn. That's not a typo – three of the most important, successful and notable investors of our lifetime are all coming on the show in one day.
To have the opportunity to be a part of it is a dream come true. Three or four days a week, I get to live my dream.
In 2011, I became a founding cast member of an experiment – what if we build a show around a rotation of regular panelists who all come from different backgrounds and discipline around the investment industry. What if we have them weigh in on all the news of the moment, while giving them an opportunity to share insights from their processes, experiences and off the record meetings as they go about their business? What if we add in the most incredible slate of guests to interact with our panelists and have the whole thing emceed by one of the most ambitious and respected hosts in the media?
Well, the experiment worked. Five years later, we have the best show on financial TV. I'm biased, sure, but I don't even think it's a close race. I'm insanely fortunate to have been a part of it. It's made me a better investor and has broadened my horizons in a way that never would have been possible otherwise.
I want to lay out some of the reasons why I feel so strongly that Halftime Report is so special. I'll do so as a quick list:
1. No one works harder at booking big guests with timely insights. The tradition begun by executive producer John Melloy, institutionalized by Lydia Thew and now carried forward by Jason Gewirtz, is a big reason for the show's success. Bringing experts in their fields in to chop it up with the panelists on the desk each day isn't easy, but the Halftime team never disappoints. Every morning I'm on the show, I am blown away by the email listing which guests we have booked for that day. We've had every major name in the investing business you can think of – Gabelli, Einhorn, Ackman, Chanos, Cuban, the list is endless – and sometimes they join us for the full hour.
Here's what this week looks like:
Monday, October 17th: David Tepper, Appaloosa Management Founder; Carl Icahn, Icahn Enterprises Chairman; and Jeffrey Gundlach, DoubleLine Capital Founder
Tuesday, October 18th: Jamie Dinan, York Capital Founder and Marc Lasry, Avenue Capital Group Co-Founder & CEO
Wednesday, October 19th: Jim Chanos, Kynikos Associates Founder; Nelson Peltz, Trian Fund Management Founding Partner and Keith Meister, Corvex Management Managing Partner
Thursday, October 20th: Rich Pzena, Pzena Investment Management Founder and Barry Rosenstein, JANA Partners Founder
Friday, October 21st: Bob Kraft, Kraft Group Chairman & CEO and New England Patriots Owner
2. The diversity of points of view is amazing. Consider that my coworkers Jon and Pete Najarian come from an options trading background, Stephanie Link and Jim Lebenthal are value investors managing portfolios of individually selected equities, Stephen Weiss comes from the institutional sales/trading and hedge fund world, Joe Terranova is a strategist for a large mutual fund family and both Sarat Sethi and I are from the wealth management / RIA business. None of us views the market through the same prism, and that's what leads to interesting conversations and debates. We all have different research methods, time frames and objectives – and this is the key to why the segments are so entertaining and (hopefully) stimulating for viewers.
3. Chemistry among the cast mates is real and sincere. We work together for just an hour each day, but we've all watched each other progress in our given careers and have, at times, helped each other along with introductions, encouragement and investment ideas. There've been scuffles over the years, of course, but what family doesn't have a little friction? The respect and caring among the Halftime Report's cast and crew definitely comes across on the air. For a show featuring as much debate as ours does, it's miraculous that we all get along so well when the camera is off. Making friends with my on-air colleagues has just been a cherry on top that I never expected.
4. The real-time nature of the markets needs a show that can adapt and roll with the punches. All kinds of things happen that interrupt or change the gameplan of the show on any given day. Markets lurch and veer off in different directions. News breaks just before showtime or right in the middle of one of us talking. Famous investors email or call in to argue with us as we're on-air – and we accept the challenge! The sense that anything can happen at any time lends the Halftime Report a sense of immediacy and urgency that makes it really fun to be a part of.
5. Finally, with split-second programming being a highwire act, we end up having a lot of fun. The camaraderie you see is genuine. We get things wrong all the time or sometimes focus too much on stuff that ends up not being so important, but it's always with the best of intentions. We can commiserate about our bad trades and celebrate the victories without taking ourselves too seriously. We can poke fun at each other's shortcomings without it ever getting personal. We can take the criticisms from the viewers in stride and think of ways to address them to give you guys an even better show. It's all in a day's work and we love it.
These are just five reasons of many why I think we have such a great program. Here's to another five years and beyond of the Halftime Report. And on behalf of all my cast mates and crew members, I say thanks for watching us each day. It means the world to us.