I have a confession to make: the Zika virus scares me.
I don't feel like it's under control or that we've seen the worst of it. This week, the Florida situation became a national story and a baby in Texas just died of a Zika-related birth defect. Next week, as a half million people return to every corner of the globe from the Rio games, we would hear even worse things. I'm not comfortable about any of it, frankly. Spend a few moments watching Florida Governor Rick Scott in front of a TV camera and you won't be either.
But are there investment related implications?
I remember being a broker in the early 2000's and getting client questions about Bird Flu and SARS, two diseases from Asia that were somewhat in the headlines for a few years. The Ebola scare of late 2014 comes to mind as well. I wish I had the chart below back then to communicate the idea that investors should be more afraid of contracting the disease themselves than they should be concerned about their money.
Here's something my pal Jeff Kleintop put together for Schwab that I think does a good job of contextualizing the threat…
History shows us that the impact on the economy and markets has not been significant—even when the global economy was especially vulnerable to a shock, as you can see in the graphic below.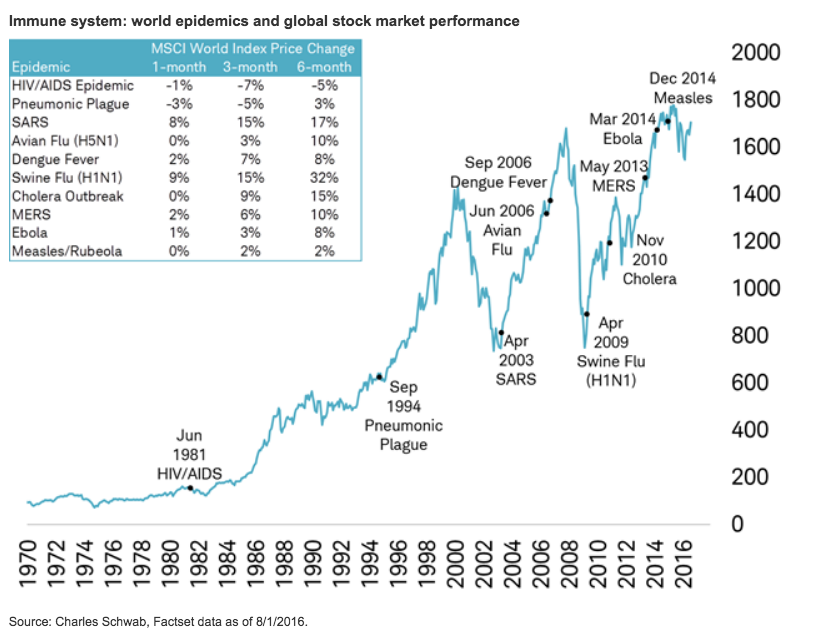 One day, the real thing will hit – I'm talking about the zombie shit like in The Walking Dead or World War Z. When that happens, the portfolio hedges you've employed won't matter very much. I don't think Zika is quite there yet.
Source:
Does Zika pose an Olympic-sized risk to stocks? (Charles Schwab)