Comparing the S&P 500's multiple to that of an overseas developed country isn't exactly apples to apples, given sector weightings. There's an argument to be made that a stock market dominated by firms with higher secular growth potential and larger than average profit margins deserves to trade at a higher valuation compared to markets dominated by smokestack businesses with highly cyclical growth characteristics and terminally low profits.
Last week, for the first time ever, the top five largest corporations in America, by market capitalization, were all technology companies.
As of the end of July, these are the five largest companies in the United States:
Apple ($appl): $570.7 billion.
Alphabet ($goog): $560B.
Microsoft ($msft): $434B.
Amazon ($amzn): $365B.
Facebook ($fb): $354B.
Or, if you prefer a graphical look, here's Slate: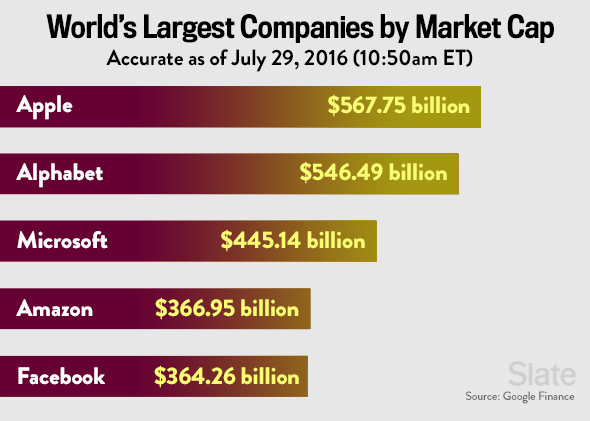 Exxon Mobil was pushed into the number six spot as Facebook overtook it after an earnings report that absolutely demolished the naysayers. It's important to note that Exxon and Berkshire Hathaway are still in the hunt, and could bump a tech name out at any time, but even for this technology-centric hegemony to take place for a fleeting time should be thrilling to all investors and business people. It's a statement about what we are and what we bring to the world.
I was around for the dot com bubble and believe me, if anyone says this is "Part II", then they weren't paying attention. These companies are doing billions in sales and posting huge profits. Their predecessors circa 2000 were mostly trying to figure out a business model, or riding a massive, speculative capex boom that wasn't built to last. Not so this time. Our tech giants are selling products, services and marketing expertise all over the globe, in the midst of a nearly universal drought in business investment.
If we're going to have a stock market that is dominated at the top by a single sector, I'd prefer it to be technology rather than banking or insurance or fossil fuels, which we see in other developed markets around the world.
Consider Germany, where only one tech firm makes the top five (SAP), while the list is rounded out by finance (Allianz), pharma (Bayer), industrial (Siemens) and materials (BASF). Or France, where the top five stocks by market cap are Total (oil), BNP Paribas (bank), L'Oreal (consumer goods) and LVMH Moet Hennessy Louis Vuitton (rap video props). Or the UK, led by a tobacco company (British American), a pharma (GlaxoSmithKline), two oil companies (BP, Royal Dutch Shell) and a bank (HSBC).
Across Europe, technology market capitalization is only 4% of the total, while in the US, it's over 20%.
When we look at Japan, as technologically advanced as any nation in the developed world, we see only two of the top five companies involved with communications or information technology (Softbank and KDDI) while the rest are financial and automotive (Mitsubishi UFJ, Toyota and Honda).
This is not to say that only technology companies are doing important work. In fact, just the contrary – our technology giants are supporting customers across all of our very dynamic, highly competitive corporate kaleidoscope – from our world-beating biotech and pharmaceutical industries to our aerospace and defense complex, to our incredibly diverse industrial, automotive and energy sectors.
Apple, Alphabet, Microsoft, Amazon* and Facebook are connecting the world on the web and across mobile devices, shifting information to where it's needed and providing the infrastructure for the next twenty years and beyond, for all sectors and industries. We should be proud to call these companies our largest, even if it's not forever.
* yes, I am aware that Amazon is classified as a "consumer discretionary" rather than an information technology firm, but that's just stupid and a remnant from the time where it was an online bookstore. These people are building the largest cloud services firm on earth, not to mention mini-helicoptors to deliver ice cream, apparel, sex toys, groceries, lawnmowers and whatever else you could possibly want airlifted to your front door. Let it go.