Stifel this morning (emphasis mine):
Conclusion: Today, we adopt a Bearish outlook for Restaurants as we confidently believe that, at a minimum, the simultaneous -150bps to -200bps deceleration of Restaurant industry comps across all categories during 2Q16 (of +0.7%A vs. 3Q14-1Q16's +2.4%A) within our most recent Stifel Sales Survey reflects the start of a US Restaurant Recession – which, may also represent a harbinger to a US recession in early 2017; and, if so, Restaurants have historically led the market lower during the 3-to-6-month periods prior to the start of the prior three US recessions(Restaurants -23% vs. S&P 500's -10%). The catalyst for the current weak pre-recessionary restaurant spending trend is likely multi-faceted (US Politics; Terrorism; Social Unrest; Global Geo-Politics; Economic Uncertainty) but, if history is a guide, we warn investors that restaurant industry sales tend to be the "Canary that Lays the Recessionary Egg" (i.e. the current -2% cut-back in dining out sales is a possible harbinger of a -2%-plus cut-back in the US consumers' entire spending basket within 3-to-9 months (which accounts for ~70% of the US Economy).
…and their chart:
Specifically, in the 3-to-6-month periods prior to the start of the prior three US recessions, Restaurants have declined an average of -23% vs. the S&P 500's -10%. To note, most of us are unaware that a recession has begun until several months after economists go back and pick a start-date (See Figure 6).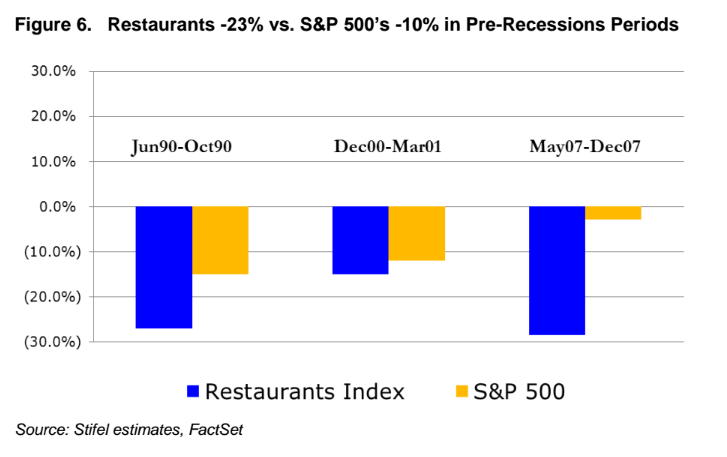 Josh here – is a sample size of three definitive enough to call a recession in advance? What happens if restaurant comps start improving / accelerating out of nowhere? Isn't it possible that, like so many other data points, the reality on the ground of ZIRP, NIRP, globalization and demography could lead to the economy defying yet another historic trope that no longer applies?
Stay tuned!
Source:
Turn Bearish on Restaurants; Adopt a US Restaurant Recession Outlook
Stifel – July 26th, 2016