I'm biased here because it's my baby, but it's hard for me to think of a way where this won't be the best investing conference of the year.
While our partners at IMN take care of the logistics, we continue to build out the agenda to make this a highly informative event.
Consider…
Today we announced three new speakers to the roster, all legends: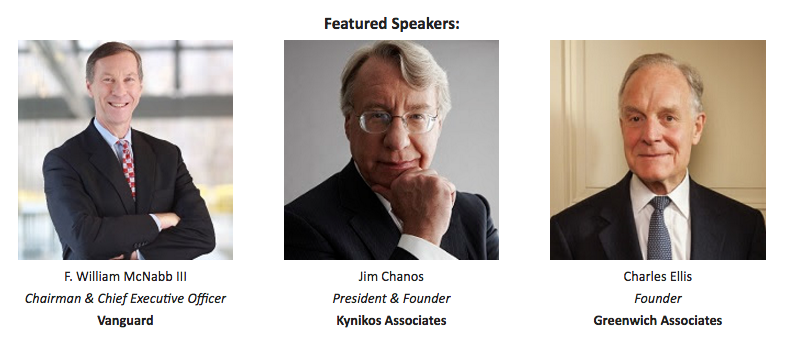 Not enough?
Here's who else is appearing (and we're just getting started):
Barry Ritholtz, Chairman and Chief Investment Officer, Ritholtz Wealth Management
Josh Brown, Chief Executive Officer, Ritholtz Wealth Management
Ben Carlson, Director of Institutional Asset Management, Ritholtz Wealth Management
Meb Faber, Chief Investment Officer, Cambria Investments
Larry Swedroe, Director of Research, Board of Managers and Lead Director,
The Buckingham Family of Financial Services
Jim O'Shaughnessy, Chairman and Chief Executive Officer, O'Shaughnessy Asset Management
Patrick O'Shaughnessy, Portfolio Manager, O'Shaughnessy Asset Management
Jeremy Schwartz, Director of Research, WisdomTree
Morgan Housel, Columnist; Contributor, The Motley Fool; Wall Street Journal
Wesley Gray, Chief Executive Officer, Alpha Architect
Apollo Lupescu, Vice President, Dimensional Fund Advisors
And let me remind you, this is all in one (ONE!) day. And it's in New York City. And the cocktail hour after is going to be lit. You know I don't play games.
And here's a list of the confirmed attendees so far, which is beginning to look like a who's who of the industry, guaranteed to lead to great networking opportunities.
Sponsors are being confirmed too, with lots of crucial partners and vendors to the investment industry coming aboard. Invites to the media haven't even gone out yet.
If evidence-based investing is a topic you're interested in, we want to see you there this November 15th. It's all happening.
Register here:
http://www.imn.org/investment-management/conference/Evidence-Based-Investing/