Caesar divorced Pompeia at once, but when he was summoned to testify at the trial, he said he knew nothing about the matters with which Clodius was charged. His statement appeared strange, and the prosecutor therefore asked, "Why, then, didst thou divorce thy wife?"

"Because," said Caesar, "I thought my wife ought not even to be under suspicion."

Plutarch's 'The Life of Julius Caesar'
The Sequoia – Valeant saga is a Lehman Moment for actively managed mutual funds. I know the ol' LM is one of the most widely overused idioms in finance, but it's appropriate here, I assure you.
For me, this is the final nail in a coffin we (the proverbial we) have been pressing shut for eight years now.
Sequoia was the very best that the industry had to offer. The gold standard. Forever. Long-term oriented, unselfish and willing to close down when too much money had poured in, intelligently run, brimming with continuity and experience, legendarily cautious, reliably faithful to its mandate. It had the imprimatur of being the only fund blessed by Warren Buffett himself, who exhorted his investors to put their cash there when he closed down his private partnership. It had a universe-beating track record that was decades and decades in the making. It did Ben Graham-style value investing better than Graham did it himself.
Here is the ultra long-term view of the fund's performance versus the large cap US stock index (S&P 500):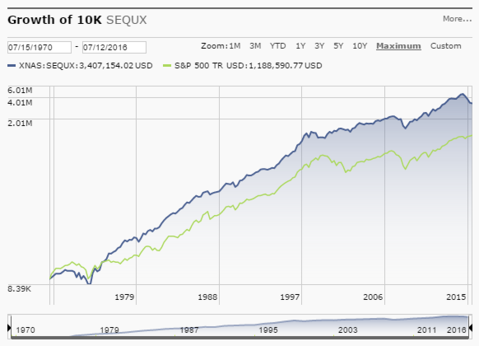 And in the span of a year, and as a result of a single stock position, all was undone. Valeant Pharmaceuticals, once a high-flying winner for the Sequoia fund, had become an oversized albatross of a holding, dragging the fund and its investors back down to earth, and negating years and years worth of alpha in the process. The position led to an internal revolt and an external investor exodus as it crashed from $250 to $25. In the end, the old man got shoved out and then so did the last of the VRX stock holding. I wrote about this at length as it unfolded last fall for Fortune Magazine (see: The Stock That Ate Wall Street)
Here is what has happened to the fund, vs the same benchmark over the last 5 years: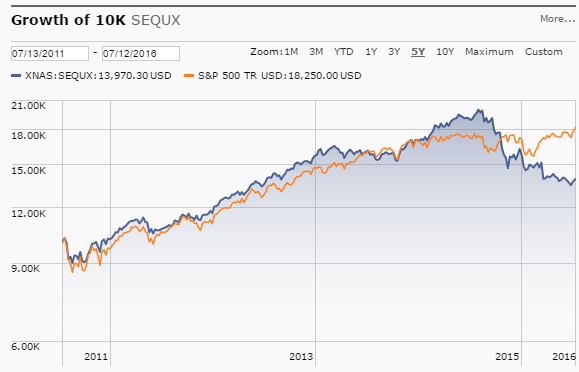 …and now, we zoom in on the last 3 years: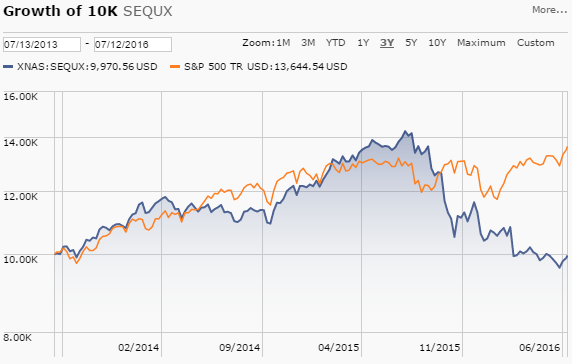 But perhaps, the most devastating view – 10 years worth of underperformance, a period considered the "long-term" in an age where the average holding period for all mutual funds is under 36 months: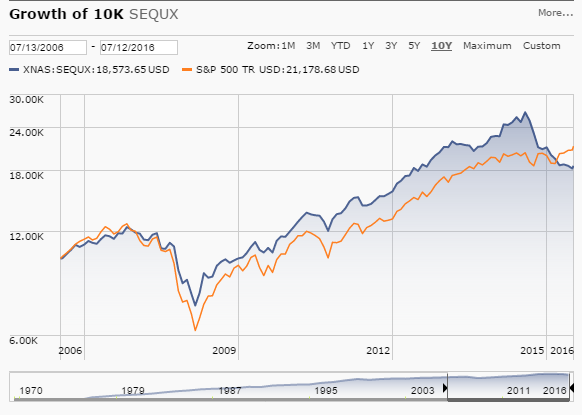 Sequoia is now underperforming 83% of its peer group – not the benchmark, but other funds in its category – over the last decade. This equates to quite a bit of lost goodwill:

Ruane, Cunniff & Goldfarb, the management team that runs Sequoia, wrote the following in a letter to shareholders today:
As we have previously reported, our longtime chief executive officer and co-manager of Sequoia, Robert D. Goldfarb, retired from our firm at the end of March 2016. Our new leadership elected to sell our position in Valeant Pharmaceuticals, exiting completely by mid-June. Valeant was our largest position to start the year and its 80% decline through June 30 badly penalized our results. For the first half, Sequoia generated a negative 13.2% return vs. a positive 3.8% return for the S&P 500 Index.*
"So what?" you might ask. It's one bad trade versus a lifetime of solid returns and stewardship. And you'd be partly right. Who doesn't make mistakes? I could fill a set of encyclopedias with everything I've been wrong about.
But it's the nature of the mistake and the structure of the investment committee that allowed it that is the real issue. Sequoia's always been a concentrated fund with a relatively small amount of holdings, and to some extent, this has been their secret sauce. They've taken risks that have mostly paid off before. But this was the one that undid the benefits of a lot of their more successful wagers. And now, the revamped investment committee almost has to be chastened. There is no way the destruction of their track record and reputation won't affect their behavior in the future.
The question now is about how this will manifest itself in the fund's decision-making process going forward. We're talking about human beings here. How is it possible that preservation of reputation and risk aversion don't come to the fore in palpable ways, given what they've just survived?
Mark Twain said, "We should be careful to get out of an experience only the wisdom that is in it and stop there lest we be like the cat that sits down on a hot stove lid. She will never sit down on a hot stove lid again and that is well but also she will never sit down on a cold one anymore." You could forgive David Poppe and Co if lots of cold stoves begin to resemble hot ones for the remainder of their tenure. 
But in the bigger picture, something greater than money or the reputation of one firm has been lost here. The entire concept of fund management due diligence has been jeopardized. You couldn't find a fund that checked more positive boxes than Sequoia. And if this could happen to them…
Sequoia, as an exemplar of everything good about the industry, must be above suspicion, in order for the whole idea of active management and professional stewardship to be a viable one in the eyes of the end-investor.
And it is no longer so.