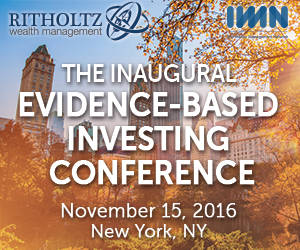 We're creating the Woodstock for sensible, evidence-based investing. A one of a kind event the likes of which has never been seen before in this industry.
And our early confirmed speakers are all rock stars.
Meb Faber – rockstar.
Patrick O'Shaughnessy – rockstar.
Morgan Housel – rockstar.
Wes Gray – rockstar.
The list continues. These people are the future of the investment management business. They deal in reality. They test their ideas with data. They sell attainable results, not ludicrous predictions. They speak probabilistically, not in guarantees. Having everyone together in one place, to talk about one very big idea – it's going to be amazing. More about Evidence-Based Investing here. 
You're going to want to be in New York City for this on November 15th. In addition to the early confirmed speakers, we'll be making big announcements throughout the summer as we add additional names. I'm getting pumped. You gotta be there.