Bank of America Merrill Lynch US Economist Michelle Meyer combs through the aggregated credit and debit card user data at the bank for the month of June and comes up with some interesting insights re: the US consumer…
We see continued evidence that spending related to the home has weakened — sales at furniture and home goods stores are declining on a year-over-year basis, down 0.5% and 3.6%, respectively, after solid gains over the prior five years. Similarly, spending at home improvement stores has been sluggish since the start of the year, although there was a tick higher in June. We also continue to see weakness at department stores, where spending is down 4% compared to the prior five-year average of -1.6%. Teen & young adult clothing stores also remain stubbornly weak.

On the upside, sporting goods stores look strong and the travel-related components — airlines and lodging — are seeing continued gains. People are also still going to restaurants and bars, with spending up 5.8% yoy, compared to the prior five-year average of 6.7%. It seems that consumers are prioritizing spending on experiences.
…and the table: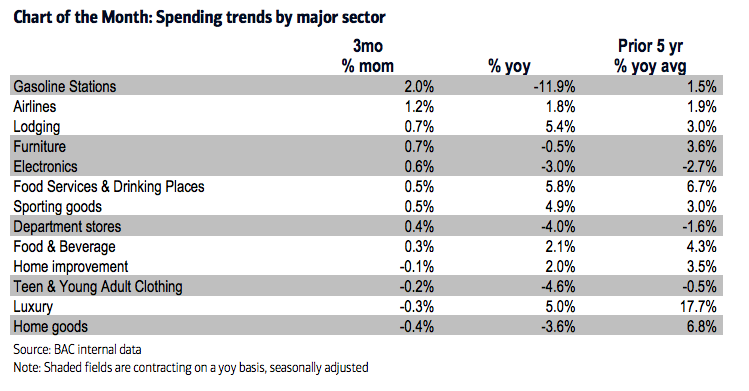 Source:
It's about the experience
Bank of America Merrill Lynch – July 12th 2016