An astounding fact, courtesy of my friend Nick Colas, chief market strategist at Convergex:
As investors hope for a new high in the S&P 500, consider the following fact: only one industry sector of the index is down over the last 10 years; care to guess which one?  It's not Energy; that group is actually up 23% on a price basis.  Nor is it Materials, up 48%.  Yes, both those groups have underperformed the 65% price appreciation of the S&P 500, but they are at least up over the decade.
The answer is Financials, as measured by the market cap weighted index of that sector's stocks in the S&P 500.  Over the last 10 years the group is down 29%, and as the TV ad people say 'But wait, there's more…"  The sector includes REITs, which are up 28% on a price basis (and more with dividends) over the last decade.  Since REITs are more than 10% of the "Financials" group over the period, this means traditional banks/brokers/insurance/card companies are down more like 33% over the last 10 years.  Again – the only industry group with a 10 year capital loss.
Michael Batnick built the below chart for me, it's just the big bank holdings within XLF: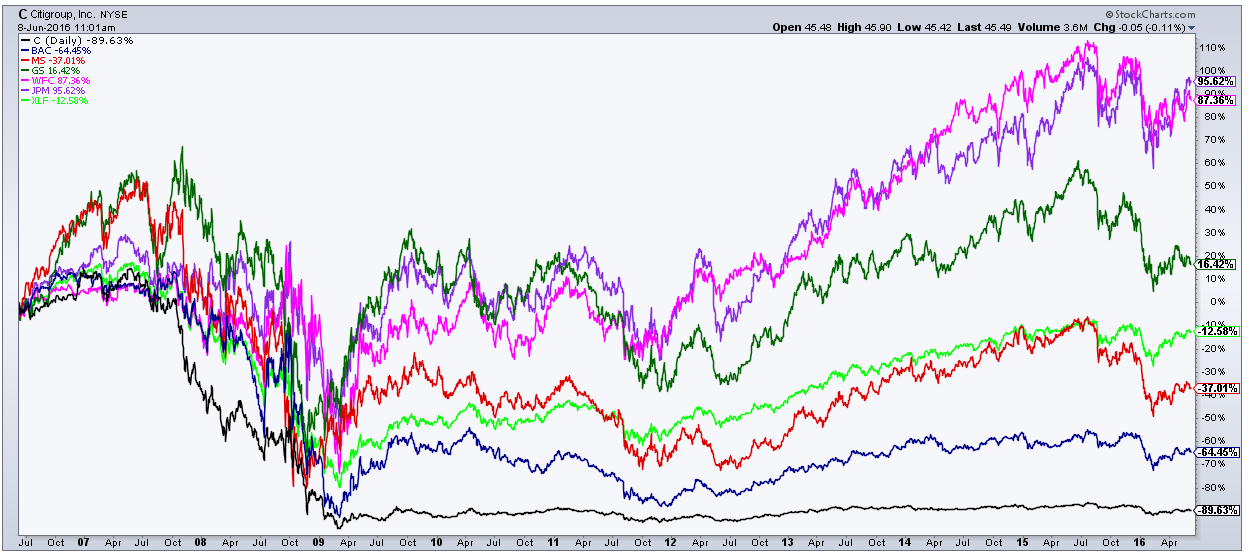 Source:
Six Things to Know about Financial Stocks Now –
Convergex – June 8th, 2016