One year ago this week, the S&P 500 touched an all-time record high of 2134.
Here's what has happened to US stocks in the 12 months since:
The S&P 500 is down 4.62% with two drawdowns greater than 11%, followed by short, sharp comebacks that brought us back toward the highs, only to fail.
The Russell 2000 is now trading back at 2013 levels, with a drawdown of 13.48% over the last year.
The S&P MidCap 400 is down 7.69%.
The Dow Jones Industrials and Nasdaq 100 have fallen 5.2% and 4.6% respectively.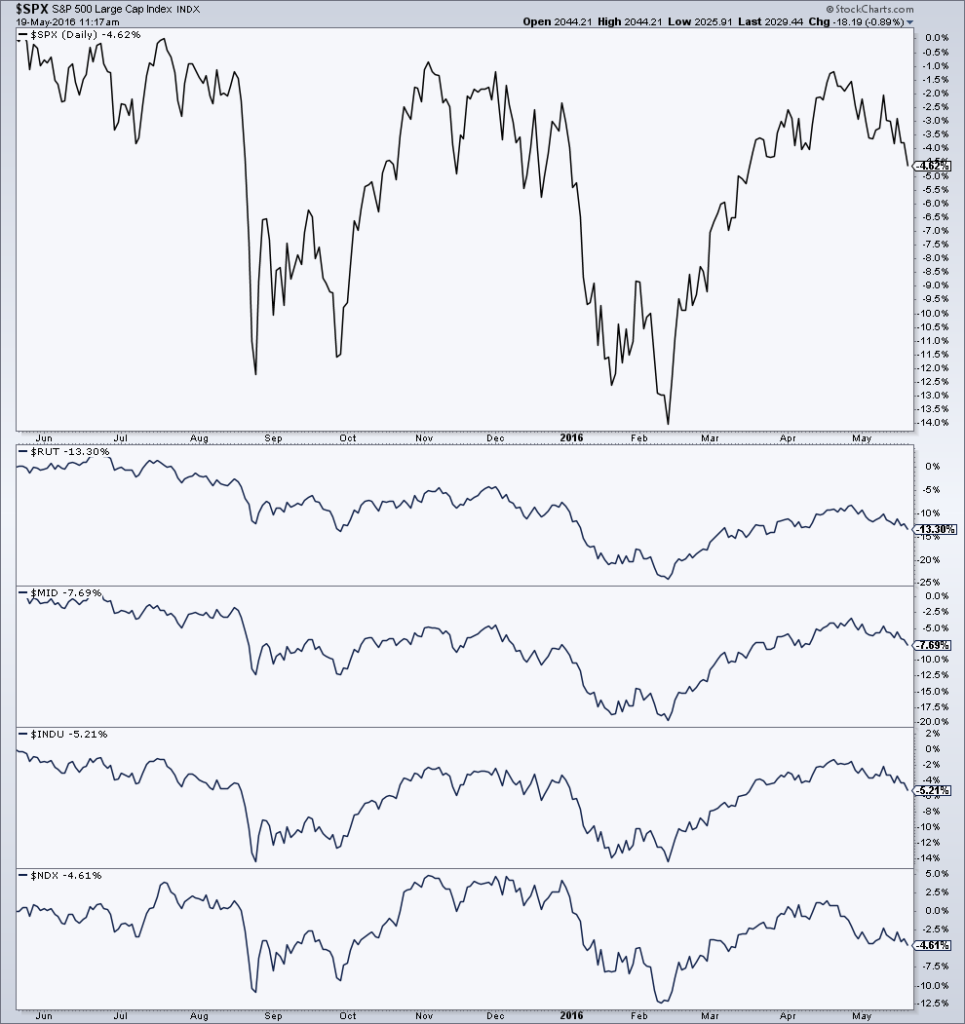 A passive portfolio with exposure to these indices has been extremely popular with investors in the modern era. But it has not exactly been a slam dunk since the all-time highs one year ago.
This is why investing can be simple, but never easy.
The longer we go without advancing past the old high, the less likely it is that investors will be able to sit tight and deal with it. Investors will be in search of the next savior, the new "Jesus fund". They will surely find something that seems to fit the bill – my guess is covered-call writing or something else I can't even conceive of which produces above average returns in a flat market environment.
Sitting still isn't easy when there doesn't seem to be any money being made for a prolonged period of time. Investors forget that what usually works doesn't work all the time. They're obsessed with finding a strategy that's working right now. I don't care what it costs, anything but this. 
And when they find it, they convince themselves that it is invincible.
Advisors will attempt to use logic to appeal to their antsier clients. Unfortunately, logic doesn't always win arguments.
Before we start laying out the logical argument for a course of action, it's worth considering whether a logical argument is what's needed.

It may be that the person you're engaging with cares more about symbols, about tribal identity, about the status quo. They may be driven by fear or anger or jealousy. It might be that they just don't care that much.

Sometimes we find ourselves in a discussion where the most coherent, actionable, rational argument wins.

Sometimes, but not often.
Many investors will demand that their advisors change what they're doing. "It's not working!" the squeakiest wheels will shout. Advisors will succumb and go looking for oil to quiet those squeaks. They will find snake oil and apply it liberally. This is the easy thing to do.
"Give 'em what they want," is the paramount rule of salesmanship, not "make sure they understand what they need," which is much harder to pull off.
Do you have an advisor or a salesperson taking your call? This distinction will make all the difference.