Bank of America Merrill Lynch's equity and quant strategist Savita Subramanian is out with the firm's preview of Q1 2016 earnings season, which gets underway this coming week.
It's going to be a wild one. Stocks have rallied furiously while estimates have been slashed. It's a very dissonant time we're in.
Among the highlights (and lowlights) from Savita's note:
* "Analysts expect a third consecutive quarter of negative earnings growth (-9% YoY) that is expected to mark the trough as the macro headwinds abate in subsequent quarters."
* "Analysts have slashed estimates by 9% since the start of 2016, more than double the typical 4% pre-EPS season cut and the most extreme three-month cut since 1Q09."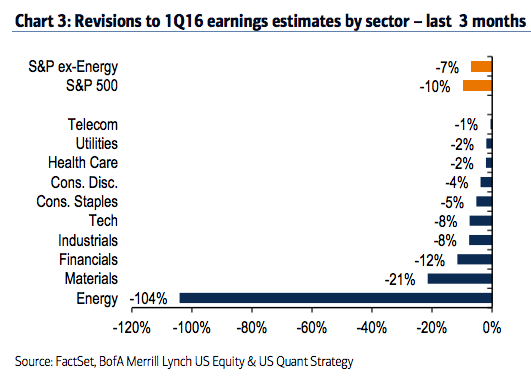 * Energy and Financials had the biggest estimate chops, with the former expected to post negative profits. Financial sector estimates have been under pressure because capital markets biz has been challenged and rates are going nowhere.
* Consensus estimates for the S&P 500 are for $26.36 in earnings. Upside surprise possible given the slowing rise in the US dollar in Q1 (only up 4% y-o-y) and the bounce in commodity prices in late Feb-March period.
* Overall management guidance is actually better than it was heading into Q1 2015. Commentary may be better given improving economic data and the bounce in the stock market.
* Among the 22 companies that have already reported, we've seen an 80% beat rate.
* Health care sector names may be best positioned for upside surprises.
Source:
1Q16: Solid beat likely, but who cares?
Bank of America Merrill Lynch – April 8th 2016