The Dow Jones Industrial Average is made up of 30 US-based companies that do an extraordinary amount of business in countries around the world. Exports, foreign revenues and overseas profits are a big ingredient in the mix for this narrow group of names.
The massive rally in the US dollar that took place over 2014 and 2015 served as a bit of a headwind for DJIA companies that sell overseas in weakening currencies. With the dollar backing off its recent highs over the last few months, it's become more of a tailwind.
That's the theory anyway.
When I scan the charts of the DJIA components, I see imminent breakouts everywhere. One example I shared the other day is GE, shown below with RSI in the bottom panel confirming the move higher: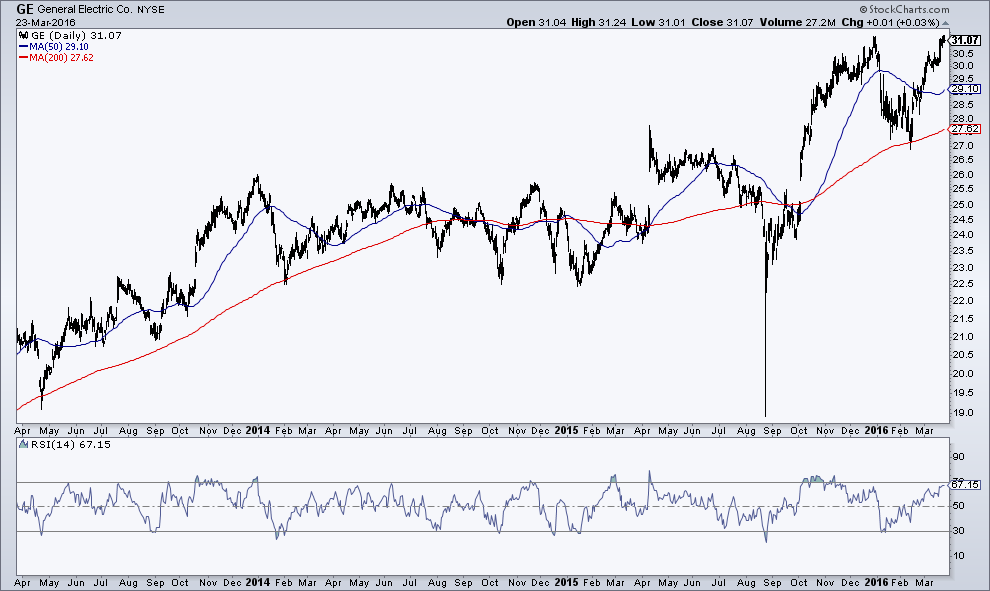 Investors Business News discusses the weak dollar / strong Dow stock phenomenon below:
The strong dollar has been a drag on U.S. multinationals for several quarters. But with the greenback turning flabby, investors are betting on better corporate results, pushing Dow stocks General Electric (GE), McDonald's (MCD), Microsoft (MSFT) and Coca-Cola (KO) near or above buy points.

…the currency headwind is waning. The U.S. dollar index, which measures the greenback against the euro, yen and 4 other  currencies, has turned lower vs. a year earlier in the last few weeks — down 0.9% as of Wednesday, even with a recent upturn. At this time last year, the dollar index was up 21%.
Josh here – let's take a look at the US dollar versus the Dow Jones over the past two months to see if there"s anything to this idea…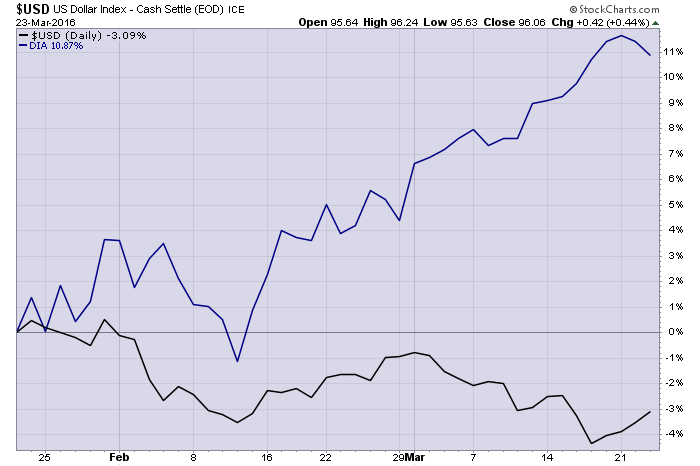 Kind of?
More interestingly, can it continue?