I plan to be blogging live from this year's Ira Sohn Investment Conference again this year, for like the sixth year running. It's always an amazing day of insight from some of the smartest money managers in the world. No Bill Ackman this year, unfortunately, but everyone else will be there:
· Dan Ariely, James B. Duke Professor of Psychology & Behavioral Economics, Duke University
· Carson Block, Chief Investment Officer, Muddy Waters Capital LLC
· James Chanos, Founder and Managing Partner, Kynikos Associates LP
· Richard Deitz, Founder, President and Fund Manager, VR Capital Group Ltd.
· Stanley Druckenmiller, Chairman and Chief Executive Officer, Duquesne Family Office LLC
· David Einhorn, President, Greenlight Capital, Inc.
· Adam Fisher, Co-Founder and Chief Investment Officer, Commonwealth Opportunity Capital GP LLC
· Jeffrey Gundlach, Chief Executive Officer, DoubleLine Capital LP
· John Khoury, Founder and Managing Partner, Long Pond Capital LP
· Chamath Palihapitiya, Founder and CEO, Social Capital LP
· Larry Robbins, Founder, Portfolio Manager and CEO, Glenview Capital Management LLC
· Zachary Schreiber, Chairman, Chief Executive Officer and Chief Investment Officer, PointState Capital LP
· Jeffrey Smith, Managing Member, Chief Executive Officer, and Chief Investment Officer, Starboard Value LP
There will also be some "next wave" presentations from emerging managers that I'm excited to see as well. The Ira Sohn Investment Conference will be held on May 4th at Lincoln Center. For more information or to register, go here.
Also, this morning Lollapalooza released its 25th anniversary show lineup, which takes place at the end of July in Chicago. They're doing a four-day festival this year, which is crazy. I'm currently begging my wife for permission, but if that doesn't work, it can still be streamed.
Check this out: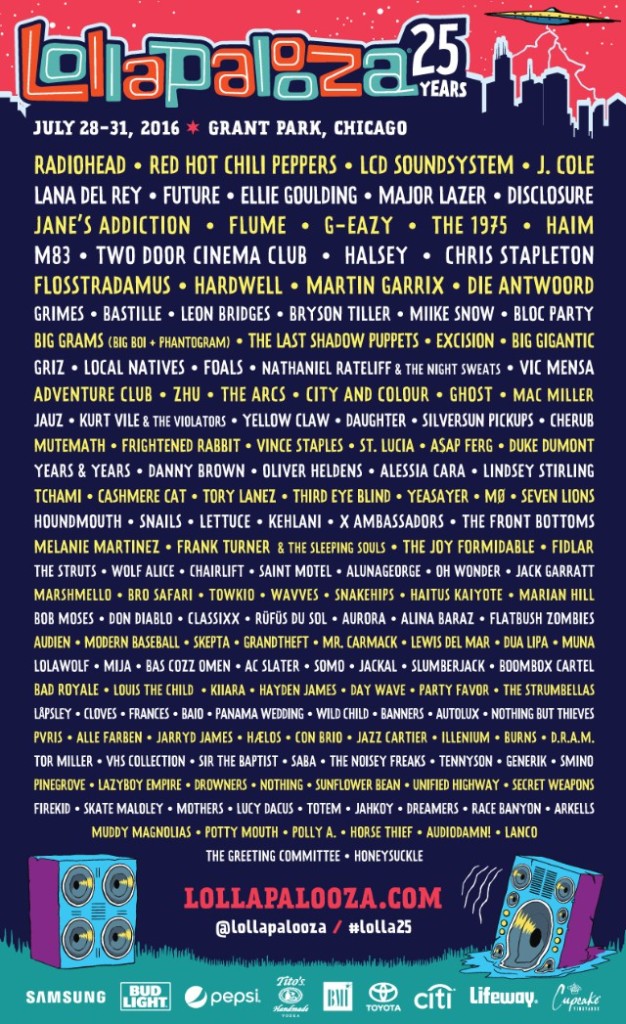 I'm probably most excited to see what kind of set Radiohead does. The LCD reunion is also cool and I bet Future gets the most attention on social media. Houndmouth is a really great band and should be much more well-known, maybe this will be their breakout.