At the request of so many investment advisors, my friends at Riskalyze share the big trends in the assets going into and coming out of advisor portfolios every week. The underlying data is aggregated from hundreds of thousands of client accounts across the $120 billion and counting that advisors manage on the Riskalyze platform*. I hope we can uncover interesting trends for you each week…

March 13th – March 19th
Winners (advisor flows TO these investments increased substantially):
Nasdaq (QQQ)
Vices (MO, PM)
Procter & Gamble Co. (PG)
Losers (advisor flows FROM these investments increased substantially):
WisdomTree Japan Hedged Equity (DXJ)
Floating Rate (OOSAX)
Healthcare (XLV)
Advisors are now throwing in the towel on the long Japanese stocks / short yen trade. On a year-to-date basis, it's not working at all. WisdomTree's DXJ ETF, which goes long a basket of Japanese stocks and shorts (or hedges) the yen currency, has been a go-to of sorts for advisor exposure to the country. As my chart below shows, it hasn't been a fun way to express the trade so far in 2016: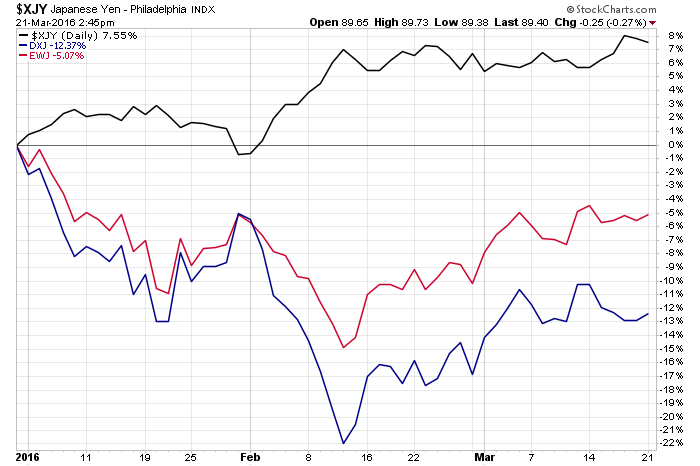 As you can see, the DXJ (in blue) is drastically underperforming the traditional Japanese stock ETF (EWJ, in red) this year, even though both are losers so far. In the meanwhile, you see the Yen index – the currency that DXJ is selling, do nothing but go higher.
Riskalyze CIO Mike McDaniel tells me that "Advisor use of DXJ dropped 6% week over week." That's a pretty big drop from strategic allocations. My attitude toward currency hedging ETFs continues to be "sometimes it helps, sometimes it doesn't." I've yet to meet someone who could talk me out of that stance.
Some notable increases in advisor use this past week include an over 5% jump for positions in Kinder Morgan, Southern Company and Duke energy.