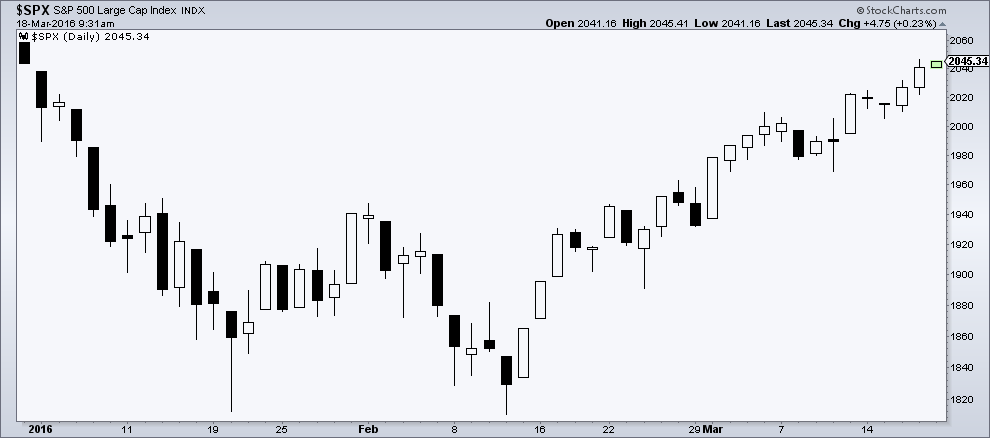 "It is what it is," is something David Tepper says a lot during the very infrequent appearances he makes in the media. He might be the greatest living trader, so it's worth thinking about things in those terms.
Yesterday the S&P 500 broke above flat-on-year and into the green – a fitting way to celebrate St. Patrick's Day, no?
There are lots of reasons why it shouldn't have. It is what it is.
There are also lots of things to point at as a reason to say the rip back into YTD gains is somehow illegitimate:
It's a rally that's led by junky stocks that underperformed last year (and this bad because why?)
It's a rally led by heavily shorted stocks, not by true buyers (that's how every rally starts)
It's a rally being juiced by the sell-off in the dollar, not an improvement in fundamentals (LOL)
The big leadership groups and names are not participating (FANG is just okay, healthcare / biotech sitting out)
It's seasonal (give me a break)
The banks are lagging (what else is new?)
It's all buybacks (and is there a time limit for how long that can go on?)
All understandable concerns. My friend JC Parets was once asked if he could have just one indicator in the world to work with, what would it be. He answered "price."
At the risk of being repetitive, it is what it is.
And now, some charts worth considering in the slideshow gallery below. Click on the first one and proceed.