An amazing set of stats from Bank of America Merrill Lynch's latest weekly flows report. Everyone is a net seller except for CFOs doing buybacks for yet another week. How much longer can present trends persist?
Does anything matter anymore? No. Nothing matters. It's 2016, say / do whatever you want.
Read this:
Last week, during which the S&P 500 climbed 1.1% back above 2000, BofAML clients were net sellers of US stocks for the seventh consecutive week. Net sales of $3.7bn were the largest since September, and led by institutional clients (where net sales by this group were the biggest since Sept. and the second-largest in our data history). Hedge funds and private clients were also net sellers, as was the case in each of the prior two weeks, but a different group has led the net selling each week. Clients sold stocks across all three size segments, and net sales of mid-caps were notably the largest since June '09. Buybacks by corporate clients accelerated for the third consecutive week and are tracking at their highest level in six months and above levels at this time last year.
…and here's the chart of what it looks like: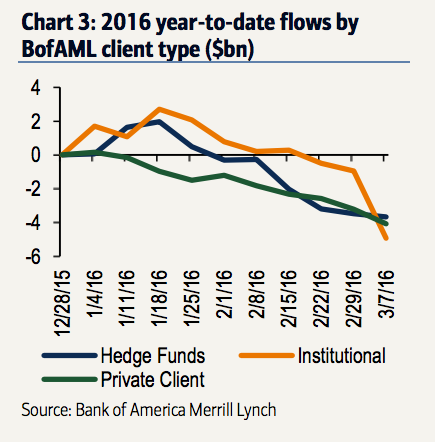 If only investors would sell even more – we could make a new all-time high!
Source:
Clients don't believe the rally, continue to sell US stocks
Bank of America Merrill Lynch – March 15th 2016