Rich Bernstein is never shy about taking contrarian positions, as he famously did in 2011-2012 calling for a new secular bull market (which broke out in the spring of 2013).
These days, he's talking about the fact that investors seem to be obsessing too much about the dividend feature of stocks, to the detriment of the capital gains side of the equation. People don't seem to want to wager much on the prospects for higher stock prices – at least not as much as they seem to want to "lock in" the income from equities paying above-average dividend yields. This is clearly a condition brought about by the (mis)perception that dividend stocks are "safer" as well as the demographics-driven desire for income.
It's important, however, to treat equities as a total return vehicle – where gains come from a combination of yield and upside.
Here's Rich:
The search for yield has become expensive (see Chart 4), and the current S&P 500® P/D ratio (the inverse of yield) is in only the 25th percentile based on eighty years of data. In other words, dividend investing has been more attractive during 75% of the quarters over the last 80 years. The current high P/D ratio indicates that investors are paying a high valuation for dividends. The stock market's volatility during the past year, however, puts the stock market's 12-month price performance in the 81st percentile, meaning that 12-month returns have been worse than that of the last 12 months only 19% of the time. With dividends expensive and price appreciation well below the norm, we think it might favor investors to change tactics and lean toward capital appreciation.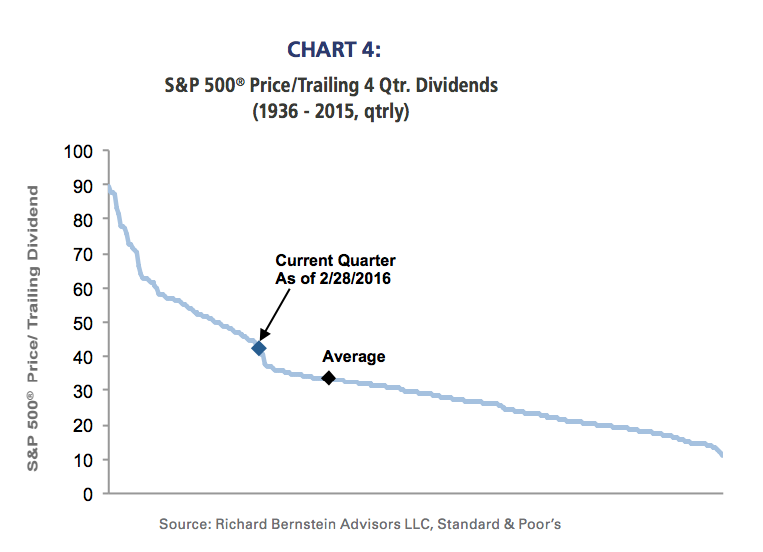 Josh here – It takes both capital appreciation and dividend yield to build long-term returns in the stock market. One is only better than the other in phases, and it is hard to predict which to emphasize at what time. Focusing on one versus the other might be a counterproductive endeavor.
Source:
No one ever grew wealth being scared (Rich Bernstein Advisors)